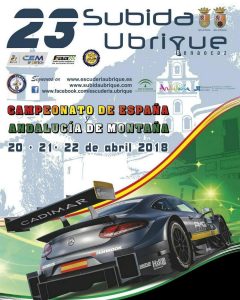 The Spanish Hillclimb Championship visited Andalucia for the Subida a Ubrique. Saturday practise started on a dry track. But because of delays, or perhaps bad luck, rain started to fall during the first race. The weather improved on Sunday which rendered the Saturday times meaningless.
Fastest driver in all races was Javier Villa. The BRC BR53 pilot took another unchallenged victory at Ubrique. Joseba Iraola and Manuel Aviles joined the reigning champion on the podium. This was also the podium of Category I.
In Category II it looked like Christian Broberg would secure victory. He was fastest in the rain and again fastest in race 2. But a great final run saw Javier Afonso steal victory. In the end just .092 seconds separated the two Silver Car S3 pilots. Winner of the first event Garikoitz Flores suffered engine problems on Sunday. This forced him to count his bad Saturday time.
José Antonio Lopez-Fombona was the fastest in practise in Category III. However the prizes are given in the races and here Humberto Janssens was the quickest. José Antonio Aznar remained ahead of Andorran Gerard De La Casa to finish third. Together they now lead the championship with 44 points. Salvador Tineo scored a remarkable result on Saturday. Thanks to the rain Tineo was fastest of the category in second overall. On Sunday he could not protect that lead but Tineo did win Group N.
21-22/04/2018 – Subida a Ubrique

| Pos. | Last Name | First Name | | Car | Cl. | Final |
| --- | --- | --- | --- | --- | --- | --- |
| 1 | Villa | Javier | | BRC BR53 | 1/E2-SC | 4:21,231 |
| 2 | Iraola | Joseba | | Norma M20 FC | 1/E2-SC | 4:27,123 |
| 3 | Aviles | Manuel | | BRC BR53 | 1/E2-SC | 4:34,100 |
| 4 | Afonso | Javier | | Silver Car S3 | 2/CM | 4:48,429 |
| 5 | Broberg | Christian | | Silver Car S3 | 2/CM | 4:48,521 |
| 6 | Ordoki | Arkaitz | | BRC B-49 | 2/CM | 4:49,888 |
| 7 | Janssens | Humberto | | Porsche 911 Cup | 3/GTADN | 4:52,352 |
| 8 | Lopez-Fombona | José Antonio | | Lamborghini Huracan ST | 3/A2 | 4:54,190 |
| 9 | Asenjo | Mario | | BRC B-49 | 2/CM | 4:54,202 |
| 10 | Aznar | José Antonio | | Porsche 997 GT3 Cup | 3/GTR | 4:57,152 |
| 11 | De La Casa | Gerard | | Subaru Impreza WRC | 3/E1 | 4:57,166 |
| 12 | De Los Rios | Antonio | | Silver Car S2 | 1/CM+ | 4:58,443 |
| 13 | Aguilar | Francisco José | | Silver Car S2 | 1/CM+ | 5:01,428 |
| 14 | Perello | Kike | | Ford Fiesta Proto | 3/E1 | 5:07,124 |
| 15 | Tineo | Salvador | | Mitsubishi Lancer EVO IX | 3/N | 5:09,072 |
| 16 | Flores | Garikoitz | | BRC B-49 | 2/CM | 5:09,399 |
| 17 | Maldonado | Manuel | | Porsche 997 GT3 Cup | 3/GTR | 5:10,351 |
| 18 | Cabezas | Juan Carlos | | Silver Car S2 | 1/CM+ | 5:17,783 |
| 19 | Jimenez | Francisco | | Mitsubishi Lancer EVO X | 3/N | 5:19,970 |
| 20 | Hernandez | Zosimo | | Mitsubishi Lancer EVO IX | 3/N | 5:20,059 |
| 21 | Alonso | José Antonio | | Mini Cooper N2 | 3/N2 | 5:20,979 |
| 22 | Nevado | Amador | | Seat Leon Supercopa | 3/N2 | 5:21,405 |
| 23 | Blanco | José | | Mitsubishi Lancer EVO IX | 3/N | 5:22,792 |
| 24 | Ropero | José Carlos | | Mitsubishi Lancer EVO VIII | 3/A | 5:27,681 |
| 25 | Bornas | Julian | | Simca Rallye III | 3/E1 | 5:28,103 |
| 26 | Garcia | Alvaro | | Peugeot 106 Kit-Car | 3/E1 | 5:28,224 |
| 27 | Arco | José Manuel | | Renault Clio Kit-Car | 3/E1 | 5:29,631 |
| 28 | Ruiz | Juan José | | Citroën AX Sport | 3/E1 | 5:31,680 |
| 29 | Domenech | Alberto | | BMW M3 E92 | 3/GTADN | 5:32,813 |
| 30 | Ortigosa | José Antonio | | BMW M3 E36 | 3/E1 | 5:34,154 |
| 31 | Jimenez | Miguel | | Hyundai Coupé Cup | 3/A2 | 5:37,109 |
| 32 | Rodriguez | Alberto | | Seat Leon Supercopa MK1 | 3/A2 | 5:37,427 |
| 33 | Jaen | Amador | | Renault 5 GT Turbo | 3/E1 | 5:40,343 |
| 34 | Cordero | Angel Moises | | Renault Clio R3 | 3/E1 | 5:41,671 |
| 35 | Gutierrez | Esteban | | Renault Clio Sport | 3/E1 | 5:42,011 |
| 36 | Ramirez | Gonzalo | | Seat Ibiza Cupra | 3/E1 | 5:42,686 |
| 37 | Sanchez | Antonio | | Peugeot 306 Maxi | 3/E1 | 5:43,107 |
| 38 | Perez | Fernando | | Renault Clio Cup III | 3/A2 | 5:43,587 |
| 39 | Rodriguez | Antonio Luis | | Lancia Delta Integrale | 3/E1 | 5:44,700 |
| 40 | Benitez | Yeray Jesus | | Citroën Saxo VTS | 3/A | 5:44,857 |
| 41 | Machado | Sebastian | | Ford Escort MK1 | 3/H | 5:46,247 |
| 42 | Lledo | José Ramon | | Renault Clio Cup III | 3/A2 | 5:46,921 |
| 43 | Marquez | Javier | | Citroën Saxo VTS | 3/A | 5:47,848 |
| 44 | Carrillo | Narciso | | Renault 8 Gordini | 3/E1 | 5:47,852 |
| 45 | Marquez | Adrian | | Hyundai Getz Cup | 3/E1 | 5:48,517 |
| 46 | Garcia | Juan Miguel | | Citroën Saxo VTS | 3/A | 5:48,792 |
| 47 | Reyes | Luis | | Renault Megane Coupé | 3/E1 | 5:48,956 |
| 48 | Galvan | Juan Antonio | | Peugeot 205 GTI | 3/E1 | 5:50,147 |
| 49 | Sanchez | José Antonio | | BMW 328i | 3/E1 | 5:50,296 |
| 50 | Altamirano | Francisco | | Opel Kadett GSi | 3/E1 | 5:52,453 |
| 51 | Garcia | Adrian | | Citroën AX Sport | 3/E1 | 5:54,096 |
| 52 | Gonzalez | Salvador | | Peugeot 106 GTI | 3/E1 | 5:54,341 |
| 53 | Zaldivar | Javier | | Citroën Saxo VTS | 3/A | 5:57,195 |
| 54 | Cuenca | José Antonio | | Citroën AX GTI | 3/E1 | 6:00,422 |
| 55 | Vazquez | Cristian | | Renault Megane Coupé | 3/E1 | 6:00,482 |
| 56 | Noguera | Antonio | | Lotus Elan S1 | 3/H | 6:00,806 |
| 57 | Caceres | Moises | | Renault Clio | 3/E1 | 6:00,908 |
| 58 | Moreno | Manuel Jesus | | BMW M3 E36 | 3/E1 | 6:01,509 |
| 59 | Diaz | Emilio José | | Hyundai Accent | 3/E1 | 6:01,710 |
| 60 | Gamez | Daniel | | Citroën AX | 3/E1 | 6:02,297 |
| 61 | Huertas | Diego | | Peugeot 205 Rallye | 3/E1 | 6:02,369 |
| 62 | Barba | Juan José | | Seat Ibiza | 3/A | 6:03,067 |
| 63 | Muñoz | Juan Antonio | | Seat Leon TDi | 3/N | 6:05,275 |
| 64 | Gonzalez | José Antonio | | BMW 323 Ti | 3/E1 | 6:05,883 |
| 65 | Alvarez | Sergio | | Citroën Saxo VTS | 3/E1 | 6:07,590 |
| 66 | Dominguez | Alberto | | Citroën AX | 3/E1 | 6:07,592 |
| 67 | Zambrana | Antonio | | Citroën AX GT | 3/E1 | 6:09,529 |
| 68 | Saborido | Jesus | | Opel Corsa GSi | 3/E1 | 6:11,037 |
| 69 | Toro | Antonio | | Hyundai Getz Cup | 3/E1 | 6:13,390 |
| 70 | Zapata | Sebastian Mateo | | Peugeot 106 Rallye | 3/E1 | 6:14,089 |
| 71 | Escalona | Juan | | Citroën Saxo | 3/N | 6:17,736 |
| 72 | Garcia | Francisco | | Citroën Saxo VTS | 3/E1 | 6:19,248 |
| 73 | Cabañas | Gonzalo | | Talex | 2/CM | 6:20,321 |
| 74 | Pichaco | Samuel | | Citroën Saxo VTS | 3/A | 6:20,827 |
| 75 | Galvan | Francisco | | Seat Ibiza | 3/E1 | 6:20,895 |
| 76 | Mendoza | Manuel | | Renault Clio | 3/E1 | 6:21,214 |
| 77 | Varo | Francisco Javier | | Renault Megane Coupé | 3/E1 | 6:22,519 |
| 78 | Martin | Alejandro | | Seat Ibiza TDi | 3/A | 6:24,368 |
| 79 | Vega-Leal | Jesus | | Opel Corsa GSi | 3/E1 | 6:26,304 |
| 80 | Herrera | Servando | | Volkswagen Golf III | 3/E1 | 6:27,508 |
| 81 | Garcia | Manuel | | Citroën Saxo VTS | 3/A | 6:28,044 |
| 82 | Del Buey | Francisco Javier | | BMW Compact 325 Ti | 3/E1 | 6:30,836 |
| 83 | Lemos | Jorge | | Citroën Saxo VTS | 3/A | 6:45,020 |
| 84 | Capet | Juan | | Citroën AX GT | 3/E1 | 6:45,022 |
| 85 | Aragon | Juan Antonio | | Citroën AX | 3/E1 | 6:45,226 |
| 86 | Garcia | Adrian | | Opel Corsa GSi | 3/E1 | 6:45,635 |
| 87 | Moya | Ivan | | Seat 124 FL | 3/E1 | 6:45,881 |
| 88 | Carrasco | Juan José | | Renault Clio | 3/E1 | 6:47,136 |
| 89 | Parra | Juan Manuel | | Opel Corsa | 3/E1 | 6:58,359 |
| 90 | Perez | Ruben | | BMW 320i E36 | 3/E1 | 7:07,283 |
| 91 | Arias | José Manuel | | Opel Astra GSi | 3/E1 | 7:20,781 |
| 92 | Martinez | Javier | | Citroën AX | 3/E1 | 7:24,556 |