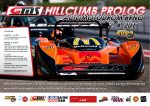 This week the Czech Hillclimb competitors visited the Automotodrom Brno for four days of testing followed by one day of racing. Raceday was called the GMS Hillclimb Prolog and not Brnenský drak like in previous editions. The event counted towards the Czech Hillclimb Championship and the Maverick Rescue Euro Cup.
Fastest this Sunday was the GMS Racing driver Milos Benes. With his well known Osella FA30 Benes was the only driver to tackle the 2,5 kilometres in under a minute. He was joined on the podium by two Norma Turbos driven by Vaclav Janik and David Komarek. Marek Rybnicek continued last years string of touringcar victories at Brno with another double win. He was chased by two Lamborghini Gallardo Supertrofeos driven by Bronislav Formanek and Jiri Stransky. The two circuit racers were testing with the hillclimbers in the days before and decided to stick around for the race. However they will probably not compete in more hillclimbs this season.
The Maverick Rescue Euro Cup support race was dominated by Ferdinand Madrian. The Austrian steered his Norma M20F to a double victory in front of Jaroslav Surowka and Alex Frank.
02/04/2017 – Hillclimb Prolog

| Pos. | Last Name | First Name | | Car | Cl. | Fase A | Fase B |
| --- | --- | --- | --- | --- | --- | --- | --- |
| 1 | Benes | Milos | | Osella FA30 | E2-SS 3000 | 1:54,00 | 1:56,53 |
| 2 | Janik | Vaclav | | Norma M20 FC | E2-SC 3000 | 1:59,61 | 2:02,27 |
| 3 | Komarek | David | | Norma M20 FC EVO | E2-SC 3000 | 2:02,95 | 2:02,67 |
| 4 | Neveril | Dusan | | Norma M20 FC | E2-SC 3000 | 2:05,94 | 2:06,44 |
| 5 | Vondrak | Petr | | Osella PA21/S EVO | E2-SC 2000 | 2:08,47 | 2:08,69 |
| 6 | Vondrak | Martin | | Tatuus NT07 Honda | E2-SS 2000 | 2:11,82 | 2:11,68 |
| 7 | Trnka | Petr | | Ligier JS53 E2 | E2-SC 2000 | 2:13,20 | 2:13,50 |
| 8 | Spalek | Jiri | | Norma M20F | E2-SC 3000 | 2:14,09 | 2:18,53 |
| 9 | Svoboda | Jiri | | Norma M20F | E2-SC 2000 | 2:15,12 | 2:16,59 |
| 10 | Chudoba | Zdenek | | Norma M20F | E2H-SC 2000 | 2:19,21 | 2:22,89 |
| 11 | Novicky | Michal | | Ligier JS49 Honda | E2H-SC 2000 | 2:20,66 | 2:19,82 |
| 12 | Rybnicek | Marek | | Ford Fiesta EVO | E2-SH +3000 | 2:20,15 | 2:23,38 |
| 13 | Mlejnek | Ales | | Gloria C8F | E2H-SS 1400 | 2:22,12 | 2:21,49 |
| 14 | Krakovic | Radek | | Fiks 09RK | E2H-SS 1400 | 2:25,16 | 2:23,33 |
| 15 | Formanek | Bronislav | | Lamborghini Gallardo Supertrofeo | E1 +3000 | 2:28,07 | 2:26,94 |
| 16 | Svoboda | Milan | | BRC CM05 EVO | E2-SC 1400 | 2:27,47 | |
| 17 | Prasek | Jaroslav | | Chevron B42 F2 | HA/K5/E5 | 2:41,39 | 2:28,25 |
| 18 | Krampota | Ivo | | BMW M3 | E1 +3000 | 2:28,33 | 2:28,53 |
| 19 | Jerman | Martin | | Lamborghini Gallardo GT3 | GT +2000 | 2:29,15 | 2:33,08 |
| 20 | Kracmar | Zdenek | | Demon Car | E2H-SC 1400 | 2:31,59 | 2:29,76 |
| 21 | Stransky | Jiri | | Lamborghini Gallardo Supertrofeo | E1 +3000 | 2:31,58 | 2:32,15 |
| 22 | Zmeskal | Milos | | Ralt RT32 | HA/K5/E9 | 2:32,22 | 2:31,88 |
| 23 | Kusy | Tomas | | Lotus Exige | E1 2000 | 2:31,95 | 2:37,53 |
| 24 | Maly | Jaromir | | Mitsubishi Lancer EVO X | N +3000 | 2:33,25 | 2:33,94 |
| 25 | Vojacek | Petr | | Mitsubishi Lancer EVO VIII | A +3000 | 2:33,63 | 2:34,51 |
| 26 | Holan | Ivo | | Mitsubishi Lancer EVO IX | N +3000 | 2:34,15 | 2:35,45 |
| 27 | Vavrinec | Tomas | | Mitsubishi Lancer EVO IX | N +3000 | 2:34,85 | 2:35,93 |
| 28 | Sajlerova | Gabriela | | Mitsubishi Lancer EVO X | N +3000 | 2:37,76 | 2:36,78 |
| 29 | Sajler | Filip | | Mitsubishi Lancer EVO X | N +3000 | 2:37,07 | 2:37,47 |
| 30 | Hubacek | Karel | | BMW M3 GTR | E1 +3000 | 2:41,41 | 2:37,77 |
| 31 | Dosedel | Dusan | | Subaru Impreza WRX | E1H +2000 | 2:38,67 | 2:38,45 |
| 32 | Prusek | Erich | | Toyota Celica CS | E1H +2000 | 2:39,02 | 2:41,72 |
| 33 | Gut | Petr | | BMW 330 Ci | E1H +2000 2WD | 2:39,17 | 2:40,05 |
| 34 | Vojacek | Lukas | | Subaru Impreza STi | A +3000 | 2:41,12 | 2:41,77 |
| 35 | Novy | Lubor | | Porsche Cayman | E1 +3000 | 2:42,41 | 2:42,71 |
| 36 | Dolezal | Lubomir | | MTX 1-06 | HA/K5/E8 | 2:42,53 | 2:45,34 |
| 37 | Chytil | Ondrej | | MTX 1-03 | HA/K5/E3 | 2:45,94 | 2:43,74 |
| 38 | Tomecek | Lukas | | Volkswagen Golf I | E1H 1600 | 2:44,13 | 2:47,49 |
| 39 | Kminek | Zdenek | | Nissan 350Z | GT +2000 | 2:48,52 | 2:48,97 |
| 40 | Kucera | Zdenek | | Nissan 200SX S13 | E1H +2000 2WD | 2:53,75 | 2:49,44 |
| 41 | Svozil | Michal | | BMW M3 E36 GT | E1 3000 | 2:51,27 | 2:49,95 |
| 42 | Pavlu | Dominik | | Renault Clio RS | A 2000 | 2:50,56 | 2:50,54 |
| 43 | Pluhar | Jindrich | | Nissan Sunny | E1H 2000 | 2:50,87 | 2:52,31 |
| 44 | Sustr | Miloslav | | Skoda Favorit | E1H 1600 | 2:51,58 | 2:53,08 |
| 45 | Macek | Vojtech | | Skoda 110R | E1H 1600 | 3:09,42 | 2:52,47 |
| 46 | Pleva | Martin | | Skoda 100 | E1H-Skoda | 2:53,92 | 2:54,45 |
| 47 | Dobes | Vaclav | | Skoda Favorit | E1H 1400 | 3:03,82 | 2:53,98 |
| 48 | Kaspar | Michal | | Citroën Saxo | E1H 1600 | 2:56,28 | 3:23,69 |
| 49 | Stejskal | Milan | | Lada VFTS | HA/K4/D5 | 2:57,71 | 2:56,30 |
| 50 | Jezek | Radim | | Skoda Felicia | E2-SH 1400 | 2:57,11 | 2:56,81 |
| 51 | Zalesky | Radek | | MTX 1-02 | HA/K5/E3 | 2:59,93 | 2:59,08 |
| 52 | Strnad | Petr | | Skoda 130 LR | E1H-Skoda | 2:59,19 | 3:00,63 |
| 53 | Janda | Martin | | Seat Ibiza Cupra | E1H 2000 | 3:03,31 | 3:03,93 |
| 54 | Machova | Tereza | | Suzuki Swift | E1H 1400 | 3:10,26 | 3:09,67 |
| 55 | Holek | Jiri | | Skoda 120 LS | E1H-Skoda | 3:17,84 | 3:13,02 |
02/04/2017 – Hillclimb Prolog (Maverick Rescue Euro Cup)

| Pos. | Last Name | First Name | | Car | Cl. | Fase A | Fase B |
| --- | --- | --- | --- | --- | --- | --- | --- |
| 1 | Madrian | Ferdinand | | Norma M20F | E2C +2000 | 2:18,75 | 2:16,69 |
| 2 | Surowka | Jaroslav | | Norma M20F | E2C 2000 | 2:19,13 | 2:19,18 |
| 3 | Frank | Alex | | PRC | E2C +2000 | 2:31,88 | 2:32,91 |
| 4 | Tykal | Petr | | F-Easter MTX 1-03 | HA2 ZST | 2:49,66 | 2:41,12 |
| 5 | Osladil | Jan | | Van Diemen | HA2 | 2:44,56 | 2:43,01 |
| 6 | Michalik | Tomas | | Mitsubishi Lancer EVO IX | E1 +2000 4WD | 2:47,01 | 2:45,17 |
| 7 | Kamensky | Pavel | | BMW 330 Ci | E1 +2000 2WD | 2:47,70 | 2:46,57 |
| 8 | Jancik | Jaroslav | | BMW 130i | E1 +2000 2WD | 2:48,67 | 2:47,27 |
| 9 | Winkler | Martin | | Nissan 200SX S14a | S1 +2000 2WD | 2:50,09 | 2:49,55 |
| 10 | Prasek | Michal | | MTX 1-01 Skoda | HA2 ZST | 3:09,81 | 2:50,56 |
| 11 | Srahulek | Petr | | Skoda 130 RS E1 | E1 1400 | 2:54,62 | 2:51,87 |
| 12 | Kaspar | Vilem | | Skoda Fabia RS | S1 2000 | 2:52,02 | 2:52,14 |
| 13 | Lemon | Petr | | BMW E30 328i | E1 +2000 2WD | 2:53,61 | 2:52,61 |
| 14 | Cakl | Filip | | Skoda Fabia RS | S1 2000 | 2:52,68 | 2:52,90 |
| 15 | Podmajersky | Vladimir | | Peugeot 206 RC | E1 2000 | 2:53,67 | 2:55,09 |
| 16 | Jancik | Milan | | BMW 130i | E1 +2000 2WD | 2:57,41 | 2:53,97 |
| 17 | Vozdecky | Dominik | | MTX 1-03 | HA2 ZST | 2:58,67 | 2:54,40 |
| 18 | Vratil | Pavel | | Opel Kadett GSi | HA1 2000 | 2:55,16 | 2:57,53 |
| 19 | Zacek | Michal | | Skoda 125 | HA1 2000 | 3:03,16 | 2:58,09 |
| 20 | Ryzek | Milan | | Ford Puma | E1 2000 | 3:00,24 | 3:00,71 |
| 21 | Dopita | Josef | | Skoda 120S | HA1 1300 | 3:27,30 | 3:03,36 |
| 22 | Krupica | Lukas | | Skoda Rapid 136 | HA1 1300 | 3:05,97 | 3:03,52 |
| 23 | Patera | Michal | | Zastava 101 Special | HA1 1300 | 3:06,91 | 3:04,65 |
| 24 | Nevrla | Ondrej | | Skoda Favorit | E1 1600 | 3:10,29 | 3:06,37 |
| 25 | Drmota | David | | Ford Fiesta | E1 1400 | 3:10,35 | 3:09,72 |
| 26 | Osladil | Jan | | Ford Fiesta | S1 1600 | 3:13,72 | 3:36,67 |
| 27 | Kadlecek | Jiri | | Honda Civic VTI | S1 1600 | 3:16,40 | 3:14,55 |
| 28 | Bartunek | Daniel | | Ford Fiesta | E1 1400 | 3:34,72 | 3:33,16 |