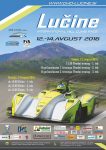 This weekend the International Hillclimb Cup (IHCC) visited Slovenia for the GHD Lučine. The weather was perfect for hillclimb racing and the trackrecord was broken multiple times.
The first to go under the trackrecord was Vaclav Janik. But before the first race was over Federico Liber had already retrieved his record with a faster time. In the second run Janik took back the lead and in the third run he improved his time still a little bit more. Liber on the other hand could not hold onto his speed from the first run so the Italian had to yield victory to Janik. With this victory Janik is now secure of the International Hillclimb Cup Category II. His closest rival and teammate Petr Trnka finished third in Lucine which saw him secure second place in points.
In Category III Ronnie Bratschi was the only driver to seriously compete in the IHCC. The Swiss was present in Lucine but retired in the first race run. Nevertheless he still secured the Category III title.
Only in Category I is the points race still open. Although Laszlo Hernadi has competed in almost all the events, it is not enough to clinch the title. As he competes in S2000 the Hungarian only scores half points at each event. He added another nine points to his total in Lucine but still lost his championship lead. For Gabriella Pedroni it was only her third event of the season. But Group A victory gave the full 25 points which gives her a 7,5 point lead over Hernadi.
13-14/08/2016 – GHD Lucine

| Pos. | Last Name | First Name | | Car | Cl. | Final |
| --- | --- | --- | --- | --- | --- | --- |
| 1 | Janik | Vaclav | | Norma M20 FC | E2-SC 3000 | 6:05,83 |
| 2 | Liber | Federico | | Gloria C8P | E2-SS 2000 | 6:06,36 |
| 3 | Trnka | Petr | | Norma M20 FC | E2-SC 2000 | 6:28,83 |
| 4 | Pedrotti | Gino | | Formula Renault | E2-SS 2000 | 6:35,53 |
| 5 | Tinaburri | Alessandro | | Gloria C8 EVO | E2-SS 2000 | 6:37,84 |
| 6 | Nalon | Marietto | | Lola B02/50 | E2-SS 3000 | 6:42,21 |
| 7 | Venturato | Mirko | | Gloria C8 EVO | E2-SS 2000 | 6:44,48 |
| 8 | Stankovic | Vladimir | | Nemesis RME 04 | E2-SC 3000 | 6:47,44 |
| 9 | Fulgoni | Paolo | | Gloria C8 EVO | E2-SS 2000 | 6:48,97 |
| 10 | Dajak | Petar | | Gloria C8F | E2-SS 2000 | 6:59,54 |
| 11 | Braghe | Fabio | | Gloria C8 EVO | E2-SS 2000 | 7:00,65 |
| 12 | Bubnic | Milan | | Lancia Delta | E1 +2000 | 7:01,66 |
| 13 | Bulatovic | Dejan | | Seat Leon | E1 +2000 | 7:03,68 |
| 14 | Marcon | Paolo | | Predator's EVO | E2-SS 2000 | 7:08,56 |
| 15 | Ivovic | Tripo | | Mitsubishi Lancer EVO IX | N +2000 | 7:09,86 |
| 16 | Duda | Grzegorz | | Mitsubishi Lancer EVO X | S2 +2000 | 7:10,51 |
| 17 | Pedroni | Gabriella | | Mitsubishi Lancer EVO VIII | A +2000 | 7:12,05 |
| 18 | Schena | Damiano | | Renault Clio Cup | E1 2000 | 7:17,52 |
| 19 | Wisniowski | Bartlomiej | | Mitsubishi Lancer EVO IX | N +2000 | 7:18,08 |
| 20 | Marc | Peter | | Mitsubishi Lancer EVO IX | N +2000 | 7:24,65 |
| 21 | Svoboda | Jiri | | Norma M20F | E2-SC 2000 | 7:24,85 |
| 22 | Prek | Ales | | Honda Civic Type-R | A 2000 | 7:31,10 |
| 23 | Hernadi | Laszlo | | Mitsubishi Lancer EVO IX | S2 +2000 | 7:31,51 |
| 24 | Glinzner | Gerald | | Porsche 911 Carrera | C3/C3 | 7:35,51 |
| 25 | Zbogar | Denis | | Renault Clio R3 | A 2000 | 7:36,55 |
| 26 | Cuden | Matevz | | Renault Clio Cup | E1 2000 | 7:37,90 |
| 27 | Turk | Rok | | Peugeot 208 R2 | A 2000 | 7:39,21 |
| 28 | Mlakar | Marko | | Volkswagen Golf | E1 2000 | 7:40,07 |
| 29 | Sonnleitner | Reinhard | | Volkswagen Golf Rallye G60 | C4/D6 | 7:43,84 |
| 30 | Pasadyn | Piotr | | Subaru Impreza STi | E1 +2000 | 7:45,30 |
| 31 | Pogacar | Tilen | | Volkswagen Golf | E1 1400 | 7:46,33 |
| 32 | Niemiec | Lukasz | | Mitsubishi Lancer EVO X | N +2000 | 7:46,79 |
| 33 | Warmuth | Rene | | Volkswagen Golf GTI | C4/D2 | 7:50,84 |
| 34 | Kretz | Michal | | Ford Focus | E1 2000 | 7:57,46 |
| 35 | Cebron | Janko | | MG ZR 105 | E1 1400 | 8:00,53 |
| 36 | Jurak | Gregor | | Suzuki Swift | E1 1400 | 8:00,74 |
| 37 | Maha | Elis | | Renault Megane Maxi | E1 2000 | 8:03,25 |
| 38 | Dessardo | Manuel | | MG ZR 105 | E1 1400 | 8:03,82 |
| 39 | Kostanjsek | Primoz | | Skoda Felicia | E1 1400 | 8:05,47 |
| 40 | Buh | Domen | | Peugeot 205 | E1 1400 | 8:06,97 |
| 41 | Jeriha | Albin | | Volkswagen Polo | E1 1400 | 8:12,59 |
| 42 | Senica | Alan | | Fiat Punto | E1 1400 | 8:14,75 |
| 43 | Mlinar | Simon | | Volkswagen Polo | E1 1400 | 8:22,35 |
| 44 | Strozic | Mitja | | Autobianchi A112 Abarth | C3/C1 | 8:22,92 |
| 45 | Gratzer | August | | Lancia Beta Montecarlo | C3/C5 | 8:23,61 |
| 46 | Dessardo | Tadej | | Peugeot 106 Rallye | E1 1400 | 8:24,59 |
| 47 | Tavcar (2) | Primoz | | Renault Clio | E1 1400 | 8:25,34 |
| 48 | Neumann | Dominik | | Mini Cooper S | C3/C1 | 8:26,99 |
| 49 | Zakelj | Ales | | Yugo 65 | E1 1400 | 8:27,59 |
| 50 | Brus | Luka | | Suzuki Swift | E1 1400 | 8:32,85 |
| 51 | Kapler | Peter | | Peugeot 306 S16 | E1 2000 | 8:36,26 |
| 52 | Lena | Enrico | | Lancia Fulvia Coupe HF | C2/B4 | 8:37,80 |
| 53 | Meggiorin | Stefano | | Volkswagen Scirocco | C3/C2 | 8:38,50 |
| 54 | Mihevc | Andrej | | Yugo | E1 1400 | 8:41,14 |
| 55 | Pristavec | Nik | | Yugo | E1 1400 | 8:42,90 |
| 56 | Freudenschuss | Willi | | BMW 323i | C4/D4 | 8:43,65 |
| 57 | Korosec | Matjaz | | BMW 230i | C4/D6 | 8:43,69 |
| 58 | Rottonara | Florian | | Fiat Giannini 650 TP | C2/B1 | 8:57,03 |
| 59 | Pokorn | Igor | | Volkswagen Polo | E1 1400 | 8:57,70 |
| 60 | Bizjak | Erik | | Yugo | E1 1400 | 9:00,27 |
| 61 | Kuslan | Blaz | | Fiat Seicento | E1 1400 | 9:15,86 |
| 62 | Popit | Matevz | | Fiat Seicento | E1 1400 | 9:26,34 |
| 63 | Suligoj | Tomaz | | Yugo | E1 1400 | 9:28,84 |
| 64 | Mikuz | Matej | | Volkswagen Polo | E1 1400 | 9:36,49 |
| 65 | Popek | Anton | | Fiat X1/9 Bertone | | 9:54,49 |
| 66 | Presetnik | Ales | | Autobianchi A112 Abarth | | 10:00,69 |
| 67 | Novak | Matej | | Fiat 128 | C3/C1 | 10:00,77 |
| 68 | Vidmar | Andrej | | MG Midget | | 10:09,97 |
| 69 | Mrak | Andrej | | Zastava 850 | C4/D1 | 10:13,16 |
| 70 | Lukman | Branko | | BMW 2002 Ti | | 10:17,38 |
| 71 | Jese | Milos | | Alfa Romeo Giulia Ti | | 10:23,06 |
| 72 | Vrhunc | Boris | | Alfa Romeo Junior | | 10:43,66 |
| 73 | White | David | | MG B GT | | 10:50,67 |
| 74 | Demsar | Urban August | | Alfa Romeo Giulia Super | | 12:11,07 |