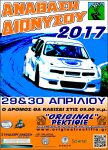 The Dionysou Hillclimb was the second round of the Greek Hillclimb Championship. Almost 100 drivers were present to tackle the 5,5 kilometre long track near Marathon.
Marios Iliopoulos was the quickest driver by far. With his Ford Fiesta WRC Iliopoulos was almost 10 seconds per session faster than anyone else. He was also class winner of Group FS. Second in FS was Nikos Nkikas in the two-wheel drive Volkswagen Golf IV while Konstantinos Zygogiannis was third.
Giorgos Kechagias was the quickest in Group E while Michail Euthymiou was the winner of Group A. The two drivers were also the second and third quickest overall.
In Group N the gaps were very small. Panagiotis Kyrkos took the category victory here. His rival Stamatis Katsimis was very close all weekend but a great first run was enough for Kyrkos. In the minus two-litres class Stelios Konstantiniou was in the lead after race 1. But a great recovery in the second round gave Ioannis Foteinelis the victory. The final difference between the two was just .89 seconds. Class N2 was even more competitive as the first 5 drivers were within one second of eachother! Dionysis Giannoulis took class victory here.
The historics were well represented at the Dionysou Hillclimb this weekend. With 25 entries they were the most populous class present. Giorgos Katsaros in a spectacular Ford Escort MK1 was the class winner.
29-30/04/2017 – Dionysou Hillclimb

| Pos. | Last Name | First Name | | Car | Cl. | Final |
| --- | --- | --- | --- | --- | --- | --- |
| 1 | Iliopoulos | Marios | | Ford Fiesta WRC | FST | 4:33,35 |
| 2 | Kechagias | Giorgos | | Ford Sierra RS500 | E12D | 4:52,30 |
| 3 | Euthymiou | Michail | | Ford Escort WRC | A8 | 4:54,64 |
| 4 | Ntofis | Andreas | | Mitsubishi Lancer EVO VIII | A8 | 4:59,82 |
| 5 | Kyrkos | Panagiotis | | Mitsubishi Lancer EVO IX | N4 | 5:00,61 |
| 6 | Ntermas | Vasileios | | BMW M3 | E12D | 5:01,54 |
| 7 | Nkikas | Nikos | | Volkswagen Golf IV | FST2 | 5:02,22 |
| 8 | Katsimis | Stamatis | | Mitsubishi Lancer EVO IX | N4 | 5:03,89 |
| 9 | Batzanos | Vailis | | Citroën Saxo VTS | A6 | 5:07,39 |
| 10 | Vorgias | Spyros | | Peugeot 106 S16 | A6 | 5:07,87 |
| 11 | Zygogiannis | Konstantinos | | Audi A3 | FST2 | 5:10,73 |
| 12 | Vasileiadis | Pantelis | | Citroën AX | E10 | 5:11,29 |
| 13 | Katsaros | Giorgos | | Ford Escort RS1600 | 2/C3 | 5:13,72 |
| 14 | Tsionkas | Alexandros | | Peugeot 106 Maxi | A7 | 5:13,74 |
| 15 | "Sakis Lioris" | | | Ford Escort WRC | A8 | 5:13,92 |
| 16 | Giannopoulos | Giorgos | | Citroën Saxo VTS | A6 | 5:15,14 |
| 17 | Iliopoulos | Panagiotis | | Ferrari F458 Challenge | FSA | 5:15,78 |
| 18 | Potouridis | Giannis | | Subaru Impreza | N4 | 5:17,26 |
| 19 | Zagaris | Dimitris | | Citroën Saxo VTS | A6 | 5:19,20 |
| 20 | Parthenis | Panagiotis | | Mitsubishi Lancer EVO IX | FST | 5:19,22 |
| 21 | Chatoupis | Stavros | | Opel Corsa Kit-Car | A7 | 5:20,90 |
| 22 | Atzemis | Vasilis | | Peugeot 106 Rallye | FST | 5:21,00 |
| 23 | Georgoulas | Vangelis | | Ford Escort RS2000 | 3/D3 | 5:22,31 |
| 24 | Kalaitzian | Ioannis | | Ford Puma S1600 | A7 | 5:22,94 |
| 25 | Kourniatis | Athanasios | | Ford Escort MK2 | E11 | 5:23,48 |
| 26 | Foteinelis | Ioannis | | Honda Civic Type-R | N3 | 5:25,91 |
| 27 | Konstantiniou | Stelios Pelopidas | | Honda Civic Type-R | N3 | 5:26,80 |
| 28 | Posotidis | Alexandros | | BMW M3 | E12D | 5:30,56 |
| 29 | Giannoulis | Dionysis | | Peugeot 106 S16 | N2 | 5:31,12 |
| 30 | Zervos | Dimitris | | Peugeot 106 S16 | N2 | 5:31,24 |
| 31 | Gazetas | Bampis | | Opel Corsa Kit-Car | A7 | 5:31,60 |
| 32 | Rekkas | Vasilis | | Citroën Saxo VTS | N2 | 5:31,87 |
| 33 | Polatsidis | Dimitris | | Peugeot 106 S16 | N2 | 5:31,96 |
| 34 | Theos | Kimonas | | Peugeot 106 S16 | N2 | 5:32,12 |
| 35 | Karotsieris | Andreas | | Porsche 911 | 2/C5 | 5:34,10 |
| 36 | Kordatzis | Nikos | | Peugeot 106 S16 | N2 | 5:34,26 |
| 37 | Maravelias | Giorgos | | BMW E30 | E11 | 5:35,40 |
| 38 | Tsourgiannis | Dimitris | | Volkswagen Golf III | E11 | 5:35,51 |
| 39 | Simatos | Eleutherios | | Citroën Saxo VTS | N2 | 5:35,70 |
| 40 | Mylonakos | Theodoros | | Peugeot 106 S16 | A6 | 5:37,15 |
| 41 | Plessas | Nikos | | Ford Sierra RS500 | E12D | 5:37,59 |
| 42 | Samaras | Panagiotis | | Opel Ascona | E11 | 5:37,76 |
| 43 | Theodorakos | Aristeidis | | Citroën Saxo VTS | N2 | 5:38,67 |
| 44 | Konstantinidis | Iordanis | | Skoda Fabia | FST2 | 5:38,87 |
| 45 | Palaiologos | Georgios | | Ford Escort RS1600 | 2/C3 | 5:41,46 |
| 46 | Rigopoulos | Dionysios | | Opel Kadett City | E11 | 5:41,82 |
| 47 | Xanthakos | Marios | | Toyota Corolla | FST | 5:42,30 |
| 48 | Karperos | Vasilis | | Toyota Starlet | E10 | 5:42,51 |
| 49 | Avramidis | Marios | | Peugeot 106 S16 | N2 | 5:42,68 |
| 50 | Brillis | Dimitris | | Peugeot 106 S16 | N2 | 5:46,11 |
| 51 | Zervos | Alexandros | | Peugeot 106 S16 | N2 | 5:46,13 |
| 52 | Mavroeidakos | Ioannis | | Peugeot 106 | E10 | 5:46,84 |
| 53 | Paravalos | Giannis | | Toyota Yaris | A5 | 5:47,89 |
| 54 | Soldatos | Panagiotis | | Alfa Romeo Veloce | FSA | 5:49,23 |
| 55 | Boletis | Stylianos | | Ford Escort RS2000 | 3/D3 | 5:50,08 |
| 56 | Tsoukalas | Dionysios | | Toyota Corolla | FST2 | 5:51,15 |
| 57 | Atzemis | Christos | | Peugeot 106 Rallye | A5 | 5:52,06 |
| 58 | Ntekas | Konstantinos | | Peugeot 205 GTI | E10 | 5:53,25 |
| 59 | Papavasileiou | Prokopis | | Ford Escort RS2000 | 2/C3 | 5:53,46 |
| 60 | Skandalaros | Ioannis | | Opel Ascona | E11 | 5:53,58 |
| 61 | Tsapepas | Konstantinos | | BMW 2002 Ti | 2/C3 | 5:53,65 |
| 62 | Voulgaris | Theodoros | | Toyota Starlet | E10 | 5:53,97 |
| 63 | Georgakopoulos | Konstantinos | | Mazda 323 GTX | 4/E8 | 5:54,41 |
| 64 | Maraslis | Apostolis | | Ford Escort RS2000 | 2/C3 | 5:54,84 |
| 65 | Dimitriou | Dimitris | | Opel Ascona | FST2 | 5:55,87 |
| 66 | Kofinas | Konstantinos | | Alfa Romeo GT Veloce | 2/C3 | 6:07,90 |
| 67 | Katsikas | Ioannis | | Ford Escort RS2000 | 3/D3 | 6:11,53 |
| 68 | Vytogiannis | Kyriakos | | Alfa Romeo Alfetta GT | 2/C3 | 6:13,67 |
| 69 | Stamoulis | Charalampos | | Peugeot 106 S16 | N2 | 6:14,96 |
| 70 | Nakakis | Georgios | | Citroën Saxo VTS | A6 | 6:15,29 |
| 71 | Papazoglou | Lymperis | | Alfa Romeo Alfasud Ti | 3/D2 | 6:15,42 |
| 72 | Pouliadis | Pantelis | | Porsche 911 | E12D | 6:16,92 |
| 73 | Papapetrou | Konstantinos | | Peugeot 106 Rallye | A5 | 6:20,47 |
| 74 | Papadopoulos | Christos | | Mitsubishi Lancer EVO VI | A8 | 6:21,31 |
| 75 | Zachos | Zacharias | | Toyota Corolla | 4/E3 | 6:27,79 |
| 76 | Gerovasilis | Vasilis | | Fiat 131 Rallye | 3/D3 | 6:32,47 |
| 77 | Giannikos | Christos | | Ford Escort RS2000 | 3/D3 | 6:32,89 |
| 78 | Ntousias | Andreas | | Renault Clio | N3 | 6:40,84 |
| 79 | Christou | John | | Honda Civic Type-R | A7 | 6:49,63 |
| 80 | Nikolopoulou | Maria | | BMW 2002 | 2/C3 | 6:56,08 |
| 81 | Bountourakis | Stavros | | Toyota Starlet | E10 | 6:56,41 |
| 82 | Mangel | Giorgos | | Suzuki Swift | 4/E1 | 7:17,42 |
| 83 | Tzilavis | Savvas | | Mini Cooper | 2/C1 | 7:34,86 |
| 84 | Avgitidis | Georgios | | Mini Cooper | 2/C1 | 8:08,58 |