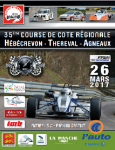 The Course de Côte de Hébécrevon – Agneaux was the first of sixteen regional hillclimbs in Normandy this year. The race had a great entry of 100 drivers, the weather was nice and the final results were not decided until the very last run of the day. Julien Français is intending to compete in a Norma M20F this year but this Sunday he was ride-sharing with Anthony Gueudry in a Martini MK80. Despite not knowing the car very well he was immediately fastest in practise.
By the time first race was completed Etienne Debarre was on top of the leaderboard. This did not last long however because after the second run Gaëtan Renouf moved up to first place. In the third and final race of the day every one of the top drivers increased their times once more. Still it was Gäetan Renouf who was fastest, but with a lead of just .038 seconds. Debarre claimed the runner-up spot, himself just 0.025 seconds ahead of Anthony Le Beller in third. Julien Français eventually finished fourth, just .238 seconds down on the winner, while John Nicol had a great debut in his new Dallara F99/01 to finish fifth.
Geoffrey Carcreff continued his domination of the touringcar class in western France with yet another victory. He was challenged by the Duponts in their Seat Leon Supercopas. Julien had a nice day and finished third but Sébastien had all kinds of mechanical problems and finished way down the order.
26/03/2017 – Course de Côte d'Hébécrevon / Agneaux

| Pos. | Last Name | First Name | | Car | Cl. | Final |
| --- | --- | --- | --- | --- | --- | --- |
| 1 | Renouf | Gaëtan | | Dallara F300 | D/E 3 | 0:58,193 |
| 2 | Debarre | Etienne | | Dallara F308 | D/E 3 | 0:58,231 |
| 3 | Le Beller | Anthony | | Norma M20 FC | CN2 | 0:58,256 |
| 4 | Francais | Julien | | Martini MK80 | D/E 3 | 0:58,431 |
| 5 | Nicol | John | | Dallara F399/01 | D/E 3 | 0:59,078 |
| 6 | Dumont | Olivier | | BRC CM05 EVO | CM | 1:00,033 |
| 7 | Laporte | Alban | | Dallara F300 | D/E 3 | 1:00,153 |
| 8 | Gueudry | Anthony | | Martini MK80 | D/E 3 | 1:00,160 |
| 9 | Collias | Jérôme | | BRC CM05 EVO | CM | 1:00,721 |
| 10 | Hamel | Dominique | | Dallara F308 | D/E 3 | 1:01,007 |
| 11 | Lebot | Clement | | Dallara F301 | D/E 3 | 1:01,021 |
| 12 | Chupin | Cyrille | | Silver Car S2 EVO | CM | 1:01,911 |
| 13 | Ravenel | Mickael | | Orion FR89B | D/E 1 | 1:02,080 |
| 14 | Jarret | Emmanuel | | BRC CM05 EVO | CM | 1:02,948 |
| 15 | Ravenel | Eddy | | Speed Car GTR | CM | 1:03,414 |
| 16 | Tessier | Damien | | Dallara F396 | D/E 3 | 1:03,648 |
| 17 | Renouf | Francis | | Dallara 389 | D/E 2 | 1:04,253 |
| 18 | Billault | Stéphanie | | Dallara F394 | D/E 3 | 1:04,403 |
| 19 | Maugy | Joël | | Norma M20F | CN2 | 1:04,808 |
| 20 | Guerin | Johnny | | Dallara F394 | D/E 3 | 1:04,859 |
| 21 | Lecerf | Eric | | Norma M20B | CN2 | 1:05,086 |
| 22 | Nature | Daniel | | Merlin MP23 | CN2 | 1:05,200 |
| 23 | Carcreff | Geoffrey | | Scora Maxi | FC4 | 1:06,083 |
| 24 | Dumont | Dominique | | BRC CM05 EVO | CM | 1:06,132 |
| 25 | Beauvoir | Bruno | | Tatuus FR2000 | D/E 7 | 1:06,363 |
| 26 | Maurouard | Daniel | | Dallara F300 Opel | D/E 3 | 1:06,965 |
| 27 | Doree | Jean-Yves | | Grac MT14S | CN1 | 1:07,201 |
| 28 | Nouet | Mathieu | | Simca Rallye II | FC3 | 1:07,258 |
| 29 | Dupont | Julien | | Seat Leon Supercopa | A4 | 1:07,891 |
| 30 | Helaine | Quentin | | Dallara F398 | D/E 3 | 1:08,125 |
| 31 | Vindard | Ludovic | | Renault Megane | F2000 / 3 | 1:08,737 |
| 32 | Guezet | Roger | | Tatuus FR2000 | D/E 7 | 1:08,900 |
| 33 | Bineau | Michel | | Nissan Almera Kit-Car | A3 | 1:09,171 |
| 34 | Surin | Ludovic | | Peugeot 306 S16 | F2000 / 3 | 1:10,310 |
| 35 | Fleury | Anthony | | Renault Clio RS | A3 | 1:10,757 |
| 36 | Gallot | Frédéric | | Peugeot 206 XS | A2 | 1:11,184 |
| 37 | Jeanne | Steve | | Renault Clio Williams | F2000 / 3 | 1:11,469 |
| 38 | Delamare | Aurelien | | Simca Rallye II | FC1 | 1:11,650 |
| 39 | Gaillardon | Fabien | | Renault Clio Williams | A3 | 1:11,967 |
| 40 | Bouhin | Jean-Marie | | Alpine A110 | FC3 | 1:12,090 |
| 41 | Marie | Francis | | Ford Escort Cosworth | N4 | 1:12,491 |
| 42 | Le Boisselier | Philippe | | Martini MK31 | D/E 1 | 1:12,547 |
| 43 | Descamps | Eric | | Citroën Saxo Cup | A2 | 1:13,153 |
| 44 | Durey | Charles | | Renault Clio Williams | N3 | 1:13,371 |
| 45 | Tkatchenko | Jacques | | Citroën Saxo VTS | A2 | 1:13,381 |
| 46 | Levaufre | Sébastien | | Renault Clio RS | F2000 / 3 | 1:13,425 |
| 47 | Janin | Janick | | Tatuus FR2000 | D/E 7 | 1:13,511 |
| 48 | Leblanc | Alexis | | BMW 325i | A4 | 1:13,520 |
| 49 | Mesnilgrente | Joël | | Renault Megane | F2000 / 3 | 1:13,537 |
| 50 | Jeanne | Frédéric | | Peugeot 205 GTI | F2000 / 2 | 1:13,590 |
| 51 | Gallot | Gérard | | Peugeot 206 XS | A2 | 1:13,855 |
| 52 | Ledouit | Philippe | | Renault Megane RS | N4 | 1:13,894 |
| 53 | Moisson | Jean-Marie | | Renault Clio Williams | A3 | 1:13,895 |
| 54 | Loton | Ferdinand | | Honda Civic Type-R | N3 | 1:13,940 |
| 55 | Ledouit | Laure | | Renault Clio Cup II | A3 | 1:14,159 |
| 56 | Jeanne | Sébastien | | Peugeot 205 GTI | F2000 / 2 | 1:14,228 |
| 57 | Michaud | Frédéric | | Citroën Saxo | A2 | 1:14,389 |
| 58 | Coutard | Anthony | | Peugeot 106 XSi | F2000 / 2 | 1:14,481 |
| 59 | Moulinet | Cédric | | Peugeot 106 | F2000 / 1 | 1:14,522 |
| 60 | Guesney | Christian | | Peugeot 205 GTI | F2000 / 3 | 1:15,004 |
| 61 | Lehaut | Henry-Jacques | | Renault Clio RS | N3 | 1:15,397 |
| 62 | Martin | Grégory | | PRM Funboost | CM | 1:15,522 |
| 63 | Le Verne | Frédéric | | Simca Rallye II | FC1 | 1:15,619 |
| 64 | Pierquin | Claude | | Renault 8 Gordini | FC2 | 1:15,683 |
| 65 | Le Ribault | Philippe | | Citroën Saxo | A2 | 1:15,745 |
| 66 | Loton | Didier | | Honda Civic | N2 | 1:16,162 |
| 67 | Drots | Jérémy | | Simca Rallye II | FC1 | 1:16,656 |
| 68 | Chretienne | Bernard | | Renault Clio RS | A3 | 1:16,699 |
| 69 | Fossey | Karl | | Ford Sierra Cosworth | N4 | 1:16,752 |
| 70 | Durey | Christophe | | Renault Clio Williams | N3 | 1:17,230 |
| 71 | Blanchard | Henri | | BMW 323 | FC4 | 1:17,254 |
| 72 | Levilly | François | | Renault Clio | A3 | 1:17,285 |
| 73 | Rabec | Yves | | Simca Rallye II | FC2 | 1:17,405 |
| 74 | Langlois | Dany | | Renault 5 GT Turbo | F2000 / 3 | 1:17,454 |
| 75 | Tomelin | Jérôme | | Peugeot 205 GTI | F2000 / 2 | 1:17,956 |
| 76 | Cosnard | Arnaud | | Citroën C2 GT | A2 | 1:18,254 |
| 77 | Lusardi | Leonard | | Lotus Elise | GT1 | 1:18,334 |
| 78 | Havas | Philippe | | Peugeot 205 GTI | F2000 / 2 | 1:18,606 |
| 79 | Tourniere | Guillaume | | Simca Rallye II | FC1 | 1:19,168 |
| 80 | Andre | Anthony | | Simca Rallye II | FC1 | 1:19,177 |
| 81 | Callu | Julien | | Peugeot 106 S16 | F2000 / 2 | 1:19,236 |
| 82 | Legaillard | Damien | | Honda Civic | F2000 / 2 | 1:20,363 |
| 83 | Pecate | Stéphane | | Peugeot 106 Rallye | A1 | 1:20,701 |
| 84 | Langlois | Jean-Philippe | | Citroën Saxo | F2000 / 2 | 1:20,718 |
| 85 | Legaillard | Quentin | | Honda Civic | F2000 / 2 | 1:20,851 |
| 86 | Dupont | Sébastien | | Seat Leon Supercopa | A4 | 1:21,804 |
| 87 | Surin | Eloïse | | Peugeot 306 S16 | F2000 / 3 | 1:22,656 |
| 88 | Hue | Dominique | | Renault Megane | F2000 / 3 | 1:22,934 |
| 89 | Guicheux | Laurent | | Citroën C2 GT | A2 | 1:23,243 |
| 90 | Andre | Anaëlle | | Peugeot 106 XSi | F2000 / 1 | 1:23,998 |
| 91 | Yver | Joël | | Peugeot 205 GTI | FC3 | 1:29,513 |
| 92 | Morisset | Christophe | | Peugeot 106 S16 | N2 | 1:30,221 |
| 93 | Merel | Florian | | Citroën AX | A1 | 1:31,897 |