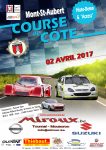 The Belgian Regional Hillclimb Championship started this weekend with the Course de Côte de Mont Saint Aubert. Almost 50 drivers were present of which almost 40 competed in the speed hillclimb. Among them were a lot of local rally drivers which will probably not participate in the rest of the hillclimb championship.
Providing correct entrylists remains a difficult subject in Belgium. For starters Mont Saint Aubert continued the 'Belgian' practise of not communicating any form of entrylist before the event. The list that was produced on the day of the actual event is full of mistakes. To make matters worse those mistakes were not corrected and appear in the final results! I try to be as accurate as possible on this website, but here I can only give you the final results with the errors included…
Back to the race. Peter Vanderhauwaert normally competes in rallies and rallysprints with a small Citroën Saxo. And with some succes as last year at Mont Saint Aubert he was third overall. This Sunday he had the opportunity to drive a Skoda Fabia 4×4 Turbo in rallycross specifications. With this powerful car he immediately claimed overall victory. Christophe Le Nouvel had some small mechanical issues with his Citroën AX GTI but he still manage to finish second overall. He was also declared winner of Division 1-2-3 because Vanderhauwaert was for some reason entered in Division 4. Over the winter the Dubois family equipped their Lotus Elise with a new gearbox. Their first event of the year was succesful and Olivier finished third overall.
02/04/2017 – Course de Côte de Mont Saint Aubert

| Pos. | Last Name | First Name | | Car | Cl. | Final |
| --- | --- | --- | --- | --- | --- | --- |
| 1 | Vanderhauwaert | Peter | | Skoda Fabia | 4/16 | 1:48,74 |
| 2 | Le Nouvel | Christophe | | Citroën AX GTI | 3/11 | 1:49,88 |
| 3 | Dubois | Olivier | | Lotus Elise | 3/13 | 1:50,43 |
| 4 | Vandenabeele | Vincent | | BMW M3 E90 | 3/9 | 1:53,91 |
| 5 | Cantraine | Emmanuel | | Lancia Delta HF | 3/9 | 1:56,09 |
| 6 | Vandenabeele | Jean | | BMW M3 E90 | 3/9 | 1:56,75 |
| 7 | Gorloo | Steve | | Peugeot 205 GTI | 2/7 | 1:56,92 |
| 8 | De Sutter | Jean | | Lotus Exige | 3/13 | 1:57,00 |
| 9 | Deroeck | Jean-Louis | | Petrezedeck | 4/15 | 1:57,22 |
| 10 | Dubois | Michel | | Lotus Elise | 3/13 | 1:58,23 |
| 11 | Lariviere | Maxime | | Peugeot 205 GTI | 2/7 | 1:58,42 |
| 12 | Lehoucq | Bror | | BMW M3 E46 | 2/8 | 1:58,54 |
| 13 | Le Nouvel | Sebastien | | BRC CM02 | 4/15 | 1:58,85 |
| 14 | Blockmans | Axel | | Honda Civic VTI | 2/6 | 2:01,12 |
| 15 | Deroeck | Jean-Louis | | BMW M3 | 3/13 | 2:03,34 |
| 16 | Lariviere | Maxime | | Peugeot 306 | 3/12 | 2:03,72 |
| 17 | Leroy | Jordan | | Volkswagen Golf II | 2/7 | 2:05,02 |
| 18 | Hennequart | Nicolas | | Volkswagen Golf | 3/13 | 2:05,61 |
| 19 | Delencre | Nicolas | | Volkswagen Golf II | 2/7 | 2:06,20 |
| 20 | Blockmans | Luc | | Honda Civic VTI | 2/6 | 2:06,83 |
| 21 | Talpe | Philippe | | Peugeot 205 GTI | 2/7 | 2:08,29 |
| 22 | Welter | René | | Westfield ZEi | 1/3 | 2:08,47 |
| 23 | Nicolas | Florian | | Alfa Romeo 145 | 2/7 | 2:09,59 |
| 24 | Dierckx | Daniel | | Citroën C2 VTS | 2/6 | 2:09,70 |
| 25 | Cantraine | Emmanuel | | Fiat Tipo | 1/3 | 2:11,48 |
| 26 | Denis | Philippe | | Ford Focus | 1/3 | 2:12,42 |
| 27 | Bail | Jerome | | Renault Clio RS | 3/12 | 2:13,33 |
| 28 | Nicolas | Bernard | | Alfa Romeo 145 | 2/7 | 2:15,85 |
| 29 | Bracher | Rene | | Peugeot 106 | 2/6 | 2:15,88 |
| 30 | Theron | Vincent | | Volkswagen Golf GTI | 3/11 | 2:16,74 |
| 31 | Collie | Michael | | Fiat Tipo | 1/3 | 2:17,02 |
| 32 | Detrait | Guillaume | | Volkswagen Golf II | 1/3 | 2:17,35 |
| 33 | Moreau | Kevin | | Citroën AX GTI | 3/10 | 2:21,09 |
| 34 | Fiquet | Didier | | BMW 316 Compact | 2/6 | 2:25,05 |
| 35 | Marin | Christian | | Peugeot 106 | 3/11 | 2:31,25 |