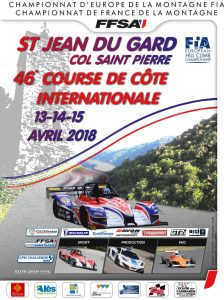 Sébastien Petit scored a sensational victory at the opening round of the European Hillclimb Championship. At the Course de Côte de Saint-Jean-du-Gard / Col Saint Pierre the Frenchman drove more consistent than his two Italian rivals Christian Merli and Simone Faggioli. Reigning champion Faggioli was the quickest driver in the first timed race but lost time in the second after clipping a haybale. Merli broke the trackrecord in his second run but had already lost too much time to Petit in the first. So with two second fastest times Petit ended up on top of the podium. Lets hope this result motivates more French drivers to develop European-ready cars!
There was also French succes in the touringcars. As expected Pierre Courroye dominated the event in his McLaren MP4.12c. He easily beat his two rivals in the GT class. Courroye was also the quickest in the French classifications. However the current champion was disqualified after the race for an underweight car. He was only disqualified in the French classifications so Courroye keeps his European points.
Due to Courroye's disqualification, Nicolas Werver was the French Championship winner. The former champion did not compete against Courroye in the European GT class. Instead Werver opted for the E2-SH class. Here he managed to defeat Vladimir Vitver and take class victory.
The closest battle for class victory was in Group N. Tomas Vavrinec was the quickest in race one by four seconds. In race 2 the roles were completely reversed and Antonino Migliuolo was quicker by four seconds. The final classifications were based on tenths of a second, in favour of the Italian. Peter Ambruz was very close to the two leaders but had to settle for third.
Laszlo Hernadi was the only driver in class S2000 and the obvious winner. Lukas Vojacek had 4 opponents in Group A. The Czech was the only one with a 4-wheel-drive turbo car so Vojacek had no trouble taking class victory. Christian Bouvier was the only Frenchman in Group CN. He could not stop his Italian rivals at his homerace. Andrea Bormolini took class victory.
14-15/04/2018 – Course de Côte de Saint-Jean-du-Gard / Col Saint Pierre

| Pos. | Last Name | First Name | | Car | Cl. | Final |
| --- | --- | --- | --- | --- | --- | --- |
| 1 | Petit | Sebastien | | Norma M20 FC | E2-SC 3000 | 4:30,896 |
| 2 | Merli | Christian | | Osella FA30 | E2-SS 3000 | 4:31,069 |
| 3 | Faggioli | Simone | | Norma M20 FC | E2-SC 3000 | 4:33,636 |
| 4 | Schatz | Geoffrey | | Norma M20 FC | CN+ | 4:35,265 |
| 5 | De Gasperi | Diego | | Osella FA30 | E2-SS 3000 | 4:49,887 |
| 6 | Lampert | Christoph | | Osella FA30 | E2-SS 3000 | 4:50,404 |
| 7 | Meillon | David | | Norma M20 FC | CN+ | 4:52,240 |
| 8 | Villa | Javier | | BRC BR53 | E2-SC 2000 | 4:52,310 |
| 9 | Ritchen | Billy | | Dallara F312 | E2-SS 2000 | 4:55,255 |
| 10 | Francais | Julien | | Norma M20 FC | CN2 | 4:59,064 |
| 11 | Guillaumard | David | | Dallara F312 | E2-SS 2000 | 4:59,737 |
| 12 | Pernot | Marc | | Norma M20 FC | CN2 | 5:01,199 |
| 13 | Bouche | Benoit | | Reynard 99L | E2-SS 3000 | 5:01,383 |
| 14 | Thomas | Alban | | Dallara F306 | D/E 5 | 5:01,712 |
| 15 | Bormolini | Fausto | | Reynard K02 | E2-SS 3000 | 5:02,248 |
| 16 | Cotleur | Maxime | | Norma M20F | CN2 | 5:03,378 |
| 17 | Pereira | Dimitri | | Norma M20F | CN2 | 5:03,630 |
| 18 | Verdier | Nicolas | | Dallara F302 | D/E 5 | 5:04,039 |
| 19 | Clausi | Thomas | | Dallara F302 | D/E 5 | 5:04,215 |
| 20 | Sapin | Marcel | | Tatuus Master | D/E 8 | 5:04,774 |
| 21 | Guth | Samuel | | Dallara F306 | D/E 5 | 5:05,801 |
| 22 | Thomas | Raynald | | Dallara F308 | D/E 5 | 5:05,815 |
| 23 | Augusto | Olivier | | Norma M20 FC | CN2 | 5:09,608 |
| 24 | Bormolini | Andrea | | Osella PA20/S | CN 3000 | 5:12,416 |
| 25 | Bourgeon | Fabien | | Tracking RC01B | CM | 5:12,758 |
| 26 | Louvet | Sarah | | Dallara F303 | D/E 5 | 5:13,221 |
| 27 | Flandy | Fabrice | | Dallara 305 | D/E 1 | 5:15,017 |
| 28 | Campi | Pascal | | Osella PA20/S | E2-SC 2000 | 5:15,358 |
| 29 | Brun | Didier | | Dallara F302 | D/E 5 | 5:16,027 |
| 30 | Carifi | Anthony | | Norma M20F | CN2 | 5:17,784 |
| 31 | Zerafa | Steeve | | Dallara F311 | D/E 5 | 5:18,550 |
| 32 | Cholley | Patrick | | Dallara F306 | D/E 5 | 5:19,492 |
| 33 | Courroye | Pierre | | McLaren MP4 12C | GT +3000 | 5:19,847 |
| 34 | Pic | Sebastien | | Norma M20F | CN2 | 5:22,211 |
| 35 | Berton | Bruno | | Ligier JS49 | CN2 | 5:23,426 |
| 36 | Capucci | Marco | | Osella PA21/S | CN 2000 | 5:24,657 |
| 37 | Lebot | Clement | | Dallara F301 | D/E 5 | 5:24,792 |
| 38 | Mallemanche | Cyril | | Norma M20F | CN2 | 5:27,922 |
| 39 | Gelly | Romain | | Tatuus FR2000 | D/E 7 | 5:27,999 |
| 40 | Chaumont | Didier | | Tatuus FR2000 | D/E 7 | 5:28,957 |
| 41 | Bellieres | Franck | | Osella PA27 | E2-SC 2000 | 5:30,722 |
| 42 | Thomas | Serge | | Norma M20 FC | CN2 | 5:31,554 |
| 43 | Werver | Nicolas | | Porsche 997 GT2 | E2-SH +3000 | 5:32,164 |
| 44 | Vitver | Vladimir | | Audi TT-R DTM | E2-SH +3000 | 5:32,686 |
| 45 | Poulet | Nicolas | | Osella PA20/S | CN3 | 5:34,367 |
| 46 | Monziols | Cedric | | BRC CM05 EVO | CM | 5:35,487 |
| 47 | Schmitter | Philippe | | Renault RS01 | E2-SH +3000 | 5:35,538 |
| 48 | Avellaneda | Jeremy | | Norma M20 FC | CN2 | 5:36,364 |
| 49 | Etienne | Christian | | Norma M20F | CN2 | 5:37,437 |
| 50 | Bole | Alexandre | | Tatuus FR2000 | D/E 7 | 5:37,546 |
| 51 | Poulet | William | | Norma M20F Honda | CN2 | 5:37,809 |
| 52 | Poinsignon | Yannick | | BMW M3 E92 | GTTS4 | 5:38,473 |
| 53 | Schmitter | Christian | | Porsche 997 GT3-R | GT +3000 | 5:38,881 |
| 54 | Dodille | Sylvain | | Norma M20B | CN2 | 5:40,136 |
| 55 | Araud | Christian | | Jema 630 GT | CM | 5:41,271 |
| 56 | Taponard | Simon | | Tracking RC01B | CM | 5:41,342 |
| 57 | Giet | Christopher | | Dallara F308 | D/E 5 | 5:41,961 |
| 58 | Louvet | Jean-Jacques | | Norma M20F | CN2 | 5:42,137 |
| 59 | Cammares | Marie | | Tatuus FR2000 | D/E 7 | 5:43,813 |
| 60 | Recordier | Jean-Marie | | BRC B-49 | CM | 5:44,207 |
| 61 | Segond | Francis | | Merlin MP23 | CN2 | 5:44,264 |
| 62 | Ferretti | Thierry | | Radical Prosport | CN1 | 5:44,756 |
| 63 | Gontier | Michel | | BRC B-49 | CM | 5:45,478 |
| 64 | Flandy | Corinne | | Dallara 301 | D/E 1 | 5:46,336 |
| 65 | Reutter | Paul | | Porsche 997 GT3 | GT2 | 5:47,131 |
| 66 | Cambon | Olivier | | Funyo B4 | CN1 | 5:48,580 |
| 67 | Clausi | Melody | | Tatuus FR2000 | D/E 7 | 5:48,830 |
| 68 | Maly | Jaromir | | Mitsubishi Lancer EVO IX | E2-SH +3000 | 5:49,860 |
| 69 | Nogret | Alain | | Norma M20F | CN2 | 5:51,092 |
| 70 | Bouvier | Christian | | Wolf GB08 | CN 2000 | 5:52,394 |
| 71 | Felgerolles | Pascal | | BRC CM05 EVO | CM | 5:52,632 |
| 72 | Plan | Guillaume | | Mitsubishi Lancer EVO IX | A5 | 5:52,741 |
| 73 | Janny | Jerome | | Seat Leon Supercopa | A5 | 5:52,869 |
| 74 | Dosieres | Francis | | Seat Leon MK3 | A5 | 5:53,009 |
| 75 | Caumon | Nicolas | | Lamborghini Gallardo | GTTS4 | 5:53,535 |
| 76 | Beal | Pierre | | Volvo S60 TC10 | GTTS4 | 5:53,856 |
| 77 | Uny | Antoine | | Seat Leon Supercopa | A5 | 5:54,422 |
| 78 | Errard | Frederic | | Tatuus FR2000 | E2-SS 2000 | 5:58,318 |
| 79 | Saintmard | Gilles | | Dallara F393 | E2-SS 2000 | 5:58,480 |
| 80 | Lauret | Jerome | | Norma M20B | CN2 | 6:02,418 |
| 81 | Liron | Nicolas | | Renault Megane Kit-Car | A3 | 6:03,602 |
| 82 | Benes | Oskar | | Ford Fiesta | E2-SH +3000 | 6:03,629 |
| 83 | Vojacek | Lukas | | Subaru Impreza | A +3000 | 6:07,632 |
| 84 | Peloux | Guillaume | | Peugeot 206 Maxi | F2000 / 3 | 6:07,837 |
| 85 | Dall'Oglio | Alberto | | Norma M20 FC | CN 2000 | 6:09,781 |
| 86 | Migliuolo | Antonino | | Mitsubishi Lancer EVO IX | N +3000 | 6:10,833 |
| 87 | Vavrinec | Tomas | | Mitsubishi Lancer EVO IX | N +3000 | 6:11,114 |
| 88 | Machka | Yann | | Renault Clio Cup IV | A4 | 6:12,555 |
| 89 | Derre | Pascal | | Seat Leon Supercopa | A5 | 6:13,236 |
| 90 | Poinsignon | Christophe | | Simca CG Turbo | FC4 | 6:14,093 |
| 91 | Ambruz | Peter | | Mitsubishi Lancer EVO IX | N +3000 | 6:14,580 |
| 92 | Milon | Jan | | McLaren 650S GT3 | GT +3000 | 6:15,370 |
| 93 | Cossu | Tonino | | Honda Civic Type-R | A 2000 | 6:15,456 |
| 94 | Boillot | Jean-Marc | | Simca Rallye II | F2000 / 1 | 6:17,533 |
| 95 | Durassier | Samuel | | Honda Civic Type-R | F2000 / 3 | 6:18,728 |
| 96 | Drouillat | Edouard | | Mit-Jet | GTTS1 | 6:18,804 |
| 97 | Filippi | Toussaint | | Jide J40 | FC4 | 6:19,434 |
| 98 | Zuurbier | Luca | | Honda Civic Type-R | A 2000 | 6:19,526 |
| 99 | Jerman | Martin | | Lamborghini Gallardo GT3 | GT +3000 | 6:20,924 |
| 100 | Nicolas | Lionel | | BMW Compact | F2000 / 3 | 6:21,645 |
| 101 | Cat | Pascal | | Renault Megane RS | N +3000 | 6:21,825 |
| 102 | Giorgian | Magaly | | Tatuus FR2000 | D/E 7 | 6:22,390 |
| 103 | Marion | Philippe | | Porsche 911 GT2 | GT2 | 6:22,623 |
| 104 | Santarelli | Frederic | | Porsche Cayman Cup S | GT2 | 6:22,626 |
| 105 | Granjon | Louis | | BMW M3 E36 | N4 | 6:22,958 |
| 106 | Perez | Denis | | Renault 8 Gordini | FC2 | 6:22,967 |
| 107 | Tissot | Jean-Marc | | Mit-Jet | GTTS1 | 6:23,406 |
| 108 | Bard | Sebastien | | Renault Clio Cup II | A3 | 6:23,909 |
| 109 | Lestienne | Jean-Michel | | Mit-Jet | GTTS1 | 6:24,169 |
| 110 | Dumas | Maurice | | BMW 135i | GT2 | 6:24,475 |
| 111 | Dedek | David | | Alfa Romeo 147 | A 2000 | 6:25,081 |
| 112 | Dubrana | Yves | | BMW M3 E36 | A4 | 6:25,307 |
| 113 | Cazalens | Joel | | Lotus Exige Cup 260 | GT2 | 6:25,634 |
| 114 | Marcillac | Arnaud | | BRC CM05 EVO | CM | 6:27,196 |
| 115 | Michy | Philibert | | Renault Clio Cup III | A3 | 6:27,483 |
| 116 | Savary | Vincent | | BMW M3 E36 | N4 | 6:29,864 |
| 117 | Bonhomme | Didier | | BMW Serie 1 | F2000 / 3 | 6:30,649 |
| 118 | Sepchat | Christian | | BMW M3 E36 | N4 | 6:31,787 |
| 119 | Authier | Ghislain | | Renault Clio Cup | A3 | 6:31,978 |
| 120 | Chabanas | Noel | | Renault Clio Cup II | A3 | 6:32,091 |
| 121 | Peyrard | Eric | | Renault Clio Cup IV | A4 | 6:35,017 |
| 122 | Nicolas | Daniel | | Citroën DS3 | A3 | 6:38,145 |
| 123 | Hernadi | Laszlo | | Mitsubishi Lancer EVO IX R4 | S2 +3000 | 6:40,512 |
| 124 | Chabanas | Alain | | Renault Clio Cup III | A3 | 6:40,525 |
| 125 | Pougnet | Frederic | | Renault Clio | A3 | 6:44,233 |
| 126 | Michon | Eric | | Seat Leon Supercopa | A5 | 6:45,015 |
| 127 | Pieyre | Alex | | BMW M3 E36 | N4 | 6:48,342 |
| 128 | Samani | Richard | | Renault 5 GT Turbo | F2000 / 3 | 6:56,816 |
| 129 | Louison | Aurore | | Mit-Jet | GTTS1 | 6:57,264 |
| 130 | Esturillo | Antoine | | Honda Civic EK4 | F2000 / 2 | 6:58,757 |
| 131 | Reynes | Michel | | Peugeot 106 | F2000 / 1 | 7:03,328 |
| 132 | Armand | Jonathan | | Peugeot 106 | F2000 / 2 | 7:09,620 |
| 133 | Grand | Damien | | Volkswagen Golf II GTI | N3 | 7:10,151 |
| 134 | Garcia | Frederic | | BMW 325i E30 | A4 | 7:13,519 |
| 135 | Ferrando | Jean-Louis | | Simca JLF | FC2 | 7:13,580 |
| 136 | Mazauric | Cedric | | Peugeot 205 GTI | F2000 / 2 | 7:14,681 |
| 137 | Ricard | Kevin | | Peugeot 106 XSi | N1 | 7:22,495 |
| 138 | Choquet | Arnaud | | Renault Clio Trophy | FC4 | 7:23,260 |
| 139 | Gervais | Franc | | Renault Megane RS | N4 | 7:23,700 |
| 140 | Terzo | Laurent | | Renault Clio | F2000 / 3 | 7:25,376 |
| 141 | Gruntorad | Frantisek | | Renault Clio RS | A 2000 | 7:47,576 |
| 142 | Rouveirolles | Stephan | | Citroën Saxo | F2000 / 2 | 7:51,320 |
| E | Garces | Ronald | | Porsche 997 Cup | GTTS3 | |
14-15/04/2018 – Course de Côte de Saint-Jean-du-Gard / Col Saint Pierre (VHC)

| Pos. | Last Name | First Name | | Car | Cl. | Final |
| --- | --- | --- | --- | --- | --- | --- |
| 1 | Debeaune | Jean-Marc | | Van Diemen RF82 | 8-9/D9 | 2:53,770 |
| 2 | Almeras | Jean-Marie | | Porsche 935 | 5/C6 | 2:58,603 |
| 3 | Ferretti | Pascal | | Marcadier JF01 | 6-7/C4 | 2:58,864 |
| 4 | Massu | Jean-Charles | | Tiga SC81 | 6-7/C5 | 3:05,188 |
| 5 | Cursoux | Gilles | | Martini MK30 | 8-9/C4 | 3:05,485 |
| 6 | Bonnot | Jacky | | Axone 1600 FL | 8-9/B4 | 3:13,938 |
| 7 | Michon | Rene | | Porsche 930 T | 3/C8 | 3:14,387 |
| 8 | Lejeune | Gabriel | | Jide Original | 5/B5 | 3:22,896 |
| 9 | Brebant | Philippe | | Alpine A110 | 4/B3 | 3:24,099 |
| 10 | Rieu | Norbert | | Porsche 911 | 3/C8 | 3:26,813 |
| 11 | Bonnardel | Viviane | | Volkswagen Scirocco | 2/C4 | 3:27,195 |
| 12 | Riehl | Nicolas | | BMW 2002 | 2/C5 | 3:27,741 |
| 13 | Mejanel | Jean-François | | Porsche 911 SC | 4/C8 | 3:29,150 |
| 14 | Provost | Claude | | Alpine A110 SC | 4/B5 | 3:29,722 |
| 15 | Riehl | Christian | | BMW 323i | 2/C7 | 3:31,602 |
| 16 | Gaillard | Jean-Claude | | Renault 5 GT Turbo | N/D5 | 3:34,708 |
| 17 | Cayrier | Bernard | | Le Gallen LLG8 | 6-7/B4 | 3:37,847 |
| 18 | Toupence | Roger-Serge | | Martini MK32 | 8-9/C5 | 3:39,771 |
| 19 | Legre | François | | Marcadier | 6-7/B3 | 3:48,366 |
| 20 | Tissot | Andre | | Marcadier Barzoï | 6-7/B4 | 3:48,491 |
| 21 | Toral | Gerard | | Renault 8 Gordini | 2/B3 | 3:50,998 |
| 22 | Hoffmann | Jean-Pierre | | NSU TT | 2/B3 | 4:01,875 |
| 23 | Mejanel | Laura | | Peugeot 104 ZS | CL | 4:20,343 |
14-15/04/2018 – Course de Côte de Saint-Jean-du-Gard / Col Saint Pierre (Caterham)

| Pos. | Last Name | First Name | | Car | Cl. | Final |
| --- | --- | --- | --- | --- | --- | --- |
| 1 | Noregral | Bruno | | Caterham Seven | Road | 3:05,670 |
| 2 | Di Palma | Christian | | Caterham Seven | Road | 3:07,899 |
| 3 | Mouchet | David | | Caterham Seven | Road | 3:10,865 |
| 4 | Chatelain | Laura | | Caterham Seven | Road | 3:11,427 |
| 5 | Astrog | Pierre | | Caterham Seven | Road | 3:12,695 |
| 6 | Marcoux | Arnaud | | Caterham Seven | Road | 3:12,873 |
| 7 | Mag | Harald | | Caterham Seven | Road | 3:15,955 |
| 8 | Rouanet | Ghuilhem | | Caterham Seven | ACA | 3:22,876 |
| 9 | Duperret | Michel | | Caterham Seven | ACA | 3:24,426 |
| 10 | Celton | Olivier | | Caterham Seven | ACA | 3:24,675 |
| 11 | Delaby | Antoine | | Caterham Seven | ACA | 3:30,125 |
| 12 | Gauthier | Mark | | Caterham Seven | ACA | 3:33,637 |
| 13 | Delhoume | Philippe | | Caterham Seven | ACA | 3:34,297 |
| 14 | Caserta | Bastien | | Caterham Seven | Road | 3:45,721 |