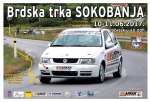 The Serbian Hillclimb Championship continued with the Brdska Trka Sokobanja. Uros Brkic gave some good opposition to reigning champion Aleksa Radojkovic. After the first race session on Saturday the two were seperated by just half a second. However a technical problem in the second race saw Brkic lose time. He still finished second behind Radojkovic but did not compete on Sunday. Without his rival, Radojkovic took another comfortable win on Sunday.
The Sunday race was complicated by a major rainshower in the second race session. Because in Serbia the drivers compete in reversed order, that is fastest first, Radojkovic was actually one of the only drivers who could complete his run in the dry.
Viktor Davidoviski was the best driver in the popular Yugo Cup this weekend. However after his victory on Saturday the Macedonian saw himself disqualified from another certain victory on Saturday for his Yugo being underweight.

10-11/06/2017 – Brdska Trka Sokobanja

| Pos. | Last Name | First Name | | Car | Cl. | Fase A | Fase B |
| --- | --- | --- | --- | --- | --- | --- | --- |
| 1 | Radojkovic | Aleksa | | Ford Focus | 8 | 4:56,555 | 4:48,865 |
| 2 | Ilic | Dejan | | Yugo | 4 | 5:12,614 | 5:06,956 |
| 3 | Brkic | Uros | | Honda Civic | 5 | 5:10,534 | |
| 4 | Balacikic | Dragan | | Honda Civic | 7 | 5:21,914 | 5:17,604 |
| 5 | Nesic | Stefan | | Renault Clio | 7 | 5:17,832 | 5:25,319 |
| 6 | Davidovski | Viktor | | Yugo | 2 | 5:26,759 | |
| 7 | Milic | Zivota | | Peugeot 206 | 8 | 5:27,415 | 6:01,134 |
| 8 | Panic | Danijel | | Peugeot 106 | 3 | 5:27,896 | 5:36,030 |
| 9 | Lazarevic | Jovan | | Yugo | 2 | 5:29,366 | 5:45,163 |
| 10 | Kotorcevic | Luka | | Peugeot 106 | 3 | 5:33,768 | 5:56,044 |
| 11 | Lambasa | Predrag | | Yugo | 2 | 5:34,750 | 6:13,833 |
| 12 | Gajic | Borivoje | | Yugo | 4 | 5:37,670 | 6:23,578 |
| 13 | Jevtic | Srdan | | Volkswagen Polo | 3 | 5:39,927 | 6:56,256 |
| 14 | Mladenovic | Aleksandar | | Volkswagen Polo | 4 | 5:43,746 | 6:18,345 |
| 15 | Arsic | Dragoljub | | Yugo | 2 | 5:45,007 | 6:24,186 |
| 16 | Stojanovic | Stefan | | Suzuki Swift | 4 | 5:45,961 | 6:21,822 |
| 17 | Janosevic | Nebosja | | Opel Astra | 7 | 5:51,098 | 6:42,565 |
| 18 | Jancevic | Savo | | Volkswagen Polo | 5 | 5:52,075 | 7:30,136 |
| 19 | Maric | Marko | | Yugo | 1 | 6:00,035 | 6:26,063 |
| 20 | Morarevic | Igor | | Volkswagen Scirocco | 8 | 6:00,351 | 7:03,411 |
| 21 | Milisavljevic | Zoran | | Yugo | 1 | 6:03,727 | 6:50,500 |
| 22 | Lukic | Dragan | | Peugeot 106 | 4 | 6:03,741 | 6:59,562 |
| 23 | Jovanovic | Bojan | | Yugo | 1 | 6:07,086 | 6:29,924 |
| 24 | Kaluderovic | Nemanja | | Yugo | 1 | 6:09,693 | 6:24,816 |
| 25 | Kolarevic | Nenad | | Yugo | 1 | 6:10,112 | 6:38,979 |
| 26 | Jovanovic | Petar | | Yugo | 2 | | 6:19,999 |
| 27 | Milosevic | Aleksandar | | Yugo | 4 | 6:22,551 | 6:52,419 |
| 28 | Draganovic | Ibrahim | | Yugo | 2 | 6:40,574 | |
| 29 | Rajcic | Bojan | | Yugo | 2 | | 7:18,977 |