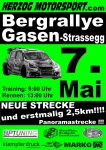 The Bergrallye Cup reached its halfway point with the Bergrallye Gasen-Strassegg. It was a brand-new hillclimb and also unique in its length. Starting from this year the Bergrallye Cup allows hillclimbs up to 2,5 kilometres and the track at Gasen was the first to take this to the maximum.
Thomas Holzmann was the first to found the limits of the new track. Literally, as he had a small crash in practise. But in the race he was unstoppable with the three fastest times. Felix Pailer came very close in the third and final race but he was not consistent enough to challenge Holzmann for victory. Rupert Schwaiger suffered from electronic problems in his mighty Porsche 911 Bi-Turbo during practise. The car was repaired in time but he could not challenge for victory. Still Schwaiger finished third.
The closest battle of the day was in E1 -2000. Here Diethard Sternad was the fastest driver in both race 1 and race 3. But the final results were based on the best two out of three times. And because Christopher Neumayr was so close in every race he could actually claim victory over Sternad with a lead of just .036 seconds!
07/05/2017 – Bergrallye Gasen-Strassegg

| Pos. | Last Name | First Name | | Car | Cl. | Final |
| --- | --- | --- | --- | --- | --- | --- |
| 1 | Holzmann | Thomas | | Mitsubishi Lancer EVO VI | E1 +2000 4WD | 2:15,445 |
| 2 | Pailer | Felix | | Lancia Delta Integrale | E1 +2000 4WD | 2:16,276 |
| 3 | Schwaiger | Rupert | | Porsche 911 Bi-Turbo | E1 +2000 2WD | 2:17,355 |
| 4 | Wiedenhofer | Stefan | | Mitsubishi Mirage R5 E2 | E1 +2000 4WD | 2:18,634 |
| 5 | Karl | Werner | | Audi S2R Quattro | E1 +2000 4WD | 2:19,280 |
| 6 | Seidl | Manuel | | Porsche 997 GT3 Cup | E1 +2000 2WD | 2:21,216 |
| 7 | Binder | Markus | | Ford Escort Cosworth | E1 +2000 4WD | 2:21,854 |
| 8 | Neumayr | Christopher | | Ford Escort NPM-IRS | E1 2000 | 2:22,551 |
| 9 | Sternad | Diethard | | Alfa Romeo 156 STW | E1 2000 | 2:22,587 |
| 10 | Weberhofer | Thomas | | Opel Omega Bi-Turbo | E1 +2000 2WD | 2:22,812 |
| 11 | Halbartschlager | Jürgen | | Volkswagen Golf | E1 2000 | 2:23,795 |
| 12 | Taus | Reinhold | | Subaru Impreza WRX | A +2000 | 2:24,222 |
| 13 | Speckl | Christian | | Volkswagen Golf | E1 1600 | 2:26,383 |
| 14 | Holzer | Dieter | | Mitsubishi Lancer EVO VIII | N +2000 | 2:26,475 |
| 15 | Scherr | Ewald | | Ford Escort Cosworth | E1 +2000 4WD | 2:28,987 |
| 16 | Fiausch | Heiko | | Opel Astra | E1 2000 | 2:29,490 |
| 17 | Binder | Karl-Heinz | | Ford Sierra RS500 | E1 +2000 2WD | 2:29,710 |
| 18 | Lenz | Bernhard | | BMW M3 E36 | E1 +2000 2WD | 2:29,822 |
| 19 | Zamberger | Martin | | Peugeot 106 GTI | E1 1600 | 2:29,836 |
| 20 | Perhofer | Andreas | | Subaru Impreza STi | A +2000 | 2:32,379 |
| 21 | Müllner | Markus | | Volkswagen Golf I GTI | E1 2000 | 2:32,692 |
| 22 | Pyringer | Florian | | Volkswagen Golf I | E1 1600 | 2:32,940 |
| 23 | Müllner | Andreas | | BMW M3 E36 | E1 +2000 2WD | 2:33,233 |
| 24 | Hutter | Gregor | | Alfa Romeo 145 | E1 1600 | 2:34,105 |
| 25 | Löffler | Jakob | | Suzuki Swift GTI | E1 1400 | 2:34,542 |
| 26 | Probhardt | Peter | | Mitsubishi Lancer EVO IX | N +2000 | 2:35,837 |
| 27 | Majkovski | Manfred | | Renault Megane Maxi | E1 2000 | 2:35,900 |
| 28 | Blasl | Manuel | | Volkswagen Golf 17 | E1 1600 | 2:36,149 |
| 29 | Glinzner | Gerald | | Porsche 911 SC | H +2500 | 2:36,307 |
| 30 | Krenn | Mario | | Ford Escort RS2000 | H 2500 | 2:36,800 |
| 31 | Orasche | Patrick | | Renault Megane Coupé | A 2000 | 2:37,128 |
| 32 | Jud | Werner | | Volkswagen Golf II | E1 2000 | 2:37,145 |
| 33 | Pirkner | Markus | | Volkswagen Scirocco II | H 2500 | 2:37,211 |
| 34 | Harrer | Helmut | | Honda Civic Type-R | A 2000 | 2:37,358 |
| 35 | Strohmeier | Günter | | Alfa Sud | E1 1400 | 2:37,848 |
| 36 | Daurer | Harald | | Volkswagen Golf I | E1 2000 | 2:38,532 |
| 37 | Biesinger | Christian | | Volkswagen Polo | E1 1400 | 2:39,517 |
| 38 | Schutting | Wolfgang | | Renault Clio Williams | N 2000 | 2:45,274 |
| 39 | Prantl | Reinhold | | Porsche 911 Carrera RS | H +2500 | 2:45,441 |
| 40 | Grazter | August | | Lancia Beta Montecarlo | H 2500 | 2:46,736 |
| 41 | Neubauer | Herbert | | Lancia Delta Integrale | H +2500 | 2:47,547 |
| 42 | Ulz | Patrick | | Alfa Romeo Sud Ti | H 1600 | 2:48,274 |
| 43 | Schnidar | Michael | | Honda Civic VTEC | E1 1600 | 2:49,841 |
| 44 | Schauperl | Karl-Heinz | | Volkswagen Beetle | E1 +2000 2WD | 2:50,522 |
| 45 | Flechl | Patrick | | Opel Astra GSi | N 2000 | 2:50,857 |
| 46 | Povoden | Martin | | Renault Megane | E1 2000 | 2:51,010 |
| 47 | Wagner | Robert | | Volkswagen Golf 17 | E1 1600 | 2:51,545 |
| 48 | Harrer | Thomas | | Alfa Romeo 145 | E1 2000 | 2:51,669 |
| 49 | Haidn | Franz | | BMW 325IX E30 | H 2500 | 2:51,872 |
| 50 | Schröcker | Gerald | | Alfa Romeo Sud Ti | H 1600 | 2:53,459 |
| 51 | Lickel | Thomas | | Opel Kadett GSi | A 2000 | 2:55,213 |
| 52 | Sailer | Daniel | | BMW E30 | E1 +2000 2WD | 2:55,742 |
| 53 | Fähnrich | Helmut | | Opel Corsa B | E1 2000 | 2:59,107 |
| 54 | Rabl | Josef | | Audi 80 | E1 1600 | 2:59,167 |
| 55 | Mandl | Erwin | | NSU TT | H 1600 | 3:19,466 |