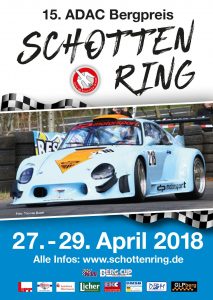 Herbert Pregartner won the first round of the Berg-Cup this weekend. The Austrian dominated the Bergpreis Schottenring in his Porsche 911 GT2. Fastest times in practise and three of the four race sessions made him the well-deserved winner. On top of that Pregartner also broke the trackrecord in his final run. Norbert Handa set the fastest time in the second race, but only after a small error from Pregartner. Handa could not challenge the leader much but still drove a fine race to second overall. The podium was completed by another Austrian Porsche driver: Herbert Stolz.
The most competitive class was one again E1 -2000. Over 20 drivers were entered here which was almost one quarter of the total entry. Mario Minichberger celebrated his comeback with fastest time in practise. But on Sunday disaster struck him as a powercable broke on his Volkswagen Scirocco. Because of Minichbergers misfortune, Lars Heisel moved into the lead. Dirk Preisser made a small mistake in the first race. After that he was on a mission to retrieve his lost time. Fastest times in race 2, 3 and 4 saw him move up the leaderboard in a rapid pace. It was almost enough for class victory but Heisel held out with just .109 seconds!
In E1 -1400 a great battle was expected between Armin Ebenhöh and Franz Weissdorn, both in Hayabusa powered Volkswagen Sciroccos. It was however not to be as Weissdorns machine broke down before he even started practise.
28-29/04/2018 – Bergpreis Schottenring

| Pos. | Last Name | First Name | | Car | Cl. | Final |
| --- | --- | --- | --- | --- | --- | --- |
| 1 | Pregartner | Herbert | | Porsche 911 GT2 | 18 | 5:07,815 |
| 2 | Handa | Norbert | | Lancia Delta Integrale | 18 | 5:13,732 |
| 3 | Stolz | Herbert | | Porsche 935 DP2 | 18 | 5:22,469 |
| 4 | Kroll | Ralf | | Silver Car S2G EVO | 20 | 5:31,574 |
| 5 | Göser | Günter | | Opel Kadett C | 17 | 5:37,799 |
| 6 | Heisel | Lars | | Opel Kadett C | 15 | 5:37,986 |
| 7 | Preisser | Dirk | | Opel Kadett C | 15 | 5:38,095 |
| 8 | Rauch | Michael | | Opel Kadett | 15 | 5:44,352 |
| 9 | Ebenhöh | Armin | | Volkswagen Scirocco I | 13 | 5:44,407 |
| 10 | Paulick | Ralph | | Volkswagen Golf I | 15 | 5:44,444 |
| 11 | Auer | Christian | | BMW 2002 | 15 | 5:47,122 |
| 12 | Gapp | Marcel | | BMW M3 E36 | 17 | 5:48,931 |
| 13 | Herget | Roland | | Mitsubishi Lancer EVO VIII | 11 | 5:54,569 |
| 14 | Schuster | Jürgen | | Mazda RX-7 | 15 | 5:58,242 |
| 15 | Reich | Markus | | Volkswagen Corrado | 15 | 5:58,321 |
| 16 | Neu | Kai | | Ford Focus ST170 | 10 | 6:00,340 |
| 17 | Moufang | Maurice | | BMW M3 E36 | 11 | 6:03,651 |
| 18 | Pleier | Alexander | | Opel Kadett C Coupé | 15 | 6:04,194 |
| 19 | Scheer | Andre | | BMW E30 320is | 15 | 6:05,076 |
| 20 | Bucher | Ronnie | | Volkswagen Corrado | 13 | 6:05,717 |
| 21 | Weber | Michael | | Audi 80 Quattro | 17 | 6:06,663 |
| 22 | Lohmann | Frank | | Volkswagen Polo II | 13 | 6:07,016 |
| 23 | Wolk | Alexander | | Volkswagen Golf III | 10 | 6:08,027 |
| 24 | Hülsmann | Markus | | Volkswagen Golf I | 13 | 6:08,589 |
| 25 | Duscher | Frank | | Volkswagen Polo I | 13 | 6:08,685 |
| 26 | Schlott | Dominik | | Volkswagen Polo | 12 | 6:08,736 |
| 27 | Kellndorfer | Martin | | Opel Kadett C | 15 | 6:08,812 |
| 28 | Kleinsorg | Ralf | | BMW 325i | 17 | 6:09,611 |
| 29 | Bayer | Daniel | | Opel Kadett C Coupé | 15 | 6:10,145 |
| 30 | Ruwe | Mario | | Volkswagen Golf II GTI | 15 | 6:10,349 |
| 31 | Vogt | Albert | | Subaru Impreza GC8 | 11 | 6:11,026 |
| 32 | Orth | Ralf | | BMW E30 320is | 10 | 6:11,412 |
| 33 | Abb | Nils | | Volkswagen Polo II | 13 | 6:15,428 |
| 34 | Dietz | Nikolas | | Volkswagen Polo II | 13 | 6:17,424 |
| 35 | Ludwig | Harald | | Audi R8 | 3 | 6:18,179 |
| 36 | Mayer | Tobias | | Volkswagen Polo II | 12 | 6:25,330 |
| 37 | Hofmann | Steffen | | NSU TT | NSU | 6:26,075 |
| 38 | Fink | Markus | | Citroën C2 VTS | 9 | 6:28,952 |
| 39 | Kohler | Thomas | | Fiat 127 | 13 | 6:29,766 |
| 40 | Faber | Josef | | Opel Kadett C | 15 | 6:30,387 |
| 41 | Faulhaber | Sophia | | Honda Civic | 10 | 6:32,278 |
| 42 | Steinert | Karsten | | NSU 67 | NSU | 6:33,156 |
| 43 | Deutsch | Bernd | | Audi 50 | 12 | 6:33,746 |
| 44 | Alt | Holger | | Ford Escort | 15 | 6:35,358 |
| 45 | Ebenhöh | Silvia | | Volkswagen Polo I | 13 | 6:35,399 |
| 46 | Ehret | Christian | | Opel Ascona B | 15 | 6:35,578 |
| 47 | Gürtzgen | Friedhelm | | BMW 318i Compact | 17 | 6:36,657 |
| 48 | Höber | Jörg | | NSU TT | NSU | 6:37,139 |
| 49 | Voigt | Walter | | Volkswagen Polo 86c | 12 | 6:38,733 |
| 50 | Schmitz | Herbert | | Opel Astra GSi | 10 | 6:38,918 |
| 51 | Bamberg | Frank | | BMW 130i | 3 | 6:39,860 |
| 52 | Krystofiak | Thomas | | NSU 1200c KWR | NSU | 6:40,233 |
| 53 | Davidovic | Jörg | | NSU TT | 12 | 6:41,214 |
| 54 | Ostermann | Thomas | | BMW E30 Hartge | 17 | 6:41,786 |
| 55 | Meurer | Karlheinz | | Volkswagen Golf V R-TDi | 16 | 6:43,719 |
| 56 | Rath | Fabien | | Opel Kadett C | 15 | 6:44,956 |
| 57 | Schwanecke | Gero | | Volkswagen Golf I GTI | 15 | 6:46,013 |
| 58 | Reich | Andreas | | NSU TT | NSU | 6:47,941 |
| 59 | Schindler | Uwe | | NSU TT | NSU | 6:47,997 |
| 60 | Schwalbe | Wolfgang | | NSU TT | NSU | 6:56,722 |
| 61 | Fladung | Ralf | | Peugeot 207 Sport | 9 | 7:00,455 |
| 62 | Montalto | Silvio | | Peugeot 106 Rallye | 9 | 7:02,869 |
| 63 | Waldbach | Hans-Alfred | | Peugeot 207 | 17 | 7:03,796 |
| 64 | Maslonka | Robert | | Volkswagen Polo 86c | 9 | 7:05,396 |
| 65 | Kaiser | Christoph | | Suzuki Swift Sport | 9 | 7:07,876 |
| 66 | Szott | Roman | | NSU TT | NSU | 7:17,703 |
| 67 | Boch | Heinz-Peter | | Honda Civic VTEC | 9 | 7:25,044 |
| 68 | Bürker | Felix | | Opel Kadett C Limo | 17 | 7:36,999 |
| 69 | Zahn | Rüdiger | | Citroën AX GTI | 4 | 7:38,150 |