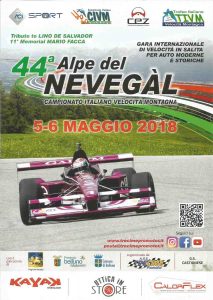 Omar Magliona was the very lucky winner of the Cronoscalata Alpe del Nevegal. Large rainshowers arrived in Belluno just as the final competitors were getting ready for their final race. Magliona was the last of the sportscar drivers and encountered just light rain. The singleseaters came after him and delay after delay meant that they had to drive in extreme rain. In the end the final five drivers were not allowed to start at all due to safety concerns.
This decision was quite controversial. Christian Merli had broken the trackrecord earlier that morning and was leading. That he was not allowed to start the final race was a massivle blow. Because he completed only one of the two races he receives just half points while Magliona takes the full points haul. As can be expected Merli was not happy with the decision at all. Runner-up after race 1 was Domenico Cubeda. He was not bothered by the refusal to start the final race. It was his first time at the Alpe del Nevegal Hillclimb and he was not looking forward to driving the track in the rain. Diego De Gasperi had lost valuable time with clutch problems while Michele Fattorini lost time due to a mistake. For both Osella FA30 pilots it was not a succesful weekend.
Behind Magliona four Osella PA2000 sportscars completed the top 5. Francesco Conticelli finished a fine second on his first outing in Belluno. Francesco Leogrande ended up in third just in front of Sebastiano Castellano and Giuseppe Vacca. Federico Liber was one of the last singleseater pilots to start. He won the E2-SS group and finished sixth overall.
Manuel Dondi was the fastest touringcar. He steered his little Fiat X1/9 to tenth overall. This year Lucio Peruggini will have a fierce rival in Luca Gaetani. Both drivers compete in similar Ferrari F458 and are evenly matched. Peruggini won this time but it was quite close. Mauro Soretti had a troublesome weekend in his Subaru Impreza. In the first race he lost time due to brake problems. In the second race he was on his way to the fastest time before clipping a tyre chicane. This gave him a 5 second time penalty which evaporated all chances for Group E1 victory. Instead Marco Sbrollini was the happy winner.
05-06/05/2018 – Alpe del Nevegal

| Pos. | Last Name | First Name | | Car | Cl. | Final |
| --- | --- | --- | --- | --- | --- | --- |
| 1 | Magliona | Omar | | Norma M20 FC | E2-SC 3000 | 5:03,79 |
| 2 | Conticelli | Francesco | | Osella PA2000 | E2-SC 2000 | 5:10,90 |
| 3 | Leogrande | Francesco | | Osella PA2000 | E2-SC 2000 | 5:15,77 |
| 4 | Castellano | Sebastiano | | Osella PA2000 | E2-SC 2000 | 5:16,74 |
| 5 | Vacca | Giuseppe | | Osella PA2000 | E2-SC 2000 | 5:19,66 |
| 6 | Liber | Federico | | Gloria C8P EVO | E2-SS 1600 | 5:22,75 |
| 7 | Conticelli | Vincenzo | | Osella PA30 Zytek | E2-SC 3000 | 5:22,99 |
| 8 | Lombardi | Achille | | Osella PA21 JRB | E2-SC 1000 | 5:33,87 |
| 9 | Turatello | Francesco | | Osella Fastronik | CN 2000 | 5:34,63 |
| 10 | Dondi | Manuel | | Fiat X1/9 | E2-SH 2000 | 5:37,32 |
| 11 | Dall'ò | Domenico | | Radical SR4 Suzuki | E2-SC 2000 | 5:38,07 |
| 12 | Peruggini | Lucio | | Ferrari F458 GT3 | GT3 +4000 | 5:39,27 |
| 13 | Gaetani | Luca | | Ferrari F458 GT3 | GT3 +4000 | 5:45,22 |
| 14 | Sbrollini | Marco | | Lancia Delta | E1 +3000 | 5:46,59 |
| 15 | Iacoangeli | Marco | | BMW Z4 GT | GT3 +4000 | 5:48,03 |
| 16 | Ostuni | Sante | | Osella PA21 JRB | E2-SC 1000 | 5:49,00 |
| 17 | Iaquinta | Rosario | | Porsche 911 GT3 Cup | GTCUP 4000 | 5:51,43 |
| 18 | Graziosi | Giancarlo | | Tatuus Master | E2-SS 2000 | 5:51,60 |
| 19 | Bottura | Adolfo | | Ligier JS51 | CN 2000 | 5:52,90 |
| 20 | Ragazzi | Roberto | | Ferrari F458 EVO | GTCUP +4000 | 5:53,27 |
| 21 | Frijo | Sebastiano | | Porsche 991 Cup | GTCUP 4000 | 5:54,70 |
| 22 | Soretti | Mauro | | Subaru Impreza | E1 +3000 | 5:56,69 |
| 23 | Torrente | Giuseppe | | Radical Prosport | E2-SC 1400 | 5:58,36 |
| 24 | Bicciato | Rudy | | Mitsubishi Lancer | A +3000 | 5:58,43 |
| 25 | Tancredi | Carmine | | BMW Cosworth | E2-SH +3000 | 5:59,05 |
| 26 | Bertelli | Michele | | Osella PA21 JRB | E2-SC 1000 | 5:59,16 |
| 27 | Ferretti | Filippo | | Radical SR4 | E2-SC 1400 | 6:02,00 |
| 28 | Fortunati | Romano | | Osella PA21 JRB | E2-SC 1000 | 6:02,66 |
| 29 | Ghirardo | Michele | | Lotus Exige Cup 260 | E2-SH +3000 | 6:03,04 |
| 30 | Sambuco | Luigi | | Renault Clio | E2-SH 2000 | 6:06,77 |
| 31 | Cardetti | Giuseppe | | Porsche 911 GT3 Cup | GTCUP 4000 | 6:09,79 |
| 32 | Pelorosso | Daniele | | Renault Clio Proto | E1 2000 | 6:10,56 |
| 33 | Jarach | Bruno | | Lamborghini Huracan ST | GTSC | 6:11,96 |
| 34 | Bulatovic | Dejan | | Seat Leon | E1 +3000 | 6:13,02 |
| 35 | "Nivola" | | | Osella PA21 EVO | CN 2000 | 6:14,41 |
| 36 | Spitaler | Lutz | | Osella PA21 JRB | E2-SC 1000 | 6:15,75 |
| 37 | Mercati | Lorenzo | | Mitsubishi Lancer EVO IX | N +3000 | 6:16,32 |
| 38 | Presti | Giuseppe | | Lucchini 207 BMW | E2-SC 3000 | 6:17,07 |
| 39 | Paronuzzi | Stefano | | Peugeot 205 | E1 2000 | 6:19,46 |
| 40 | Pedroni | Gabriella | | Mitsubishi Lancer EVO IX | N +3000 | 6:20,07 |
| 41 | Zucol | Claudio | | BMW 325 E30 | E1 +3000 | 6:20,54 |
| 42 | Nadalini | Stefano | | Mitsubishi Lancer EVO VIII | A +3000 | 6:21,25 |
| 43 | Gallina | Luciano | | Lancia Y10 Suzuki | E2-SH 1400 | 6:21,77 |
| 44 | Giacomazzi | Franco | | Lancia Delta EVO | E1 +3000 | 6:22,81 |
| 45 | Bizzarini | Fabrizio | | Gloria Kit | E2-SS 1600 | 6:22,96 |
| 46 | De Stefani | Andrea | | Renault Clio | E1 2000 | 6:23,51 |
| 47 | Cenedese | Ivano | | Renault Clio | RS+ 2000 | 6:24,44 |
| 48 | Pace | Andrea | | Radical Prosport | E2-SC 1000 | 6:25,18 |
| 49 | Benazzoli | Fulvio | | Subaru Impreza | E1 +3000 | 6:27,14 |
| 50 | Loffredo | Giovanni | | Mini Cooper JCW | RSTB+ 1600 | 6:27,18 |
| 51 | Palazzo | Andrea | | Peugeot 308 | E1 1600T | 6:27,20 |
| 52 | Contardi | Maurizio | | Honda Civic VTI | E1 1600 | 6:29,51 |
| 53 | Trollo | Enrico | | Peugeot 106 | E1 1600 | 6:29,64 |
| 54 | Scappa | Antonio | | Mini Cooper JCW | RSTB 1600 | 6:30,48 |
| 55 | Zarpellon | Tobia | | BMW M3 E36 | A +3000 | 6:31,37 |
| 56 | Pauletti | Daniel | | Citroën Saxo | E1 1600 | 6:31,39 |
| 57 | Marchegger | Ronny | | Fiat 500 BMW | E2-SH 1400 | 6:32,20 |
| 58 | Adami | Dennys | | BMW M3 E36 | N +3000 | 6:33,21 |
| 59 | Ghizzoni | Serafino | | Mini Cooper JCW | RSTB+ 1600 | 6:33,24 |
| 60 | Nalon | Marietto | | Dallara F308 | E2-SS 2000 | 6:33,68 |
| 61 | Scopel | Andrea | | Peugeot 106 Suzuki | E2-SH 1400 | 6:33,90 |
| 62 | Parlato | Paolo | | Honda Civic Type-R | A 3000 | 6:34,11 |
| 63 | Miotto | Stefano | | Renault Clio Williams | PE 2000 | 6:36,03 |
| 64 | Gasser | Markus | | Volkswagen Golf GTI | A 3000 | 6:36,19 |
| 65 | Mancin | Michele | | Citroën Saxo VTS | A 1600 | 6:36,69 |
| 66 | Mariot | Mario | | Citroën Saxo | E2-SH 1000 | 6:36,92 |
| 67 | Tinella | Gasperino | | Peugeot 106 | A 1600 | 6:37,16 |
| 68 | Casanova | Sandro | | Ford Fiesta R5 | A 3000 | 6:37,53 |
| 69 | Kraner | Stefan | | Renault Clio | RS+ 2000 | 6:38,22 |
| 70 | Ferè | Alex | | Honda Civic Type-R | N 2000 | 6:39,37 |
| 71 | Tagliente | Vito | | Mini Cooper JCW | RSTB+ 1600 | 6:39,49 |
| 72 | Pavan | Lorenzo | | Mini Cooper S | E1 1600T | 6:39,69 |
| 73 | Murgia | Sergio | | Citroën Saxo VTS | E1 1600 | 6:40,17 |
| 74 | Gandini | Davide | | Peugeot 106 Kawasaki | E1 1400M | 6:41,35 |
| 75 | Pilotto | Adriano | | Honda Civic Type-R | N 2000 | 6:41,58 |
| 76 | Fedrigotti | Siegfried | | Ford Escort Cosworth | PE +3000 | 6:41,94 |
| 77 | Mordenti | Gabriele | | BMW M3 | E1 3000 | 6:42,14 |
| 78 | Grossi | Gianluca | | Renault Clio | RS+ 2000 | 6:43,76 |
| 79 | Laffranchi | Francesco | | Renault Clio | RS+ 2000 | 6:44,80 |
| 80 | Zanin | Antonello | | Mini Cooper JCW | RSTB 1600 | 6:45,38 |
| 81 | Cappello | Marco | | Honda Civic Type-R | RS+ 2000 | 6:46,98 |
| 82 | Cioffi | Alberto | | Mini Cooper JCW | RSTB+ 1600 | 6:47,44 |
| 83 | Dal Col | Nicola | | Renault Clio Williams | PE 2000 | 6:47,56 |
| 84 | Jaksic | Vasilije | | Honda Civic Type-R | N 2000 | 6:47,98 |
| 85 | Morandell | Simon | | Peugeot 106 | PE 1600 | 6:49,35 |
| 86 | Rainer | Cesare | | Honda Civic | N 2000 | 6:50,27 |
| 87 | Vettorel | Alessandro | | Peugeot 106 | E1 1600 | 6:52,28 |
| 88 | Dall'ò | Manuel | | Renault Clio RS | PS 2000 | 6:53,03 |
| 89 | Sartoretto | Renato | | Osella PA21/S | E2-SC 2000 | 6:53,39 |
| 90 | Boscariol | Roberto | | Renault Clio Williams | PE 2000 | 6:54,89 |
| 91 | Leardini | Alex | | Honda Civic | PE 1600 | 6:55,93 |
| 92 | Da Ros | Matteo | | Renault Clio Williams | PE 2000 | 6:56,16 |
| 93 | Vettorel | Fabrizio | | Peugeot 106 | N 1600 | 6:56,19 |
| 94 | Saviane | Mirto | | Renault Clio Williams | PS 2000 | 6:56,64 |
| 95 | Ottaviani | Vincenzo | | Citroën Saxo VTS | N 1600 | 6:56,65 |
| 96 | Moret | Maurizio | | Renault Clio RS | PS 2000 | 6:56,95 |
| 97 | Pradegan | Mattia | | Renault Clio | RS+ 2000 | 6:57,09 |
| 98 | Winkler | Helmuth | | Peugeot 106 | PE 1600 | 6:58,35 |
| 99 | De Bastiani | Remo | | Honda Civic EK4 | PS 1600 | 6:58,47 |
| 100 | Broccolini | Deborah | | Mini Cooper S | E1 1600T | 6:59,07 |
| 101 | Cervo | Walter | | Renault Clio RS | PS 2000 | 6:59,10 |
| 102 | Zadra | Roberto | | Peugeot 106 | PE 1600 | 6:59,36 |
| 103 | Gullo | Claudio | | Honda Civic Type-R | RS 2000 | 7:00,47 |
| 104 | Zanette | Fabio | | Renault 5 GT Turbo | PS 2000 | 7:00,50 |
| 105 | Pazzi | Francesco | | Peugeot 106 | N 1600 | 7:00,51 |
| 106 | De March | Igor | | Renault 5 GT Turbo | PS 2000 | 7:00,96 |
| 107 | Cerri | Massimo | | Renault Clio Williams | PS 2000 | 7:01,87 |
| 108 | Bet | Alex | | Honda Integra Type-R | RS 2000 | 7:02,74 |
| 109 | Fracassi | Christian | | Renault Clio | RS+ 2000 | 7:02,92 |
| 110 | Barel | Ido | | Opel Astra GSi | PS 2000 | 7:03,93 |
| 111 | Crivellaro | Andrea | | Peugeot 106 | PS 1600 | 7:04,02 |
| 112 | Vedovello | Riccardo | | Peugeot 106 | E1 1400 | 7:04,36 |
| 113 | Mogentale | Roberto | | Mini Cooper JCW | RSTB+ 1600 | 7:04,68 |
| 114 | Da Ros | Michele | | Renault Clio RS | PS 2000 | 7:04,74 |
| 115 | Medario | Natalino | | Honda Civic | PE 1600 | 7:05,74 |
| 116 | Sartori | Alberto | | Mini Cooper JCW | RSTB 1600 | 7:07,82 |
| 117 | Lenisa | Waifro | | Skoda Fabia | A 1600 | 7:08,08 |
| 118 | Loconte | Angelo | | Honda Civic Type-R | N 2000 | 7:08,20 |
| 119 | Sieberlechner | Martin | | Peugeot 106 | PE 1400 | 7:08,43 |
| 120 | De Nale | Angelo | | Renault Clio | PE 2000 | 7:09,26 |
| 121 | Bicciato | Lukas | | Honda Civic Type-R | RS 2000 | 7:10,35 |
| 122 | Case | Alessio | | Peugeot 106 | PE 1400 | 7:13,41 |
| 123 | Magdalone | Marco | | Honda Civic EK4 | RS+ 2000 | 7:14,73 |
| 124 | Boaron | Maverik | | Citroën Saxo VTS | PE 1600 | 7:15,34 |
| 125 | Modolo | Loris | | Citroën Saxo | PS 1600 | 7:16,17 |
| 126 | Lapi | Andrea | | Peugeot 106 | PE 1400 | 7:16,69 |
| 127 | Conci | Mario | | Sanetti Honda | CN 2000 | 7:17,81 |
| 128 | Bolfelli | Fulvio | | Renault Clio RS | PS 2000 | 7:19,39 |
| 129 | Oss Pegorar | Stefano | | Mini Cooper JCW | RSTB 1600 | 7:19,59 |
| 130 | Fusaro | Carmelo | | Peugeot 306 S16 | RS 2000 | 7:19,77 |
| 131 | Comunian | Michele | | Opel Corsa GSi | PE 1600 | 7:20,25 |
| 132 | Furleo Semeraro | Teobaldo | | Peugeot 106 | RS 1600 | 7:20,71 |
| 133 | "Zio Fester" | | | Honda Civic EG6 | E1 1600 | 7:21,46 |
| 134 | Giovannini | Angelo | | Peugeot 205 Rallye | PE 1400 | 7:22,94 |
| 135 | Favaro | Elia | | Peugeot 106 | N 1600 | 7:23,82 |
| 136 | Pio | Claudio | | Citroën Saxo | RS 1600 | 7:24,07 |
| 137 | Bonamin | Luigino | | Seat Ibiza | PE 2000 | 7:26,07 |
| 138 | Moscardi | Luciano | | Citroën Saxo VTS | PS 1600 | 7:27,78 |
| 139 | Tomaselli | Luca | | Peugeot 207 | RSTB+ 1600 | 7:29,55 |
| 140 | Andolina | Giuseppe | | Renault Clio RS | RS 2000 | 7:30,08 |
| 141 | Iantorno | Mario Osvaldo | | Citroën Saxo VTS | RS 1600 | 7:30,51 |
| 142 | Di Giuseppe | Luca | | Peugeot 106 | RS 1600 | 7:31,30 |
| 143 | Terziglio | Andrea | | Peugeot 106 | RS 1600 | 7:32,35 |
| 144 | Sacchetto | Stefano | | Opel Corsa GSi | PE 1600 | 7:33,06 |
| 145 | Gruber | Roland | | Peugeot 106 | PS 1600 | 7:33,07 |
| 146 | Gandini | Alessandro | | Peugeot 106 | RS 1600 | 7:34,69 |
| 147 | Marchel | Sara | | Peugeot 106 | PS 1600 | 7:34,70 |
| 148 | Geier | Hannes | | Peugeot 106 | RS 1400 | 7:36,01 |
| 149 | Selvestrel | Davide | | Peugeot 106 | PE 1400 | 7:37,90 |
| 150 | Camponogara | Elia | | Peugeot 106 | PE 1400 | 7:38,50 |
| 151 | Steffan | Andrea | | Renault Clio | RS+ 2000 | 7:40,95 |
| 152 | Piana | Mauro | | Citroën C2 | A 1600 | 7:45,50 |
| 153 | Piccinini | Giovannino | | Alfa Romeo 147 | RS 2000D | 7:46,55 |
| 154 | Ottaviani | Marco | | Peugeot 106 | PE 1400 | 7:47,35 |
| 155 | Basile | Nicolò | | Saker RAPX | E2-SC 3000 | 7:56,25 |
| 156 | Filippi | Paride | | BMW E36 | RS 2000 | 8:01,90 |
| 157 | Bondanza | Alessandro | | Peugeot 106 | RS 1400 | 8:01,98 |
| 158 | Tinella | Domenico | | Fiat 500 | BIC 700/5 | 8:08,26 |
| 159 | Pedrotti | Gino | | Formula Renault | E2-SS 2000 | 8:14,07 |
| 160 | Martucci | Angelo | | Peugeot 106 | RS 1400 | 8:20,29 |
| 161 | Cavaliero | Adriano | | Peugeot 106 | RS 1400 | 8:24,90 |
| 162 | Bernardi | Devis | | Peugeot 106 | RS 1400 | 8:47,28 |
| 163 | Dal Col | Mara | | Renault Clio | RS 2000 | 9:54,24 |
05-06/05/2018 – Alpe del Nevegal (Historic)

| Pos. | Last Name | First Name | | Car | Cl. | Final |
| --- | --- | --- | --- | --- | --- | --- |
| 1 | Iccolti | Agostino | | Porsche 911 | 2/G2-H1/GTS +2500 | 6:38,53 |
| 2 | Massaro | Michele | | BMW M3 | 4/J2/A +2000 | 6:41,52 |
| 3 | Pezzo | Giuseppe | | Porsche 911 SC | 3/H2-I/GTS +2500 | 6:50,84 |
| 4 | Niederstatter | Paul | | Renault 5 GT Turbo | 4/J2/A +2000 | 7:04,07 |
| 5 | Dal Cin | Roberto | | De Tomaso Pantera | 2/G2-H1/GTS +2500 | 7:10,86 |
| 6 | Borboni | Fabio | | Fiat Ritmo Abarth 130 | 4/J1/A 2000 | 7:12,41 |
| 7 | Pain | Italo | | Fiat X1/9 | 3/H2-I/SIL 1600 | 7:12,91 |
| 8 | Vincenzi | Roberto | | BMW M3 E30 | 4/J2/N +2000 | 7:13,75 |
| 9 | Andrighetti | Silvio | | Lancia Stratos | 2/G2-H1/GTS 2500 | 7:16,00 |
| 10 | Bianchin | Luciano | | Porsche 954 RSR | 4/J1/B +1600 | 7:16,78 |
| 11 | Maniero | Antonio | | Ford Sierra Cosworth | 4/J2/N +2000 | 7:17,15 |
| 12 | Geier | Anton | | Opel Kadett C GT/E | 3/H2-I/TC 2000 | 7:21,04 |
| 13 | Dal Zot | Stefano | | Renault 5 GT Turbo | 4/J2/N +2000 | 7:21,49 |
| 14 | Naibo | Marco | | Renault 5 GT Turbo | 4/J2/N +2000 | 7:22,66 |
| 15 | De Rossi | Romeo Emilio | | Alfa Romeo Alfasud | 3/H2-I/TC 1600 | 7:27,78 |
| 16 | Stella | Marco | | Alfa Romeo Giulia Sprint | 2/G2-H1/TC 1600 | 7:29,98 |
| 17 | Meggiorin | Stefano | | Volkswagen Scirocco | 3/H2-I/TC 1600 | 7:31,36 |
| 18 | Visentin | Alessandro | | Fiat 127 Sport | 3/H2-I/TC 1150 | 7:35,91 |
| 19 | Piatto | Roberto | | Lancia Delta | 3/H2-I/TC 1600 | 7:37,50 |
| 20 | Visentin | Lamberto | | Fiat 127 Sport | 3/H2-I/SIL 1300 | 7:41,04 |
| 21 | Martina | Stefano | | Alfa Romeo 33 | 4/J2/A 1600 | 7:41,32 |
| 22 | Viali | Giuseppe | | Martini F3 | 5/E3 | 7:43,06 |
| 23 | Furlan | Flavio | | Opel Ascona | 2/G2-H1/TC 2000 | 7:44,96 |
| 24 | "Ciccio Pasticcio" | | | Porsche 911 S | 2/G2-H1/GTS 2500 | 7:47,12 |
| 25 | Campese | Giovanni | | Mercedes 190E | 4/J2/A +2000 | 7:50,33 |
| 26 | Costa | Ueli | | Peugeot 205 Rallye | 4/J2/N 1400 | 7:52,84 |
| 27 | Cercenà | Loris | | Lancia Fulvia Coupé | 2/G2-H1/GTS 1600 | 7:56,25 |
| 28 | Zanella | Luca | | Fiat 128 Berlina | 2/G2-H1/TC 1150 | 8:01,93 |
| 29 | Tonello | Mirto Maria | | Alpine A110 | 2/G2-H1/GT 1600 | 8:03,67 |
| 30 | Luciani | Giovanni | | Fiat Uno | 4/J1/A 1400 | 8:06,77 |
| 31 | Buttura | Andrea | | Fiat Giannini 650 NP | 2/G2-H1/TC 700 | 8:15,89 |
| 32 | Ravelli Damioli | Cecilio | | Lancia Fulvia Coupé | 1/G1/T 1300 | 8:18,41 |
| 33 | Fazio Tirozzo | Salvatore | | Fiat 128 Coupé | 2/G2-H1/TC 1300 | 8:19,77 |
| 34 | Danese | Marco | | Fiat X1/9 | 3/H2-I/SIL 1600 | 8:21,72 |
| 35 | Cantarutti | Roberto | | Alfa Romeo GTAM | 2/G2-H1/TC 2000 | 8:26,37 |
| 36 | Guidolin | Dario | | Lancia Fulvia Corse | 2/G2-H1/GTS 1300 | 8:30,56 |
| 37 | Bianchin | Serena | | Fiat 124 Abarth | 2/G2-H1/GTS 2000 | 8:30,64 |
| 38 | Manente | Mauro | | Austin Healey Sprite | 1/E/GTP 1000 | 8:57,06 |
| 39 | Bettio | Giorgio | | Autobianchi A112 Abarth | 3/H2-I/TC 1150 | 8:59,97 |
| 40 | Pellanda | Luigi | | BMW 1600 | 2/G2-H1/TC 1600 | 11:29,05 |