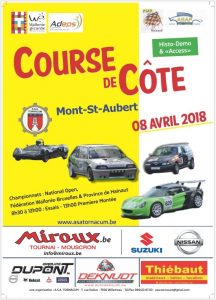 Tomorrow the Course de Côte de Mont Saint Aubert will open the hillclimb season in Belgium. The race counts towards the regional hillclimb championship. At this moment 37 drivers have entered for this event plus another five Histo-Demo pilots. In Belgium drivers always enter as late as possible so between now and tomorrow afternoon some more drivers might appear. The weather is going to be great so there will be no excuses.
The 2,2 kilometre long track near Tournai in western Belgium is one of the fastest in the country. Philippe Dewulf was the fastest driver here the last few years. His fastest time in 2016 had an average speed of well over 160 km/h! He will try to go even faster tomorrow. This track should also suit the powerful Lotus Elise of Olivier and Michel Dubois very well. Somewhat counter inuitive is that Christophe Le Nouvel also performs very well here. His Citroën AX GTI lacks the top power of his rivals but Le Nouvel compensates with his driving skill in the long sweeping corners.
Special mention should also go out to Philippe Deminne. After years of competing with a Nissan Micra, he has switched to a new car in 2018. It is something unique for Belgium: a Ford Ka powered by a GSX-R engine.
08/04/2018 – Course de Côte de Mont Saint Aubert

| Pos. | Last Name | First Name | | Car | Cl. | Final |
| --- | --- | --- | --- | --- | --- | --- |
| 1 | Le Nouvel | Sebastien | | BRC CM02 | 4/15 | |
| 2 | Deminne | Philippe | | Ford Ka Proto | 4/15 | |
| 3 | Scauflaire | Patrick | | Kart-Cross | 4/14 | |
| 4 | Vincke | Arnaud | | Kart-Cross | 4/14 | |
| 5 | Milone | Anthony | | Panthera Kart-Cross | 4/14 | |
| 6 | Dewulf | Philippe | | Citroën Xsara | 3/13 | |
| 7 | Dubois | Michel | | Lotus Elise | 3/13 | |
| 8 | Dubois | Olivier | | Lotus Elise | 3/13 | |
| 9 | De Sutter | Jean | | Lotus Elise | 3/13 | |
| 10 | Degroote | Louis | | Volkswagen Golf GTI | 3/12 | |
| 11 | Cazzoli | Bruno | | Opel Kadett C | 3/12 | |
| 12 | Le Nouvel | Christophe | | Citroën AX GTI | 3/11 | |
| 13 | Dierckx | Daniel | | Citroën AX GTI | 3/11 | |
| 14 | Anastasi | Antonio | | Fiat Cinquecento | 3/11 | |
| 15 | Anastasi | Antonino | | Fiat Cinquecento | 3/11 | |
| 16 | Moreau | Kevin | | Citroën AX GTI | 3/10 | |
| 17 | Cricus | Alain | | Porsche 996 GT3 | 2/8 | |
| 18 | Fiquet | Didier | | Nissan 350Z | 2/8 | |
| 19 | Lehoucq | Brör | | BMW M3 | 2/8 | |
| 20 | Bouche | Alexandre | | Ford Puma | 2/7 | |
| 21 | Wilms | Tim | | Honda Civic | 2/7 | |
| 22 | Dericq | Dimitri | | Volkswagen Golf | 2/7 | |
| 23 | Nicolas | Florian | | Alfa Romeo 145 QV | 2/7 | |
| 24 | Nicolas | Bernard | | Alfa Romeo 145 QV | 2/7 | |
| 25 | Leroy | Jordan | | Renault Clio RS | 2/7 | |
| 26 | Derenne | Didier | | Volkswagen Golf | 2/6 | |
| 27 | Derenne | Gauthier | | Volkswagen Golf | 2/6 | |
| 28 | Blockmans | Luc | | Honda Civic | 2/6 | |
| 29 | Blockmans | Axel | | Honda Civic | 2/6 | |
| 30 | Decroly | Geoffrey | | Peugeot 106 | 2/6 | |
| 31 | Stojka | Malory | | Suzuki Swift | 2/5 | |
| 32 | Cordier | Loïc | | Porsche 911 GT3 Cup | 1/4 | |
| 33 | Detrait | Guillaume | | Volkswagen Golf III VR6 | 1/4 | |
| 34 | Ney | Joris | | Volkswagen Golf III VR6 | 1/4 | |
| 35 | Welter | Rene | | Westfield ZEi | 1/3 | |
| 36 | Theissmann | Frederic | | Volkswagen Golf II | 1/3 | |
| 37 | Glasset | Yoric | | Volkswagen Golf II | 1/3 | |