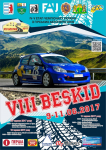 The Ukranian Hillclimb Championship continues this weekend with rounds four and five. Together they are called the Beskid Hillclimb Weekend. The Beskid Hillclimb itself will be tackled on Sunday. This is the well-known Hillclimb that starts in Uzhok and has been part of the championship for a number of years now.
On Saturday the competitors contest on the other side of the mountain in a hillclimb called Uzhok Border. Here they will start in a town called Borynya and drive 3,6 kilometres uphill. This will be the first time that this hillclimb is competed in the championship.
Fourteen drivers are on the entrylist so far. Including them are 3 drivers in the topclass A4. Judging from this list Volodymyr Petrenko can be considered the favourite for victory.
Timing Saturday 10/06 (Uzhok Border)
9:00 – Free Practise (1 runs)
11:20 – Timed Practise (2 runs)
14:00 – Race (3 runs)
Timing Sunday 11/06 (Beskid)
8:10 – Free Practise
10:00 – Timed Practise (2 runs)
13:30 – Race (3 runs)
18:45 – Award ceremony
10-11/06/2017 – Uzhok Border & Beskid Hillclimb

| Pos. | Last Name | First Name | | Car | Cl. | Final |
| --- | --- | --- | --- | --- | --- | --- |
| 1 | Lohman | Igor | | Mitsubishi Lancer | A4 | |
| 2 | Krill | Lyubomir | | Mitsubishi Lancer | A4 | |
| 3 | Petrenko | Volodymyr | | Mitsubishi Lancer | A4 | |
| 4 | Rakus | Ivan | | Honda CRX | A3 | |
| 5 | Kravtsiv | Mykola | | Volkswagen Golf II | A3 | |
| 6 | Kutsyna | Ivan | | Ford Escort | A3 | |
| 7 | Verlanov | Sergei | | Lada 2105 | A3 | |
| 8 | Babak | Sergei | | Lada 21083 | A3 | |
| 9 | Apostolyuk | Vladimir | | Lada 2113 | A3 | |
| 10 | Slezinskyy | Oleg | | Opel Kadett GSi | A3 | |
| 11 | Zakharov | Dmytro | | Opel Kadett GSi | A3 | |
| 12 | Ilyin | Georgi | | Lada 2113 | A2 | |
| 13 | Reveha | Alexander | | Lada 21083 | A2 | |
| 14 | Romanchuk | Roman | | Lada 21083 | A2 | |