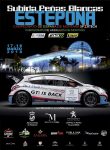 In just over a week the Spanish Hillclimb Championship begins its 2018 season. The championship starts with its longest hillclimb of the year: the Subida a Estepona – Peñas Blancas. Entries are still open for a couple of days and the list will be updated as soon as possible. At the moment 44 drivers have entered. Some interesting observations can be made already based on this list.
Category I will see a battle for victory between Javier Villa and Joseba Iraola. At the Erauskin Hillclimb last december Villa took a convincing victory over his new rival. Third driver in this class is Manuel Aviles. The youngster is entered in an identical BRC BR53 as Villa.
In Category II stalwarts Arkaitz Ordoki and Garikoitz Flores have entered in their proven BRC B-49s. Strong competition is expected from Christian Broberg in the new Silver Car S3 and Edgar Montella in his Speed Car GTR.
In Category III reigning champion José Antonio Aznar is not yet spotted on the entrylist. Two other GT-drivers are already entered, José Antonio Lopez-Fombona and Humberto Janssens. An outsider for victory could be Gerard De La Casa.
18/03/2018 – Subida Estepona – Peñas Blancas

| Pos. | Last Name | First Name | | Car | Cl. | Final |
| --- | --- | --- | --- | --- | --- | --- |
| 1 | Villa | Javier | | BRC BR53 | | |
| 2 | Iraola | Joseba | | Norma M20 FC | | |
| 3 | Aviles | Manuel | | BRC BR53 | | |
| 4 | Gonzalez | Vicente | | Radical PR06 | | |
| 5 | Broberg | Christian | | Silver Car S3 | | |
| 6 | Aguilar | Francisco José | | Silver Car S1 | | |
| 7 | De Alberto | Aldo | | BRC B-49 | | |
| 8 | Flores | Garikoitz | | BRC B-49 | | |
| 9 | Ordoki | Arkaitz | | BRC B-49 | | |
| 10 | Montella | Edgar | | Speed Car GTR | | |
| 11 | Cabañas | Gonzalo | | Talex S1 | | |
| 12 | Janssens | Humberto | | Porsche 911 GT3 | | |
| 13 | Rodriguez | Juan Buenaventura | | Porsche 944 Turbo | | |
| 14 | Lopez-Fombona | José Antonio | | Lamborghini Huracan Supertrofeo | | |
| 15 | Ruiz | Luis | | Nissan 350Z | | |
| 16 | De La Casa | Gerard | | Subaru Impreza WRC | | |
| 17 | Perello | Kike | | Ford Fiesta Proto | | |
| 18 | Machado | Sebastian | | Ford Escort MK1 | | |
| 19 | Jimenez | Francisco | | Mitsubishi Lancer EVO X | | |
| 20 | Hernandez | Zosimo | | Mitsubishi Lancer EVO IX | | |
| 21 | Blanco | José | | Mitsubishi Lancer EVO IX | | |
| 22 | Tineo | Salvador | | Mitsubishi Lancer EVO IX | | |
| 23 | Navarro | Jesus | | Dacia Sandero | | |
| 24 | Marcos | Manuel | | Renault Clio | | |
| 25 | Perez | Fernando | | Renault Clio Cup III | | |
| 26 | Navarro | Antonio | | Renault Clio Cup III | | |
| 27 | Beltran | Juan Manuel | | Renault Clio Sport | | |
| 28 | Duran | José | | Renault Clio R3T | | |
| 29 | Pacheco | David | | Renault Megane | | |
| 30 | Van Loon | Marcelo Alexander | | Renault 19 | | |
| 31 | Medina | Pedro | | Citroën Saxo | | |
| 32 | Gonzalez | Diego | | Citroën Saxo | | |
| 33 | Ruiz | Juan José | | Citroën AX | | |
| 34 | Gamez | Daniel | | Citroën AX Sport | | |
| 35 | Muñoz | Juan Antonio | | Seat Leon TDi | | |
| 36 | Vargas | David | | Seat Ibiza Turbo | | |
| 37 | Sanchez | José Antonio | | BMW E36 328i | | |
| 38 | Felix | Antonio | | Mazda MX-5 | | |
| 39 | Savall | Antonio | | Peugeot 206 XS | | |
| 40 | Galan | Rafael Luis | | Peugeot 206 | | |
| 41 | Gonzalez | Salvador | | Peugeot 106 GTI | | |
| 42 | Guzman | Francisco Javier | | Peugeot 205 | | |
| 43 | Laloux | Stefano | | Hyundai Accent Cup | | |
| 44 | Laloux | Cristiano | | Hyundai Accent Cup | | |