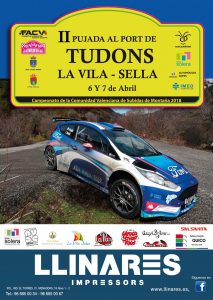 The Pujada al Port de Tudons was celebrated in perfect conditions. Just over 40 drivers were present for the second round of the Comunidad Valenciana Hillclimb Championship.
Daniel Albert was the quickest driver in practise and both race sessions. Naturally the Silver Car S2 pilot was also the winner. Nacho Aviño had to give 3 seconds to Albert but still finished second overall. Carlos Archilles steered his Speed Car GTr to third overall.
Three top drivers gave a great show in the touringcars. On his first outing in Tudons José Antonio Lopez-Fombona was immediately fastest in practise. He continued with great times during the race sessions. Raul Borreguero and Fernando Garrido were behind the Asturian in practise but still had much room to improve. In the first race Borreguero went 15 seconds faster than his practise time. A huge improvement but not enough to beat Lopez-Fombona. Garrido went 14 seconds quicker than in practise and that was enough for victory. In the second race the speed went up even more, but the final order did not change anymore.
07/04/2018 – Pujada al Port de Tudons

| Pos. | Last Name | First Name | | Car | Cl. | Final |
| --- | --- | --- | --- | --- | --- | --- |
| 1 | Albert | Daniel | | Silver Car S2 | CM | 3:18,155 |
| 2 | Aviño | Nacho | | Speed Car GT | CM | 3:21,626 |
| 3 | Archilles | Carlos | | Speed Car GTR | CM | 3:30,889 |
| 4 | Garrido | Fernando | | Peugeot 206 WRC | A | 3:32,398 |
| 5 | Lopez-Fombona | José Antonio | | Lamborghini Huracan ST | GT | 3:33,238 |
| 6 | Borreguero | Raul | | Mosler MT900R | GT | 3:34,869 |
| 7 | Romero | Antonio | | BMW 325 | HL | 3:53,633 |
| 8 | Bravo | Javier | | Semog Kart-Cross | CC | 3:54,416 |
| 9 | Anguix | Julian | | Seat Leon Supercopa | A2 | 3:56,878 |
| 10 | Plasencia | Santiago | | BMW E30 320i | GR5 | 3:58,909 |
| 11 | Pastrana | Jaime | | Renault Clio Sport | F2 | 4:06,002 |
| 12 | Mondejar | Antonio | | Renault Clio Sport | N | 4:06,979 |
| 13 | Beltran | Adrian | | Citroën Xsara | A | 4:09,034 |
| 14 | Paasch | Daniel | | BMW 323TI | HL | 4:10,195 |
| 15 | Arenas | Sergio | | Fiat Punto HGT | N | 4:10,366 |
| 16 | Ballesteros | Manuel | | Renault 5 GT Turbo | H | 4:10,479 |
| 17 | Bravo | Alejandro | | Renault Clio Sport | N | 4:10,519 |
| 18 | Barbantan | Adrian | | Peugeot 306 S16 | A | 4:10,527 |
| 19 | Ortega | Castor | | Ford Escort | H | 4:11,350 |
| 20 | Val | Augusto | | Renault Clio | N | 4:11,500 |
| 21 | Bernal | Rosendo | | Citroën Saxo | A | 4:11,678 |
| 22 | Gonzalo | Adrian | | BMW E36 325 | HL | 4:12,251 |
| 23 | Fernandez | Teodoro | | Alfa Romeo GT Veloce | H | 4:12,946 |
| 24 | Baldo | Zoe | | Renault Clio | H | 4:15,139 |
| 25 | Carvalhais | Carlos Alberto | | Fiat Punto HGT | A | 4:18,304 |
| 26 | Sanchez Urios | José Luis | | Hyundai Accent | A2 | 4:19,396 |
| 27 | Lopez | Alejandro | | BMW 320i | HL | 4:20,711 |
| 28 | Garcia | Francisco Javier | | Peugeot 106 Rallye | N | 4:21,407 |
| 29 | Lloret | Pedro | | Citroën Saxo VTS | N | 4:21,729 |
| 30 | Jorda | Tomas | | Porsche 911 SC | HL | 4:22,007 |
| 31 | Villacreces | Alejandro | | Citroën Saxo | A | 4:23,533 |
| 32 | Caballero | Adrian | | Peugeot 206 XS | A | 4:24,683 |
| 33 | Sanchez | Ivan | | Nissan Micra | N | 4:25,654 |
| 34 | Cobos | Oscar | | Fiat Punto HGT | A | 4:26,052 |
| 35 | Caballero | Alfredo | | Citroën ZX | HL | 4:28,486 |
| 36 | Marquez | Francisco Javier | | Fiat Punto HGT | A | 4:29,801 |
| 37 | Carmona | Javier | | Suzuki Swift GTI | H | 4:36,477 |
| 38 | Sacristan | Benjamin | | BMW 325i | HL | 4:37,163 |
| 39 | Casas | Carlos | | Peugeot 306 | A | 4:37,592 |
| 40 | Llinares | Paco | | Dacia Sandero | N | 4:51,063 |
| 41 | Sanchez Prieto | José Luis | | Seat 600 | H | 4:59,089 |