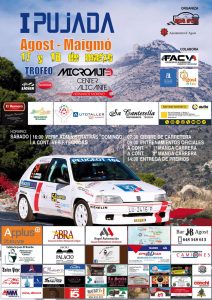 The Hillclimb Championship of the Comunidad Valenciana began this weekend with the Pujada Agost – Maigmó. It was the very first edition of this 5,45 kilometre long hillclimb. A large variety of cars was brought by the 45 entered drivers. There were 14 different cars among the fastest 15 drivers!
Sergi Pañella suffered a mechanical failure in his Silver Car EF10. Luckily his time in the first race was enough to secure him victory. Daniel Albert in the regular Silver Car S2 came just 2 seconds short to take victory. Behind the two leaders Augusto Lezcano debuted his new Norma M20F Honda with third place overall.
Raul Borreguero seemed to take yet another touringcar victory at Agost. The mighty Mosler MT900R was the quickest in practise and race 1. However in race 2 Fernando Garrido set a brilliant time to take victory. Bernard Gonzalez was very close to the leaders in his BMW M3 E92 but eventually had to settle for third.
18/03/2018 – Pujada Agost – Maigmó

| Pos. | Last Name | First Name | | Car | Cl. | Final |
| --- | --- | --- | --- | --- | --- | --- |
| 1 | Pañella | Sergi | | Silver Car EF10 | CN | 2:42,860 |
| 2 | Albert | Daniel | | Silver Car S2 | CM | 2:44,627 |
| 3 | Lezcano | Augusto | | Norma M20F Honda | CN | 2:46,746 |
| 4 | Archilles | Carlos | | Speed Car GTR | CM | 2:54,530 |
| 5 | Garrido | Fernando | | Peugeot 206 WRC | WRC | 2:56,176 |
| 6 | Hernandez | Sergio | | Silver Car S2 | CM | 2:56,511 |
| 7 | Fernandez | Pedro Luis | | Speed Car X-Treme | CC | 2:57,905 |
| 8 | Borreguero | Raul | | Mosler MT900R | GT | 2:58,179 |
| 9 | Gonzalez | Bernard | | BMW M3 E92 | GT | 2:59,574 |
| 10 | Garrido | Dario | | Skoda Fabia R5 | R5 | 3:04,345 |
| 11 | Bermudez | Mario | | Renault Clio Cup | GR5 | 3:11,009 |
| 12 | Romero | Antonio | | BMW 325i E36 | HL | 3:11,418 |
| 13 | Porcar | Miguel | | Seat Leon MK2 | A2 | 3:13,148 |
| 14 | Cabrera | Guillem | | Renault Megane | A | 3:16,858 |
| 15 | Sanchez | Salvador | | Radical Prosport | CN | 3:16,931 |
| 16 | Anguix | Julian | | Seat Leon Supercopa | A2 | 3:19,221 |
| 17 | Ruiperez | José Antonio | | Speed Car X-Treme | CC | 3:19,260 |
| 18 | Plasencia | Santiago | | BMW 320i E30 | GR5 | 3:19,344 |
| 19 | Alfonso | Mahy | | BMW 328 E36 | HO | 3:22,759 |
| 20 | Ballesteros | Manuel | | Renault 5 GT Turbo | H | 3:23,018 |
| 21 | Beltran | Adrian | | Citroën Xsara | A | 3:24,622 |
| 22 | Gonzalo | Adrian | | BMW 325i | HL | 3:26,217 |
| 23 | Baldo | Zoe | | Renault Clio | H | 3:26,400 |
| 24 | Bernal | Rosendo | | Citroën Saxo VTS | A | 3:26,802 |
| 25 | Barbantan | Adrian | | Peugeot 306 S16 | A | 3:28,685 |
| 26 | Val | Augusto | | Renault Clio Sport | N | 3:29,531 |
| 27 | Garcia | Francisco | | Peugeot 205 Rallye | H | 3:31,926 |
| 28 | Ortega | Castor | | Ford Escort | HL | 3:34,269 |
| 29 | Gonzalez | Maximo | | Citroën Saxo VTS | A | 3:34,811 |
| 30 | Sanchez | José Luis | | Hyundai Accent | A2 | 3:36,284 |
| 31 | Caballero | Adrian | | Peugeot 206 XS | A | 3:36,907 |
| 32 | Cobos | Oscar | | Fiat Punto HGT | A | 3:39,646 |
| 33 | Garcia | Francisco Javier | | Peugeot 106 Rallye | N | 3:39,730 |
| 34 | Moreno | Sebastian | | Peugeot 106 Rallye | H | 3:39,794 |
| 35 | Jordá | Tomás | | Porsche 911 SC | HL | 3:41,627 |
| 36 | Sanchez | Ivan | | Nissan Micra | N | 3:42,589 |
| 37 | Carmona | Javier | | Suzuki Swift GTI | H | 3:48,439 |
| 38 | Marquez | Francisco Javier | | Fiat Punto HGT | A | 3:49,904 |
| 39 | Moreno | José David | | Hyundai Accent | A2 | 3:53,068 |
| 40 | Lopez | José Manuel | | Renault Clio | H | 4:00,947 |
| 41 | Sanchez | José Luis | | Seat 600 | HL | 4:01,714 |
| 42 | Arenas | Antonio | | Renault Clio | H | 4:04,435 |