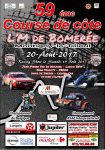 One more results from last week: The Course de Côte de 'M' de Bomerée. The 8th round of the Belgian Hillclimb Championship attracted well over 100 drivers.
Jelle de Coninck won the event in a new trackrecord. Runner-up Anthony Loeuilleux was more then three seconds slower in his Tatuus Master. The Frenchman is however certain of winning the Belgian Cup. The new Belgian Champion Jacques Marchal completed the podium at Bomerée. Philippe Dewulf dominated the touringcars and scored another victory. However Martin Bach increased his championship lead over Eric Schwilden to 27 points. Without misfortune in the final round at Houyet, Bach is the new champion. Clause Soisson is the winner of the Belgian Touringcar Cup.
In the regional race Francis Gilles scored his first victory of the season. It was not enough to stop Christophe Le Nouvel from winning the 2017 title. Gilles is still fighting for second place in points with Olivier Dubois. The gap is now four points after Dubois finished third in Bomerée. Le Nouvel positioned his Citroën AX between the two rivals at his homerace this Sunday. In division 4 Julien Vandeput scored yet another victory in his succesful but virtually unopposed championship campaign.
20/08/2017 – Course de Côte de Bomerée

| Pos. | Last Name | First Name | | Car | Cl. | Final |
| --- | --- | --- | --- | --- | --- | --- |
| 1 | De Coninck | Jelle | | Norma M20 FC Turbo | CN20 | 0:53,83 |
| 2 | Loeuilleux | Anthony | | Tatuus Master | D/E 17 | 0:57,07 |
| 3 | Marchal | Jacques | | Norma M20F | CN20 | 0:57,38 |
| 4 | Schmits | Jean | | Ralt F3000 | D/E 18 | 0:57,96 |
| 5 | Fusillier | Philippe | | Dallara F302 | D/E 16 | 1:01,04 |
| 6 | Facon | Alain | | Dallara F302 | D/E 16 | 1:01,32 |
| 7 | Dewulf | Philippe | | Citroën Xsara | E1 10 | 1:01,86 |
| 8 | Boemer | Didier | | Lola B06/30 | D/E 16 | 1:02,37 |
| 9 | Vandeput | Julien | | Van Diemen Suzuki | D/E 14 | 1:02,53 |
| 10 | Straga | Grégory | | Reynard Opel Lotus | D/E 17 | 1:03,50 |
| 11 | Marchal | Adrien | | Silver Car S2 | CM13 | 1:05,33 |
| 12 | Bach | Martin | | Mitsubishi Lancer EVO VI | E1 10 | 1:06,15 |
| 13 | Le Nouvel | Christophe | | Citroën AX GTI | E1 7 | 1:07,48 |
| 14 | Damiens | Noël | | Martini MK30 | D/E 15 | 1:08,29 |
| 15 | Weyten | Willy | | Mantis Sport | CN19 | 1:08,65 |
| 16 | Swinkels | Johnny | | Porsche 911 | E1 10 | 1:08,79 |
| 17 | Lalouette | Joël | | Norma M20 | CM13 | 1:08,88 |
| 18 | Schwilden | Eric | | Peugeot 205 | E1 8 | 1:08,93 |
| 19 | Janin | Janick | | Tatuus FR2000 | D/E 17 | 1:09,35 |
| 20 | La Valle | Nicolas | | BMW 323i | E1 9 | 1:09,56 |
| 21 | Cazzoli | Bruno | | Opel Kadett GT/E | E1 8 | 1:09,57 |
| 22 | De Sutter | Jean | | Lotus Exige | E1 10 | 1:10,54 |
| 23 | De Saedeleer | Bart | | Fiat 500 VRC | EX11 | 1:11,80 |
| 24 | Kluyskens | Sebastien | | Legend Car | EX11 | 1:13,10 |
| 25 | Soisson | Claude | | Opel Manta | E1 8 | 1:14,43 |
| 26 | Lieutenant | Maxime | | Legend Car | EX11 | 1:15,33 |
| 27 | De Saeger | Didier | | Legend Car | EX11 | 1:15,78 |
| 28 | Moreau | Bastien | | Renault Clio III RS | A5 | 1:16,44 |
| 29 | Lepot | Jean-François | | Volkswagen Golf II | E1 8 | 1:16,76 |
| 30 | Fontenelle | Renaud | | Citroën AX Sport | E1 7 | 1:17,12 |
| 31 | Cordier | Loic | | Volkswgen Polo | E1 8 | 1:17,40 |
| 32 | Van De Wauwer | Jean-Pierre | | Lotus | H23 | 1:17,91 |
| 33 | Ciuca | Mandy | | Opel Kadett GT/E | E1 9 | 1:18,72 |
| 34 | Baeyens | Roel | | Citroën AX | E1 7 | 1:23,98 |
| 35 | Flammang | Tania | | Volkswagen Fun Cup | EX11 | 1:28,93 |
20/08/2017 – Course de Côte de Bomerée (Regional)

| Pos. | Last Name | First Name | | Car | Cl. | Final |
| --- | --- | --- | --- | --- | --- | --- |
| 1 | Vandeput | Julien | | Van Diemen Suzuki | 4/15 | 1:02,91 |
| 2 | Souris | Frédéricq | | Speed Car GTR | 4/15 | 1:05,34 |
| 3 | Gilles | Francis | | Ford Escort Cosworth | 2/8 | 1:06,73 |
| 4 | Le Nouvel | Christophe | | Citroën AX | 3/11 | 1:07,42 |
| 5 | Dubois | Olivier | | Lotus Elise | 3/13 | 1:08,15 |
| 6 | Cricus | Alain | | Porsche 996 GT3 | 2/8 | 1:08,81 |
| 7 | Philippens | Marc | | Kart-Cross | 4/14 | 1:10,11 |
| 8 | Dubois | Michel | | Lotus Elise | 3/13 | 1:10,52 |
| 9 | Gouders | Cédric | | Kamikaze Kart-Cross | 4/14 | 1:11,58 |
| 10 | Bettel | Eric | | Peugeot 205 | 3/12 | 1:12,01 |
| 11 | Bascour | David | | Camoto Kart-Cross | 4/14 | 1:13,04 |
| 12 | Ciuca | Romain | | Opel Kadett C | 3/13 | 1:13,28 |
| 13 | Klein | Claude | | Peugeot 205 | 3/12 | 1:13,56 |
| 14 | Bury | Fabian | | Leyland Mini | 3/12 | 1:13,76 |
| 15 | Tholbecq | Laurent | | Honda Civic | 3/12 | 1:14,29 |
| 16 | Anastasi | Antonio | | Fiat Cinquecento | 3/11 | 1:14,95 |
| 17 | Davreux | Laurent | | Peeters Kart-Cross | 4/14 | 1:16,11 |
| 18 | Dierckx | Daniel | | Citroën C2 VTS | 2/6 | 1:16,25 |
| 19 | Seguin | Manu | | Opel Kadett C | 3/13 | 1:16,29 |
| 20 | Legendre | Frédéric | | Opel Kadett GT/E | 3/12 | 1:16,50 |
| 21 | Breulet | Valentin | | Peugeot 106 GTI | 2/6 | 1:16,91 |
| 22 | Hardy | Franck | | Opel Kadett | 2/7 | 1:17,26 |
| 23 | Anastasi | Antonino | | Fiat Cinquecento | 3/11 | 1:18,06 |
| 24 | Georges | David | | Peugeot 106 | 3/11 | 1:18,63 |
| 25 | Depelsenaire | Denis | | Mini Sprint | 3/10 | 1:18,92 |
| 26 | Collie | Michael | | Subaru Impreza | 3/13 | 1:18,99 |
| 27 | Hennequart | Nicolas | | Volkswagen Golf | 3/13 | 1:19,03 |
| 28 | Couvreur | Pierre | | Peugeot 205 | 3/12 | 1:19,41 |
| 29 | Honore | Mikaël | | Seat Ibiza | 2/7 | 1:19,47 |
| 30 | Vincke | Arnaud | | Peugeot 205 | 2/5 | 1:20,31 |
| 31 | Hardy | David | | Opel Astra GSi | 2/7 | 1:20,63 |
| 32 | Ternet | Olivier | | Peugeot 206 GTI | 2/7 | 1:20,65 |
| 33 | Defer | Jean-Louis | | Renault Twingo | 3/12 | 1:21,11 |
| 34 | Pauporte | Marc | | Mini Cooper S | 2/8 | 1:21,46 |
| 35 | Deroo | Logan | | Volkswagen Golf II GTI | 2/7 | 1:22,37 |
| 36 | Beguint | David | | Citroën AX GTI | 2/5 | 1:22,59 |
| 37 | Mathieu | Michaël | | Opel Kadett GSi | 2/7 | 1:22,72 |
| 38 | Leblanc | Jean-Philippe | | Citroën AX GTI | 2/5 | 1:22,96 |
| 39 | Bracher | René | | Peugeot 106 | 2/6 | 1:23,02 |
| 40 | Theron | Vincent | | Volkswagen Golf | 3/11 | 1:23,23 |
| 41 | Marin | Christian | | Peugeot 106 | 3/11 | 1:23,33 |
| 42 | Nicolas | Florian | | Alfa Romeo 145 | 2/7 | 1:23,54 |
| 43 | Marcoux | Vincent | | Citroën Saxo VTS | 2/6 | 1:23,55 |
| 44 | Delepierre | Remi | | Peugeot 205 GTI | 2/6 | 1:23,92 |
| 45 | Leblanc | Christian | | Citroën AX GTI | 2/5 | 1:24,07 |
| 46 | Lupardi | Julien | | Renault Twingo R1 | 2/6 | 1:25,03 |
| 47 | Arcq | Didier | | Peugeot 106 | 2/6 | 1:25,30 |
| 48 | Nicolas | Bernard | | Alfa Romeo 145 | 2/7 | 1:25,56 |
| 49 | Saussus | Julien | | Ford Fiesta | 1/2 | 1:25,85 |
| 50 | Pasture | Fabrice | | BMW 323i | 3/13 | 1:25,94 |
| 51 | Lorge | Vincent | | Opel Corsa | 2/6 | 1:26,15 |
| 52 | Devin | Roland | | Peugeot 205 | 3/10 | 1:26,17 |
| 53 | Bruno | Carmine | | Fiat 500 | 3/9 | 1:26,31 |
| 54 | Loosveld | Alain | | Opel Astra | 3/12 | 1:26,34 |
| 55 | Dauvin | Anthony | | Peugeot 106 | 3/10 | 1:26,44 |
| 56 | Cheron | Thomas | | Renault Twingo R1 | 2/6 | 1:26,61 |
| 57 | Devergnies | Michaël | | Peugeot 205 | 2/5 | 1:26,87 |
| 58 | Warny | Eddy | | Citroën AX GTI | 2/5 | 1:26,87 |
| 59 | Maroye | Dimitri | | Peugeot 206 | 2/6 | 1:27,03 |
| 60 | Stojka | Malory | | Suzuki Swift | 2/5 | 1:27,04 |
| 61 | Ney | Joris | | Volkswagen Golf II | 1/3 | 1:27,21 |
| 62 | Lejeune | Guillaume | | BMW 320 | 2/7 | 1:27,38 |
| 63 | Devaux | Marc | | Citroën Saxo | 1/2 | 1:27,84 |
| 64 | Glasset | Yoric | | Volkswagen Golf II | 1/3 | 1:28,27 |
| 65 | Makukatin | Michel | | Mazda MX-5 Cup | 2/8 | 1:28,56 |
| 66 | Piraux | Vincent | | Leyland Mini | 2/5 | 1:29,29 |
| 67 | Gego | Michaël | | Opel Corsa B | 3/10 | 1:29,87 |
| 68 | Beguint | Kimberley | | Peugeot 205 | 2/5 | 1:30,61 |
| 69 | Di Cintio | Cedric | | Renault Clio | 3/12 | 1:30,70 |
| 70 | Lejeune | Marjolaine | | Peugeot 106 | 2/5 | 1:31,27 |
| 71 | Pirson | Benoit | | Peugeot 205 | 1/1 | 1:32,29 |
| 72 | Baele | Claude | | Alfa Romeo GTV6 | 3/13 | 1:32,90 |
| 73 | Baele | Claude | | Alfa Romeo 75 | 1/4 | 1:35,87 |
| 74 | Baltus | Serge | | Honda S800 | 3/9 | 1:37,35 |