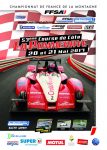 The French Hillclimb Championship continued this weekend with the Course de Côte de La Pommeraye. Sébastien Petit remained unbeatable as he scored yet another victory. Like usual the podium was completed by Geoffrey Schatz and Cyrille Frantz. Last week at Hébécrevon Julien Français drove to CN2 class victory and fourth overall. He repeated that achievement this weekend. Yannick Latreille was the only driver who could come close to Français but it was not enough.
Best Formula 3 driver in La Pommeraye was Julien Bost in 10th overall. Second in F3 was Sarah Louvet, who was also best female driver this weekend. The gap with her rival Charlie Martin was just .004 seconds! More female succes came in Formula Renault were Estel Bouche was the fastest.
Pierre Courroye took yet another victory in the touringcars. This time he was not as dominating as in the previous three events. In the second of three races Philippe Schmitter managed to reduce the gap to just .16 seconds. However Courroye had something left for the third race and eventually won with a lead of .8 seconds. Christian Schmitter was again on the podium in third.
In Group A the gaps remain small between the various Seat Leon Supercopa drivers. This time Jérôme Janny was the winner with Francis Dosieres and Remi Bernard closeby. Group FC was also close this year with Xavier Burgevin, Geoffray Carcreff and Christophe Poinsignon all aiming for victory. In the end it was Burgevin who took home the biggest trophy.
20-21/05/2017 – Course de Côte de La Pommeraye

| Pos. | Last Name | First Name | | Car | Cl. | Final |
| --- | --- | --- | --- | --- | --- | --- |
| 1 | Petit | Sébastien | | Norma M20 FC | CN+ | 50,990 |
| 2 | Schatz | Geoffrey | | Reynard 01L Nippon | D/E 6 | 52,026 |
| 3 | Frantz | Cyrille | | Norma M20 FC | CN+ | 52,343 |
| 4 | Francais | Julien | | Norma M20 FC | CN2 | 55,752 |
| 5 | Latreille | Yannick | | Norma M20 FC | CN2 | 56,120 |
| 6 | Meillon | David | | Norma M20F | CN3 | 56,367 |
| 7 | Thomas | Serge | | Norma M20 FC | CN2 | 56,554 |
| 8 | Augusto | Olivier | | Norma M20 FC | CN2 | 57,284 |
| 9 | Le Beller | Anthony | | Norma M20 FC | CN2 | 57,456 |
| 10 | Bost | Julien | | Dallara F302 | D/E 5 | 57,885 |
| 11 | Maitre | Jean-Jacques | | Tatuus PY012 | CN2 | 57,893 |
| 12 | Louvet | Sarah | | Dallara F303 | D/E 5 | 58,451 |
| 13 | Martin | Charlie | | Norma M20 FC | CN2 | 58,455 |
| 14 | Nicol | John | | Dallara F399/01 | D/E 5 | 59,020 |
| 15 | Lemaitre | Colin | | Dallara F308/11 | D/E 5 | 59,048 |
| 16 | Courroye | Pierre | | McLaren MP4 12C | GTTS4 | 59,144 |
| 17 | Berton | Bruno | | Ligier JS49 | CN2 | 59,436 |
| 18 | Baud | Maxime | | Norma M20 FC | CN2 | 59,544 |
| 19 | Schmitter | Philippe | | Lamborghini Gallardo GT3 | GTTS4 | 59,989 |
| 20 | Hubert | Martine | | Norma M20F | CN3 | 1:00,129 |
| 21 | Vermeille | Xavier | | Norma M20F | CN3 | 1:00,413 |
| 22 | Taviaux | Benoit | | Dallara 392 | D/E 2 | 1:00,618 |
| 23 | Lebot | Clement | | Dallara F301 | D/E 5 | 1:00,770 |
| 24 | Dorey | Peter | | Dallara F306 | D/E 5 | 1:00,957 |
| 25 | Chupin | Cyrille | | Silver Car S2F | CM | 1:01,137 |
| 26 | Mangold | Manuel | | Norma M20 FC | CN2 | 1:01,371 |
| 27 | Bouche | Estel | | Tatuus FR2000 | D/E 7A | 1:01,590 |
| 28 | Pilet | Denis | | Silver Car S2F | CM | 1:01,801 |
| 29 | Schmitter | Christian | | Porsche 997 GT3R | GTTS4 | 1:02,170 |
| 30 | Poinsignon | Yannick | | BMW M3 E92 | GTTS4 | 1:02,383 |
| 31 | Werver | Nicolas | | Porsche 997 GT2 | GTTS4 | 1:02,527 |
| 32 | Louvet | Jean-Jacques | | Norma M20F | CN2 | 1:02,956 |
| 33 | Jarret | Emmanuel | | BRC CM05 EVO | CM | 1:03,406 |
| 34 | Henry | Jean-Christophe | | Tatuus FR2000 | D/E 7B | 1:03,748 |
| 35 | Burgevin | Xavier | | Jidé | FC3 | 1:04,092 |
| 36 | Maurel | Julien | | Tatuus FR2000 | D/E 7B | 1:04,152 |
| 37 | Caumon | Nicolas | | Lamborghini Gallardo | GTTS4 | 1:04,229 |
| 38 | Carcreff | Geoffray | | Scora Maxi | FC4 | 1:04,459 |
| 39 | Janny | Jerome | | Seat Leon Supercopa | A4 | 1:04,731 |
| 40 | Poinsignon | Christophe | | Simca CG Turbo | FC4 | 1:05,180 |
| 41 | Dosieres | Francis | | Seat Leon Supercopa | A4 | 1:05,677 |
| 42 | Beauvoir | Bruno | | Tatuus FR2000 | D/E 7B | 1:06,344 |
| 43 | Bernard | Remi | | Seat Leon Supercopa | A4 | 1:06,483 |
| 44 | Nouet | Mathieu | | Simca Rallye II | FC3 | 1:06,616 |
| 45 | Dupont | Sebastien | | Seat Leon Supercopa | A4 | 1:06,759 |
| 46 | Richardeau | Romain | | Simca Rallye III | FC1 | 1:07,723 |
| 47 | Durassier | Samuel | | Honda Civic Type-R | F2000 / 3 | 1:08,168 |
| 48 | Dupont | Julien | | Seat Leon Supercopa | A4 | 1:08,267 |
| 49 | Degortes | Fabrice | | Seat Leon Supercopa | A4 | 1:08,956 |
| 50 | Cat | Pascal | | Renault Megane RS | N4 | 1:09,497 |
| 51 | Moimeau | Matthieu | | Renault Clio | F2000 / 3 | 1:10,290 |
| 52 | Peyrard | Eric | | Renault Clio Cup IV | GTTS2 | 1:10,842 |
| 53 | Boullenger | Christian | | Renault Clio | F2000 / 3 | 1:10,872 |
| 54 | Sagot | Flavien | | BMW M3 ST | GTTS3 | 1:10,880 |
| 55 | Hervieu | Richard | | Peugeot 306 | A3 | 1:10,914 |
| 56 | Loton | Ferdinand | | Honda Civic Type-R | N3 | 1:11,192 |
| 57 | Denie | Teddy | | Renault Clio Cup | A3 | 1:11,270 |
| 58 | Bineau | Michel | | Nissan Almera | A3 | 1:11,786 |
| 59 | Lamiscarre | Michel | | Porsche Cayman | GT2 | 1:12,121 |
| 60 | Derre | Pascal | | Renault Clio Cup | A3 | 1:12,361 |
| 61 | Maurel | Jean-Jacques | | Peugeot 206 | F2000 / 3 | 1:12,566 |
| 62 | Bodinier | Philippe | | Simca Rallye III | FC1 | 1:13,445 |
| 63 | Tkatchenko | Jacques | | Citroën Saxo VTS | A2 | 1:13,814 |
| 64 | Descamps | Eric | | Citroën Saxo Cup | A2 | 1:13,951 |
| 65 | Lestienne | Jean-Michel | | Mit-Jet | GTTS1 | 1:14,283 |
| 66 | Vaillant | Gwenael | | Mit-Jet | GTTS1 | 1:14,722 |
| 67 | Loton | Didier | | Honda Civic | N2 | 1:16,158 |
| 68 | Payneau | Gilbert | | Peugeot 205 GTI | F2000 / 2 | 1:16,977 |
| 69 | Klee | Nicolas | | Renault Clio Cup III | A3 | 1:17,040 |
| 70 | Dupont | Rodolphe | | Peugeot 306 | F2000 / 3 | 1:18,446 |
| 71 | Quioc | Philippe | | Peugeot 205 Rallye | N1 | 1:19,094 |
| 72 | Ginard | Rudy | | Lotus Exige | GT1 | 1:19,716 |
| 73 | Cardinaud | Anthony | | Peugeot 106 | N2 | 1:21,169 |
| 74 | Michaud | Frederic | | Peugeot 205 | F2000 / 3 | 1:21,727 |
| 75 | Herve | Jacques | | Honda Civic Type-R | N3 | 1:23,046 |
| 76 | Leveque | Patrick | | Opel Astra OPC | N3 | 1:28,405 |
20-21/05/2017 – Course de Côte de La Pommeraye (Guest)

| Pos. | Last Name | First Name | | Car | Cl. | Final |
| --- | --- | --- | --- | --- | --- | --- |
| 1 | Wilkinson | James | | Reynard Lotus | D/E 3 | 1:06,416 |
| 2 | Howard | Thomas | | Crossle 9S | CN2 | 1:13,577 |
| 3 | Williams | David | | Ford Escort RS2000 | FC4 | 1:15,286 |
| 4 | Wilkinson | Howard | | Radical Prosports | CN1 | 1:15,288 |
| 5 | Neary | Jerry | | Westfield SEi | D/E 4 | 1:15,770 |
| 6 | Padfield | Lyn | | Lotus Seven | FC3 | 1:17,682 |
| 7 | Bruce | Jeff | | BMW Mini One | F2000 / 2 | 1:18,851 |