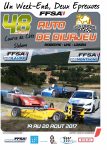 In the Rhône-Alpes it was time for the Course de Côte des 48h de Divajeu. This raceweekend consisted of a slalom event on Saturday and a speed hillclimb on Sunday.
A retirement from David Guillaumard in the final race mean that Marcel Sapin could retake the lead and claim victory. Nobody else went faster than him so Guillaumard could at least be satisfied with second place. Maxime Cotleur passed Luc Leonce in the fourth and final race to move up to third.
The touringcar class was dominated by the drivers from group FC. Daniel Pauselli was the quickest in the first three races and was the winner. Frédéric Assenault was the fastest in the fourth race but his time was not quick enough to unsettle Marc Cotleur from the runner-up spot.
20/08/2017 – Course de Côte de Crest-Divajeu

| Pos. | Last Name | First Name | | Car | Cl. | Final |
| --- | --- | --- | --- | --- | --- | --- |
| 1 | Sapin | Marcel | | Dallara F305 | D/E 3 | 47,492 |
| 2 | Guillaumard | David | | Norma M20 FC | CN2 | 47,596 |
| 3 | Cotleur | Maxime | | Norma M20F | CN2 | 48,113 |
| 4 | Leonce | Luc | | Martini MK56 | D/E 2 | 48,632 |
| 5 | Clausi | Thomas | | Norma M20F | CN2 | 49,040 |
| 6 | Gudet | Cindy | | Dallara 304 | D/E 1 | 50,042 |
| 7 | Paire | Pascal | | Norma M20F | CN2 | 51,135 |
| 8 | Vian | Pierre | | Dallara F305 | D/E 3 | 51,267 |
| 9 | Bruynaud | Michel | | Dallara 389 | D/E 1 | 51,441 |
| 10 | Ferretti | Thierry | | Radical Prosport | CN1 | 51,551 |
| 11 | Roche | Patrick | | Reynard 923 | D/E 3 | 51,701 |
| 12 | Coquet | Stanislas | | Martini MK49 | D/E 1 | 51,883 |
| 13 | Coquet | Daniel | | Tatuus FL | D/E 1 | 52,023 |
| 14 | Fiard | Arthur | | Merlin MP2000 | CN1 | 52,162 |
| 15 | Pomaret | Sébastien | | Tatuus FR2000 | D/E 7 | 52,356 |
| 16 | Clausi | Melody | | Tatuus FR2000 | D/E 7 | 53,326 |
| 17 | Buat | Jérôme | | Ligier JS49 | CN2 | 53,936 |
| 18 | Milliet | Bruno | | Tatuus FR2000 | D/E 7 | 54,167 |
| 19 | Jegu | Pascal | | Tatuus FR2000 | D/E 7 | 54,192 |
| 20 | Ruga | Jean-Pierre | | Norma M20F | CN2 | 54,374 |
| 21 | Pauselli | Daniel | | Renault 5 Turbo | FC4 | 54,451 |
| 22 | Cotleur | Marc | | Alpine A110 | FC2 | 54,530 |
| 23 | Assenault | Frédéric | | Simca CG | FC2 | 54,873 |
| 24 | Chatanay | Eric | | PRM Funboost | CM | 54,948 |
| 25 | Baghtchejian | Stephan | | Simca Rallye II | FC3 | 55,103 |
| 26 | Darmochod | Gilles | | Seat Leon Supercopa MK2 | A4 | 55,516 |
| 27 | Gres | Philippe | | Mitsubishi Lancer EVO IX | N4 | 55,748 |
| 28 | Schifano | Nicolas | | Renault Megane | F2000 / 3 | 55,760 |
| 29 | Gley | Michaël | | Volkswagen Golf GTI | F2000 / 3 | 55,853 |
| 30 | Gillet | Guillaume | | Mitsubishi Lancer EVO IX | N4 | 55,932 |
| 31 | Persici | Herman | | Opel Kadett GT/E | FC3 | 56,920 |
| 32 | Vialle | Patrick | | Peugeot 206 | A2 | 57,116 |
| 33 | Vezolles | Claude | | BMW Compact | F2000 / 3 | 57,287 |
| 34 | Guignard | Alain | | Subaru Impreza WRX | A4 | 57,407 |
| 35 | Glinski | Christophe | | Renault Clio Cup IV | GTTS2 | 57,485 |
| 36 | Cotleur | Anthony | | Peugeot 205 | F2000 / 2 | 58,126 |
| 37 | Givaudan | Yves | | Renault Clio Cup II | A3 | 58,245 |
| 38 | Fargier | Christophe | | Honda Integra Type-R | N3 | 58,297 |
| 39 | Mariani | Alain | | BMW Compact | F2000 / 3 | 58,390 |
| 40 | Garces | Ronald | | Renault Clio Cup III | A3 | 58,439 |
| 41 | Dos Santos Farese | Anthony | | Simca Rallye II | FC1 | 58,468 |
| 42 | Caillet | Christophe | | Peugeot 206 Maxi | F2000 / 3 | 58,520 |
| 43 | Menuel | Renaud | | Renault Clio RS | N3 | 58,554 |
| 44 | Cursoux | Delphine | | Simca Rallye II | FC1 | 58,599 |
| 45 | Viougeas | Paul | | Volkswagen Polo | F2000 / 3 | 58,986 |
| 46 | Givaudan | Ludovic | | Renault Clio Ragnotti | N3 | 59,070 |
| 47 | Silvestre | Christophe | | Renault Clio Williams | N3 | 59,129 |
| 48 | Guizzon | Charles | | Simca Rallye II | FC1 | 59,434 |
| 49 | Gaudin | Jacques | | BMW M3 E36 | N4 | 59,674 |
| 50 | Faure | Jérémy | | Renault Clio Cup | A3 | 59,779 |
| 51 | Authier | Ghislain | | Renault Clio Cup | A3 | 59,800 |
| 52 | Beranger | Eric | | Renault Clio Williams | N3 | 59,816 |
| 53 | Tariot | Thierry | | Renault Clio Cup II | A3 | 59,831 |
| 54 | Fleury | Mathieu | | Renault Clio RS | N3 | 59,998 |
| 55 | Moulin | Anaïs | | Renault Clio Cup | A3 | 1:00,145 |
| 56 | Landrau | Loïc | | Citroën Saxo VTS | N2 | 1:00,234 |
| 57 | Blain | Brian | | Renault Clio RS | F2000 / 3 | 1:00,341 |
| 58 | Esturillo | Antoine | | Honda Civic EK4 | F2000 / 2 | 1:00,409 |
| 59 | Bellaton | Christophe | | Peugeot 106 Maxi | F2000 / 2 | 1:00,479 |
| 60 | Cendrier | Philippe | | Honda Civic | A2 | 1:00,640 |
| 61 | Guironnet | Robert | | Simca CG | FC1 | 1:00,709 |
| 62 | Guizzon | Philippe | | Peugeot 205 Rallye | F2000 / 1 | 1:00,795 |
| 63 | Bastet | Denis | | Citroën AX GTI | F2000 / 1 | 1:00,872 |
| 64 | Boxberger | Julien | | Peugeot 106 Rallye | F2000 / 1 | 1:01,257 |
| 65 | Laurier | Alexis | | Renault Clio Williams | N3 | 1:01,458 |
| 66 | Reynouard | Julien | | Peugeot 206 RC | N3 | 1:01,495 |
| 67 | Cottereau | Alexia | | Peugeot 205 | F2000 / 2 | 1:01,495 |
| 68 | Giorgian | Magaly | | Renault Clio Cup III | A3 | 1:02,075 |
| 69 | Niel | Lucas | | Peugeot 106 S16 | A2 | 1:02,139 |
| 70 | Croze | Damien | | Honda Civic | N2 | 1:02,532 |
| 71 | Landrau | Jean-Luc | | Citroën Saxo VTS | N2 | 1:02,909 |
| 72 | Thiebault | Michel | | Peugeot 206 XS | F2000 / 2 | 1:03,337 |
| 73 | Gielly | Guillaume | | Honda Civic | A2 | 1:03,477 |
| 74 | Audibert | André | | Peugeot 106 Rallye | A1 | 1:03,522 |
| 75 | Zerelli | Maxime | | Citroën Saxo VTS | N2 | 1:03,662 |
| 76 | Martin | Sylvia | | Citroën Saxo VTS | N2 | 1:03,885 |
| 77 | Revenaz | Marion | | Peugeot 205 GTI | F2000 / 3 | 1:04,197 |
| 78 | Ferrand | Pascal | | Peugeot 309 GTI | A3 | 1:04,299 |
| 79 | Revenaz | Raphaël | | Peugeot 205 GTI | F2000 / 3 | 1:04,442 |
| 80 | Reynouard | Yvan | | Peugeot 206 RC | N3 | 1:04,492 |
| 81 | Berry | Laurent | | Peugeot 205 GTI | F2000 / 2 | 1:04,752 |
| 82 | Reynaud | Philippe | | Peugeot 206 | F2000 / 3 | 1:04,769 |
| 83 | Saez | Edmond | | Renault Clio RS | N3 | 1:04,891 |
| 84 | Croze | Yvan | | Peugeot 106 S16 | N2S | 1:05,041 |
| 85 | Veyrat | Romain | | Peugeot 106 XSi | F2000 / 1 | 1:05,176 |
| 86 | Andre | Christian | | Citroën Visa GTI | F2000 / 2 | 1:05,183 |
| 87 | Nieto | Marc | | Citroën AX GT | F2000 / 1 | 1:05,200 |
| 88 | Assenault | Betty | | Simca Rallye II | FC1 | 1:06,495 |
| 89 | Fanget | Pascal | | Peugeot 205 | F2000 / 3 | 1:06,978 |
| 90 | Lamberton | Jordan | | Peugeot 106 XSi | N1 | 1:07,012 |
| 91 | Perrin | Brice | | Peugeot 106 S16 | F2000 / 2 | 1:07,137 |
| 92 | Laudet | Guy | | Peugeot 205 GTI | N3 | 1:07,168 |
| 93 | Gley | Jean-Pierre | | BMW 325ix | A4 | 1:07,267 |
| 94 | Tiraby | Jean-Michel | | Peugeot 106 S16 | N2 | 1:07,452 |
| 95 | Cocquelet | Jean-Luc | | Peugeot 106 Rallye | N1 | 1:08,236 |
| 96 | Genton | Loïc | | Citroën AX GTI | N1 | 1:08,257 |
| 97 | Genton | Cyrille | | Peugeot 106 XSi | F2000 / 1 | 1:08,411 |
| 98 | Durand | Alexandre | | Peugeot 106 XSi | F2000 / 1 | 1:08,513 |
| 99 | Heuze | Yoann | | Peugeot 106 Rallye | A1 | 1:08,743 |
| 100 | Caillet | Nathan | | Peugeot 106 XSi | N1 | 1:09,590 |
| 101 | Fanget | Esteban | | Peugeot 106 S16 | F2000 / 2 | 1:09,804 |
| 102 | Sarrazin | Caroline | | Peugeot 106 Rallye | A1 | 1:10,608 |
| 103 | Reynaud | Melinda | | Peugeot 106 XSi | N1 | 1:10,923 |
| 104 | Clemencon | Beatrice | | Peugeot 106 S16 | N2S | 1:11,197 |
| 105 | Emond | Dominique | | Citroën C2 | F2000 / 2 | 1:13,009 |
20/08/2017 – Course de Côte de Crest-Divajeu (VHC)

| Pos. | Last Name | First Name | | Car | Cl. | Final |
| --- | --- | --- | --- | --- | --- | --- |
| 1 | Ferretti | Pascal | | Marcadier JF01 | 6-7/C4 | 54,935 |
| 2 | Poix | Marc | | Martini MK15 | 8-9/B4 | 56,970 |
| 3 | Cayrier | Bernard | | Le Gallen LLG8 | 6-7/B4 | 1:03,319 |