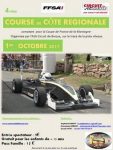 In just 4 years the Course de Côte de Circuit de Bresse has grown into one of best regional hillclimbs in France. And considering that the lap around the Circuit de Bresse is technically not an hillclimb, that is quite an achievement. 140 drivers were present for the fourth edition last Sunday. Among them were many well-known drivers from the national championship.
The wide and safe circuit provides an excellent opportunity to test different cars. As you can see in the final results below a lot of drivers appear in unfamiliar cars.
For the third time in four editions Alban Thomas was the quickest driver. With his Dallara F306 that he shared with Cecile Cante, Thomas set the fastest time of the day already in the very first race. Fabien Bourgeon debuted in the sportscar class at the Bresse Circuit. He was driving the Olivier Augusto Norma M20 FC. During the day Bourgeon kept improving his times and he eventually finished second overall. Third was for the winner of last year, Didier Brun, who was closely followed by Damien Chamberod. Miguel Vidal and Sébastien Chabin shared a Dallara F301 and finished fifth and seventh respectively. They were split by Raynald Thomas who finished sexth overall. The brother of the winner also shared his car with Jean-Pierre Bouchard.
Among the other class winners we find some interesting names. David Guillaumard jumped in the Tatuus Renault of Didier Chaumont and immediately won the class. This season Antoine Uny was active in Group N. But at the Circuit de Bresse he drove the Seat Leon Supercopa of Philippe Marion. Uny won Group A and was also the quickest touringcar driver.
01/10/2017 – Course de Côte de Circuit de Bresse

| Pos. | Last Name | First Name | | Car | Cl. | Final |
| --- | --- | --- | --- | --- | --- | --- |
| 1 | Thomas | Alban | | Dallara F306 | D/E 3 | 1:06,247 |
| 2 | Bourgeon | Fabien | | Norma M20 FC | CN2 | 1:06,523 |
| 3 | Brun | Didier | | Dallara F302 | D/E 3 | 1:07,306 |
| 4 | Chamberod | Damien | | Norma M20F | CN2 | 1:07,638 |
| 5 | Vidal | Miguel | | Dallara F301 | D/E 3 | 1:07,818 |
| 6 | Thomas | Raynald | | Dallara F308 Volkswagen | D/E 3 | 1:07,907 |
| 7 | Chabin | Sébastien | | Dallara F301 | D/E 3 | 1:08,415 |
| 8 | Godot | Sébastien | | Norma M20F | CN2 | 1:08,468 |
| 9 | Boisson | Gaël | | Dallara F307 | D/E 3 | 1:08,501 |
| 10 | Guth | Samuel | | Dallara F306 | D/E 3 | 1:08,783 |
| 11 | Guillaumard | David | | Tatuus FR2000 | D/E 7A | 1:09,124 |
| 12 | Petit | Kevin | | Norma M20 FC | CN2 | 1:09,221 |
| 13 | Godot | Jean-Claude | | Norma M20F | CN2 | 1:09,580 |
| 14 | Basset | Maxime | | Norma M20F | CN2 | 1:09,583 |
| 15 | Betzel | Antoine | | Norma M20 FC | CN2 | 1:09,791 |
| 16 | Gudet | Cindy | | Dallara 304 | D/E 1 | 1:10,142 |
| 17 | Labrosse | Jérôme | | Dallara 90 | D/E 2 | 1:10,233 |
| 18 | Pontille | Julien | | Tracking RC01 | CM | 1:11,279 |
| 19 | Flandy | Fabrice | | Norma M20 FC | CN2 | 1:11,513 |
| 20 | Gregoire | Olivier | | Dallara 399 | D/E 1 | 1:11,530 |
| 21 | Cante | Cecile | | Dallara F306 | D/E 3 | 1:11,535 |
| 22 | Germain | Bryan | | Norma M20F | CN2 | 1:11,588 |
| 23 | Chaumont | Didier | | Tatuus FR2000 | D/E 7A | 1:11,804 |
| 24 | Vair | Xavier | | Tracking RC01B | CM | 1:11,861 |
| 25 | Morel | Julien | | Norma M20 FC | CN2 | 1:12,261 |
| 26 | Chretien | Jacques | | Tatuus FR2000 | D/E 7B | 1:12,349 |
| 27 | Coquet | Stanislas | | Martini MK49 | D/E 1 | 1:12,626 |
| 28 | Louvet | Sarah | | Norma M20F | CN2 | 1:12,634 |
| 29 | Poulet | William | | Norma M20 | CN2 | 1:13,095 |
| 30 | Depierre | Gilles | | Tracking RC01 | CM | 1:13,188 |
| 31 | Serralta | Florian | | BRC CM05 EVO | CM | 1:13,278 |
| 32 | Flandy | Corinne | | Dallara 301 | D/E 1 | 1:13,286 |
| 33 | Adoir | Julien | | Tatuus FR2000 | D/E 7B | 1:13,303 |
| 34 | Perrin | Simon | | Tatuus FR2000 | D/E 7B | 1:13,421 |
| 35 | Chabert | Romain | | Tracking RC01B | CM | 1:13,500 |
| 36 | Labrosse | Sandrine | | Dallara F392 | D/E 3 | 1:13,562 |
| 37 | Louvet | Jean-Jacques | | Norma M20F | CN2 | 1:13,865 |
| 38 | Bouchard | Jean-Pierre | | Dallara F308 Volkswagen | D/E 3 | 1:13,878 |
| 39 | Gatignol | Florian | | Speed Car GTR | CM | 1:14,072 |
| 40 | Bole | Alexandre | | Tatuus FR2000 | D/E 7B | 1:14,085 |
| 41 | Brand | Thibaut | | Norma M20F | CN2 | 1:14,389 |
| 42 | Bataille | Pierre | | BRC CM05 EVO | CM | 1:14,553 |
| 43 | Vitte | Patrice | | Dallara F302 | D/E 3 | 1:14,770 |
| 44 | Boillot | Frédéric | | Tatuus FR2000 | D/E 7B | 1:14,845 |
| 45 | Basset | Quentin | | Norma M20F | CN2 | 1:14,880 |
| 46 | Taponard | Simon | | Tracking RC01 | CM | 1:14,919 |
| 47 | Tavant | Terry | | Norma M20 FC | CN2 | 1:15,896 |
| 48 | Uny | Antoine | | Seat Leon Supercopa | A4 | 1:17,744 |
| 49 | Assenault | Frédéric | | Simca CG | FC2 | 1:17,974 |
| 50 | Berger | Michel | | Tatuus FR2000 | D/E 7B | 1:18,328 |
| 51 | Delorme | Bernard | | Radical Prosport | CN1 | 1:18,947 |
| 52 | Rancon | Ludovic | | Renault Clio Cup III | A3 | 1:19,324 |
| 53 | Bourny | Hugo | | BMW M3 | N4 | 1:19,753 |
| 54 | Galiussi | Stéphane | | Simca Rallye II | FC2 | 1:19,799 |
| 55 | Rognon | Flavien | | Citroën C2 S1600 | A2 | 1:19,991 |
| 56 | Ducote | Fabien | | Citroën C2 S1600 | A2 | 1:20,078 |
| 57 | Quaire | Damien | | Renault Clio | F2000 / 3 | 1:20,136 |
| 58 | Dalla Palma | Serge | | Norma M20 FC | CN2 | 1:20,261 |
| 59 | Ganevat | Jean-François | | BMW M3 | N4 | 1:20,280 |
| 60 | Vernaz | Franck | | Austin Mini TRZ | CM | 1:20,420 |
| 61 | Bernard | Philippe | | Renault Clio Cup III | A3 | 1:20,504 |
| 62 | Breysse | Frédéric | | Simca Rallye III | FC2 | 1:20,541 |
| 63 | Paget | Julien | | Renault Clio Cup III | A3 | 1:20,743 |
| 64 | Campos | Jeremi | | Peugeot 106 S16 | A2 | 1:20,845 |
| 65 | Juif | Joël | | Lotus Exige | GT2 | 1:21,124 |
| 66 | Penot | Adrien | | Peugeot 306 S16 | F2000 / 3 | 1:21,213 |
| 67 | Aubry | Benjamin | | Renault Clio Cup | A3 | 1:21,411 |
| 68 | Prat | Richard | | Seat Leon Supercopa | A4 | 1:21,421 |
| 69 | Garnier | Stéphane | | Peugeot 306 S16 | F2000 / 3 | 1:21,443 |
| 70 | Cat | Pascal | | Renault Megane RS | N4 | 1:21,465 |
| 71 | Louison | Aurore | | Norma M20 | CN2 | 1:21,683 |
| 72 | Darmochod | Gilles | | Seat Leon Supercopa | A4 | 1:21,701 |
| 73 | Tissot | Jean-Marc | | Mit-Jet | GTTS1 | 1:22,088 |
| 74 | Rouillard | Guillaume | | Peugeot 207 | F2000 / 3 | 1:22,489 |
| 75 | Revenaz | Vincent | | Peugeot 306 | F2000 / 3 | 1:22,490 |
| 76 | Litaudon | Thomas | | Citroën C2 S1600 | A2 | 1:22,616 |
| 77 | Billot | Romain | | Renault Clio Cup | A3 | 1:22,649 |
| 78 | Cursoux | Gilles | | Simca CG | FC2 | 1:22,949 |
| 79 | Cat-Mackowiak | Morane | | BMW M3 | N4 | 1:22,951 |
| 80 | Guignard | Alain | | Subaru Impreza | A4 | 1:23,033 |
| 81 | Jouffroy | Francis | | Peugeot 205 GTI | F2000 / 2 | 1:23,054 |
| 82 | Abadie | Tanguy | | Citroën C2R2 Max | A2 | 1:23,060 |
| 83 | Givaudan | Ludovic | | Renault Clio Ragnotti | N3 | 1:23,073 |
| 84 | Bole-Richard | Matthieu | | Renault Clio Cup | A3 | 1:23,112 |
| 85 | Jaquier | Tommy | | Citroën C2 S1600 | A2 | 1:23,198 |
| 86 | Bellaton | Christophe | | Peugeot 106 Maxi | F2000 / 2 | 1:23,240 |
| 87 | Faury | Christian | | Renault Clio Cup II | A3 | 1:23,395 |
| 88 | Thomasset | Laurent | | Renault Clio Cup | A3 | 1:23,512 |
| 89 | Paget | Jacques | | Renault Clio Cup III | A3 | 1:23,885 |
| 90 | Demare | Christophe | | Mit-Jet | GTTS1 | 1:23,939 |
| 91 | Bellemin-Laponnaz | Jordan | | Peugeot 205 GTI | F2000 / 2 | 1:23,998 |
| 92 | Givaudan | Yves | | Renault Clio Cup | A3 | 1:24,238 |
| 93 | Letourneau | Simon | | Citroën Saxo | A2 | 1:24,416 |
| 94 | Cauffet | Matthias | | Peugeot 106 S16 | A2 | 1:24,550 |
| 95 | Accary | Michel | | Tracking RC01B | CM | 1:25,155 |
| 96 | Giraud | Gauthier | | Peugeot 206 RC | F2000 / 2 | 1:25,613 |
| 97 | Dubois | Sylvain | | Citroën Saxo VTS | A2 | 1:25,677 |
| 98 | Touzelet | Romain | | Peugeot 208 R2 | A2 | 1:25,704 |
| 99 | Demare | Daniel | | Mit-Jet | GTTS1 | 1:25,737 |
| 100 | Bruyninckx | Franck | | Renault Clio Cup | A3 | 1:25,900 |
| 101 | Fiorani-Padey | Jessica | | Tiga | CN1 | 1:26,044 |
| 102 | Dameron | Régis | | Citroën Saxo | N2 | 1:26,269 |
| 103 | Ollivier | Yoni | | Peugeot 207 | F2000 / 3 | 1:26,488 |
| 104 | Duprat | Jean-Marc | | BMW M3 E30 | A4 | 1:26,493 |
| 105 | Desroches | David | | Peugeot 106 Rallye | N1 | 1:26,638 |
| 106 | Sonnet | Marc | | Peugeot 208 R2 | A2 | 1:26,847 |
| 107 | Alexandre | Marion | | LFP BAM | CN1 | 1:26,897 |
| 108 | Dameron | Cyril | | Citroën Saxo | N2 | 1:26,953 |
| 109 | Pochi | Jean-Michel | | Citroën C2R2 Max | A2 | 1:27,007 |
| 110 | Luksch | Frederick | | Norma M20 FC | CN2 | 1:27,215 |
| 111 | Dubois | David | | Honda Civic | A2 | 1:27,945 |
| 112 | Malatier | Florent | | Tracking RC01B | CM | 1:28,578 |
| 113 | Letourneau | Nicolas | | Peugeot 205 Rallye | F2000 / 1 | 1:28,582 |
| 114 | Volle | Cyril | | Renault Clio | N3 | 1:28,865 |
| 115 | Aubry | Mickaël | | Peugeot 205 | F2000 / 2 | 1:29,135 |
| 116 | Kowal | Patrick | | Peugeot 106 | A2 | 1:29,505 |
| 117 | Flammant | Jimmy | | Citroën Saxo | A2 | 1:29,655 |
| 118 | Revenaz | Raphaël | | Peugeot 205 GTI | F2000 / 3 | 1:29,697 |
| 119 | Martin | Yohann | | Peugeot 106 Rallye | N1 | 1:30,409 |
| 120 | Remillat | Yvan | | Citroën Saxo VTS | N2 | 1:30,592 |
| 121 | Genton | Loïc | | Citroën AX GTI | N1 | 1:31,673 |
| 122 | Bert | Sébastien | | Renault 5 GT Turbo | F2000 / 3 | 1:32,350 |
| 123 | Jaillot | Laurent | | Peugeot 205 | F2000 / 1 | 1:32,358 |
| 124 | Dufrene | Philippe | | Renault Clio II | N2 | 1:32,414 |
| 125 | Sarrazin | Caroline | | Peugeot 106 Rallye | A1 | 1:32,421 |
| 126 | Muzy | Théophane | | Peugeot 205 Rallye | F2000 / 1 | 1:32,474 |
| 127 | Guillerminet | Jean-Christophe | | Fiat Punto Abarth | A3 | 1:32,740 |
| 128 | Taboulet | Patrice | | Citroën AX GTI | N1 | 1:32,485 |
| 129 | Genton | Cyrille | | Peugeot 106 XSi | F2000 / 1 | 1:34,097 |
| 130 | Martins | Marc-Antoine | | Peugeot 206 S16 | F2000 / 3 | 1:34,688 |
| 131 | Martinet | Jonathan | | Citroën AX Sport | N1 | 1:35,344 |
| 132 | Heuze | Yoann | | Peugeot 106 Rallye | A1 | 1:35,575 |
| 133 | Benzelmat | Maiwenn | | Citroën Saxo VTS | N2 | 1:37,091 |
| 134 | Taponard | Carole | | Citroën AX GTI | N1 | 1:37,559 |
| 135 | Vella | Nathalie | | Citroën AX GTI | N1 | 1:38,093 |
| 136 | Morel | Maïte | | Simca Rallye II | FC2 | 1:39,367 |
| 137 | Assenault | Elodie | | Simca Rallye II | FC1 | 1:40,925 |