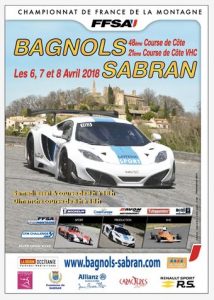 The French Hillclimb Championship started this weekend with the Course de Côte de Bagnols Sabran. Weather conditions were quite difficult with random rainshowers spoiling the fun. Still all drivers could manage at least two dry race runs.
Geoffrey Schatz gave a grand performance in his Norma M20 FC. Schatz was already record breaking fast in practise. On Sunday morning he confirmed his speed with a new official track record. In that first run Sebastien Petit was over 3 seconds behind. A massive gap but he managed to close it to .7 seconds at the end of the day. As a matter of fact Petit was also quicker than the previous trackrecord, but obviously not quick enough! The final podium spot went to David Meillon. He debuted his new Norma M20 FC CN+ sportscar with a fine third overall.
The Formula 3 saw a very close battle for victory. Alban Thomas took a fine win but he was just .3 seconds quicker than runner-up David Guillaumard. The couple also finished fourth and fifth respectively. Sixth overall was for the CN2-winner Julien Français. He was quite a bit quicker than class runner-up Maxime Cotleur.
Fabien Bourgeon had a massive crash at Bagnols Sabran last year. The memory of that accident did not upset him much as Bourgeon took CM class victory.
In GTTS Pierre Courroye took yet another brilliant victory. The reigning touringcar champion steered his McLaren to a 3 second lead and a new touringcar trackrecord. Nicolas Werver was best of the rest in second. Philippe Schmitter debuted his impressive Renault RS01 silhouette racer with third overall.
07-08/04/2018 – Course de Côte de Bagnols Sabran

| Pos. | Last Name | First Name | | Car | Cl. | Final |
| --- | --- | --- | --- | --- | --- | --- |
| 1 | Schatz | Geoffrey | | Norma M20 FC | CN+ | 1:22,106 |
| 2 | Petit | Sébastien | | Norma M20 FC | E2-SC | 1:22,902 |
| 3 | Meillon | David | | Norma M20 FC | CN+ | 1:26,840 |
| 4 | Thomas | Alban | | Dallara F303 | D/E 5 | 1:29,646 |
| 5 | Guillaumard | David | | Dallara F312 Mercedes | D/E 5 | 1:29,910 |
| 6 | Francais | Julien | | Norma M20 FC | CN2 | 1:30,271 |
| 7 | Ritchen | Billy | | Dallara F312 | D/E 5 | 1:30,277 |
| 8 | Sapin | Marcel | | Tatuus Master | D/E 8 | 1:30,788 |
| 9 | Cholley | Ludovic | | Dallara F308 Mercedes | D/E 5 | 1:30,852 |
| 10 | Cotleur | Maxime | | Norma M20F | CN2 | 1:31,075 |
| 11 | Augusto | Olivier | | Norma M20 FC | CN2 | 1:31,782 |
| 12 | Pernot | Etienne | | Norma M20 FC | CN2 | 1:31,889 |
| 13 | Avellaneda | Jérémy | | Norma M20 FC | CN2 | 1:31,944 |
| 14 | Guth | Samy | | Dallara F306 Mercedes | D/E 5 | 1:31,954 |
| 15 | Vidal | Miguel | | Dallara F397 | D/E 5 | 1:32,579 |
| 16 | Clausi | Thomas | | Dallara F302 | D/E 5 | 1:32,653 |
| 17 | Thomas | Raynald | | Dallara F308 Volkswagen | D/E 5 | 1:32,918 |
| 18 | Thomas | Serge | | Norma M20 FC | CN2 | 1:33,109 |
| 19 | Pereira | Dimitri | | Norma M20F | CN2 | 1:33,232 |
| 20 | Bourgeon | Fabien | | Tracking RC01 | CM | 1:33,253 |
| 21 | Roche | David | | Osella PA20/S | CN3 | 1:33,953 |
| 22 | Flandy | Fabrice | | Dallara 305 | D/E 1 | 1:34,045 |
| 23 | Verdier | Nicolas | | Dallara F302 | D/E 5 | 1:34,250 |
| 24 | Louvet | Sarah | | Dallara F303 Mercedes | D/E 5 | 1:34,499 |
| 25 | Starck | Corentin | | Osella PA21/S | CN2 | 1:34,601 |
| 26 | Petit | Kevin | | Tatuus FR2000 | D/E 7 | 1:34,830 |
| 27 | Basset | Maxime | | Norma M20F | CN2 | 1:35,176 |
| 28 | Courroye | Pierre | | McLaren MP4.12c | GTTS4 | 1:35,591 |
| 29 | Cholley | Patrick | | Dallara F306 | D/E 5 | 1:36,576 |
| 30 | Breda | Emeline | | Dallara F305 | D/E 5 | 1:36,782 |
| 31 | Chaumont | Didier | | Tatuus FR2000 | D/E 7 | 1:37,983 |
| 32 | Ceschi | Thibault | | Radical SR3 | CN1 | 1:37,992 |
| 33 | Poulet | Nicolas | | Osella PA20/S | CN3 | 1:38,543 |
| 34 | Gelly | Romain | | Tatuus FR2000 | D/E 7 | 1:38,601 |
| 35 | Werver | Nicolas | | Porsche 997 GT2 | GTTS4 | 1:38,710 |
| 36 | Monziols | Cédric | | BRC CM05 EVO | CM | 1:38,889 |
| 37 | Pic | Sébastien | | Norma M20F | CN2 | 1:39,527 |
| 38 | Schmitter | Philippe | | Renault RS01 | GTTS4 | 1:39,693 |
| 39 | Taponard | Simon | | Tracking RC01B | CM | 1:40,069 |
| 40 | Schmitter | Christian | | Porsche 997 GT3 | GTTS4 | 1:40,100 |
| 41 | Poinsignon | Yannick | | BMW M3 E92 | GTTS4 | 1:40,170 |
| 42 | Depierre | Gilles | | Tracking RC01 | CM | 1:40,734 |
| 43 | Ferretti | Thierry | | Radical Prosport | CN1 | 1:40,755 |
| 44 | Tosetto | Frédéric | | Norma M20B | CN2 | 1:41,070 |
| 45 | Garces | Ronald | | Porsche 997 Cup | GTTS3 | 1:41,749 |
| 46 | Pomaret | Sébastien | | Tatuus FR2000 | D/E 7 | 1:41,885 |
| 47 | Flandy | Corinne | | Dallara 301 | D/E 1 | 1:42,403 |
| 48 | Giet | Christopher | | Dallara F308 Mercedes | D/E 5 | 1:42,568 |
| 49 | Poulet | William | | Norma M20 Honda | CN2 | 1:43,414 |
| 50 | Hubert | Martine | | Norma M20F | E2-SC | 1:43,529 |
| 51 | Uny | Antoine | | Seat Leon Supercopa | A5 | 1:43,601 |
| 52 | Janny | Jérôme | | Seat Leon Supercopa | A5 | 1:44,199 |
| 53 | Poinsignon | Christophe | | Simca CG Turbo | FC4 | 1:44,288 |
| 54 | Reutter | Paul | | Porsche 997 | GT2 | 1:44,430 |
| 55 | Louvet | Jean-Jacques | | Norma M20F | CN2 | 1:45,084 |
| 56 | Marcillac | Arnaud | | BRC CM05 EVO | CM | 1:45,880 |
| 57 | Plan | Guillaume | | Mitsubishi Lancer EVO IX | A5 | 1:45,953 |
| 58 | Dosieres | Francis | | Seat Leon MK3 | A5 | 1:46,123 |
| 59 | Felgerolles | Pascal | | BRC CM05 EVO | CM | 1:46,201 |
| 60 | Peloux | Guillaume | | Peugeot 206 Maxi | F2000 / 3 | 1:46,342 |
| 61 | Clausi | Melody | | Tatuus FR2000 | D/E 7 | 1:46,642 |
| 62 | Ganevat | Jean-François | | BMW M3 E36 | N4 | 1:47,394 |
| 63 | Theophile | Elie | | PRM Funboost | CM | 1:47,744 |
| 64 | Cat | Pascal | | Renault Megane RS | N4 | 1:48,656 |
| 65 | Milliet | Bruno | | Tatuus FR2000 | D/E 7 | 1:49,430 |
| 66 | Nogret | Alain | | Norma M20F | CN2 | 1:49,468 |
| 67 | Cesco-Resia | Kevin | | Honda Civic | F2000 / 2 | 1:49,662 |
| 68 | Machka | Yann | | Renault Clio Cup IV | A4 | 1:50,266 |
| 69 | Errard | Fred | | Tatuus FR2000 | D/E 7 | 1:50,374 |
| 70 | Sobrevia | Christian | | BRC CM05 EVO | CM | 1:50,524 |
| 71 | Durassier | Samuel | | Honda Civic Type-R | F2000 / 3 | 1:50,533 |
| 72 | Etienne | Christian | | Norma M20F | CN2 | 1:50,655 |
| 73 | Delorme | Bernard | | Radical Prosport | CN1 | 1:50,684 |
| 74 | Cammares | Marie | | Tatuus FR2000 | D/E 7 | 1:50,978 |
| 75 | Filippi | Toussaint | | Jide J40 | FC4 | 1:51,271 |
| 76 | Bonhomme | Didier | | BMW Serie 1 | F2000 / 3 | 1:51,784 |
| 77 | Lauret | Jérôme | | Norma M20B | CN2 | 1:52,124 |
| 78 | Marion | Philippe | | Porsche 997 GT2 | GT2 | 1:52,402 |
| 79 | Drouillat | Edouard | | Mit-Jet | GTTS1 | 1:52,414 |
| 80 | Santarelli | Frédéric | | Porsche Cayman S Cup | GT2 | 1:52,422 |
| 81 | Lestienne | Jean-Michel | | Mit-Jet | GTTS1 | 1:52,446 |
| 82 | Bartaire | Florian | | Mit-Jet | GTTS1 | 1:52,886 |
| 83 | Derre | Pascal | | Seat Leon MK2 | A5 | 1:53,280 |
| 84 | Tissot | Jean-Marc | | Mit-Jet Tork | GTTS1 | 1:53,526 |
| 85 | Granjon | Louis | | BMW M3 E36 | N4 | 1:53,600 |
| 86 | Cazalens | Joël | | Lotus Exige Cup 260 | GT2 | 1:55,252 |
| 87 | Plantier | Jérôme | | Mit-Jet | GTTS1 | 1:55,789 |
| 88 | Pierrat | Brice | | Renault Clio RS | F2000 / 3 | 1:55,802 |
| 89 | Savary | Vincent | | BMW M3 E36 | N4 | 1:56,670 |
| 90 | Leo | Laurent | | Seat Ibiza Trophy | A4 | 1:57,494 |
| 91 | Baylet | Gilles | | Renault Clio | F2000 / 3 | 1:57,557 |
| 92 | Di Cioccio | Serge | | Opel Speedster | GT2 | 1:57,602 |
| 93 | Gudet | Cindy | | Mit-Jet | GTTS1 | 1:58,472 |
| 94 | Villain | Stéphane | | Renault Clio RS | N3 | 1:59,504 |
| 95 | Durand | Arnaud | | Citroën Saxo | A2 | 1:59,897 |
| 96 | Ermann | Jimmy | | Peugeot 106 | N2 | 2:00,319 |
| 97 | Gaudin | Jacques | | BMW M3 E36 | N4 | 2:00,941 |
| 98 | Ravel | Vincent | | Peugeot 106 S16 | N2 | 2:02,073 |
| 99 | Samani | Richard | | Renault 5 GT Turbo | F2000 / 3 | 2:04,127 |
| 100 | Ferrando | Jean-Louis | | Simca JLF | FC2 | 2:04,493 |
| 101 | Grand | Damien | | Volkswagen Golf GTI | N3 | 2:06,184 |
| 102 | Gervais | Franc | | Renault Megane RS | N4 | 2:11,577 |
07-08/04/2018 – Course de Côte de Bagnols Sabran (VHC)

| Pos. | Last Name | First Name | | Car | Cl. | Final |
| --- | --- | --- | --- | --- | --- | --- |
| 1 | Debeaune | Jean-Marc | | Van Diemen RF82 | 8-9/D9 | 1:44,920 |
| 2 | Ferretti | Pascal | | Marcadier JF01 | 6-7/C4 | 1:45,627 |
| 3 | Almeras | Jean-Marie | | Porsche 935 | 5/C6 | 1:47,943 |
| 4 | Massu | Jean-Charles | | Tiga SC81 | 6-7/C5 | 1:52,696 |
| 5 | Toupence | Roger Serge | | Martini MK32 | 8-9/C5 | 1:53,065 |
| 6 | Michon | René | | Porsche 930 T | 3/C8 | 1:54,771 |
| 7 | Plaisant | Michel | | Porsche 911 SC | CL | 1:55,154 |
| 8 | Ritzenthaler | Michel | | Martini MK15 | 8-9/B4 | 1:55,588 |
| 9 | Bonnot | Jacky | | Axone 1600 FL | 8-9/B4 | 1:55,977 |
| 10 | Provost | Claude | | Alpine A110 SC | 4/B5 | 1:58,658 |
| 11 | Bonnardel | Viviane | | Volkswagen Scirocco | 2/C4 | 1:59,648 |
| 12 | Duret | Bernard | | Alpine A110 SC | 4/B5 | 2:00,372 |
| 13 | Riehl | Christian | | BMW 323i | 2/C7 | 2:01,027 |
| 14 | Rieu | Norbert | | Porsche 911 SC | 3/C8 | 2:01,818 |
| 15 | Lejeune | Gabriel | | Jide Original | 5/B5 | 2:03,479 |
| 16 | Riehl | Nicolas | | BMW 2002 | 2/B8 | 2:04,413 |
| 17 | Gaillard | Jean-Claude | | Renault 5 GT Turbo | N/D5 | 2:05,984 |
| 18 | Cayrier | Bernard | | Le Gallen LLG8 | 6-7/B4 | 2:09,117 |
| 19 | Toral | Gérard | | Renault 8 Gordini | 2/B3 | 2:12,982 |
| 20 | Agostini | Christian | | Porsche 911S | 3/A5 | 2:15,934 |
| 21 | Hoffmann | Jean-Pierre | | NSU TT | 2/B3 | 2:20,982 |