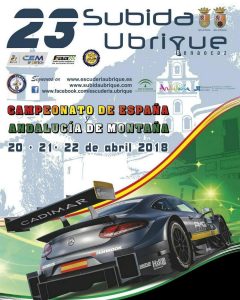 In one week time the Subida a Ubrique will host the second round of the Spanish Hillclimb Championship. Well over 100 drivers have entered so far.
Javier Villa won the last two editions. This year he will again be the favourite for victory. His closest rivals will be Joseba Iraola and Manuel Aviles.
Very interesting will be the battle in the touringcars. José Antonio Aznar is entered with the Ginetta G55 GT3 he won the championship with last season. Humberto Janssens and Manuel Maldonado will bring their Porsches to Ubrique. José Antonio Aznar is going to be there with his Lamborghini Huracan Supertrofeo while Gerard De La Casa with his Subaru Impreza WRC is also present.
21-22/04/2018 – Subida a Ubrique

| Pos. | Last Name | First Name | | Car | Cl. | Final |
| --- | --- | --- | --- | --- | --- | --- |
| 1 | Villa | Javier | | BRC BR53 | 1/E2-SC | |
| 2 | Aviles | Manuel | | BRC BR53 | 1/E2-SC | |
| 3 | Iraola | Joseba | | Norma M20 FC | 1/E2-SC | |
| 4 | Gonzalez | Vicente | | Radical SR3 | 1/E2-SC | |
| 5 | Aguilar | Francisco José | | Silver Car S2 | 1/CM+ | |
| 6 | Broberg | Christian | | Silver Car S3 | 2/CM | |
| 7 | Afonso | Javier | | Silver Car S3 | 2/CM | |
| 8 | De Los Rios | Antonio | | Silver Car S2 | 2/CM | |
| 9 | Cabañas | Gonzalo | | Talex | 2/CM | |
| 10 | Montella | Edgar | | Speed Car GTR | 2/CM | |
| 11 | Ordoki | Arkaitz | | BRC B-49 | 2/CM | |
| 12 | Flores | Garikoitz | | BRC B-49 | 2/CM | |
| 13 | Asenjo | Mario | | BRC B-49 | 2/CM | |
| 14 | Aznar | José Antonio | | Ginetta G55 GT3 | 3/GTB | |
| 15 | Maldonado | Manuel | | Porsche 997 GT3 Cup | 3/GTR | |
| 16 | Domenech | Alberto | | BMW M3 E92 | 3/GTADN | |
| 17 | Janssens | Humberto | | Porsche 911 Cup | 3/GTADN | |
| 18 | Anderson | Mike | | Ford Sierra Cosworth | 3/H | |
| 19 | Machado | Sebastian | | Ford Escort MK1 | 3/H | |
| 20 | Moya | Ivan | | Seat 124 FL | 3/H | |
| 21 | Garcia | José Carlos | | Seat 124 | 3/H | |
| 22 | Noguera | Antonio | | Lotus Elan S1 | 3/H | |
| 23 | Bornas | Julian | | Simca Rallye III | 3/H | |
| 24 | Rodriguez | Antonio Luis | | Lancia Delta Integrale | 3/H | |
| 25 | Lopez-Fombona | José Antonio | | Lamborghini Huracan ST | 3/A2 | |
| 26 | Jimenez | Miguel | | Hyundai Coupé Cup | 3/A2 | |
| 27 | Biain | Manuel | | Seat Leon Supercopa MK2 | 3/A2 | |
| 28 | Nevado | Amador | | Seat Leon MK2 | 3/A2 | |
| 29 | Rodriguez | Alberto | | Seat Leon Supercopa MK1 | 3/A2 | |
| 30 | Lledo | José Ramon | | Renault Clio Cup III | 3/A2 | |
| 31 | Perez | Fernando | | Renault Clio Cup III | 3/A2 | |
| 32 | Cordero | Angel Moises | | Renault Clio R3 | 3/R3 | |
| 33 | Ropero | José Carlos | | Mitsubishi Lancer EVO VIII | 3/A | |
| 34 | Zaldivar | Javier | | Citroën Saxo VTS | 3/A | |
| 35 | Marquez | Javier | | Citroën Saxo VTS | 3/A | |
| 36 | Garcia | Juan Miguel | | Citroën Saxo VTS | 3/A | |
| 37 | Lemos | Jorge | | Citroën Saxo VTS | 3/A | |
| 38 | Garcia | Manuel | | Citroën Saxo VTS | 3/A | |
| 39 | Pichaco | Samuel | | Citroën Saxo VTS | 3/A | |
| 40 | Ramirez | Gonzalo | | Seat Ibiza TDi | 3/A | |
| 41 | Martin | Alejandro | | Seat Ibiza TDi | 3/A | |
| 42 | Barba | Juan José | | Seat Ibiza | 3/A | |
| 43 | Alonso | José Antonio | | Mini Cooper N2 | 3/N2 | |
| 44 | Amador | Manuel Jesus | | Mitsubishi Lancer EVO X | 3/N | |
| 45 | Jimenez | Francisco | | Mitsubishi Lancer EVO X | 3/N | |
| 46 | Blanco | José | | Mitsubishi Lancer EVO IX | 3/N | |
| 47 | Tineo | Salvador | | Mitsubishi Lancer EVO IX | 3/N | |
| 48 | Muñoz | Juan Antonio | | Seat Leon TDi | 3/N | |
| 49 | Beltran | Juan Manuel | | Renault Clio Sport | 3/N | |
| 50 | Escalona | Juan | | Citroën Saxo | 3/N | |
| 51 | Perello | Kike | | Ford Fiesta Proto | 3/E1 | |
| 52 | De La Casa | Gerard | | Subaru Impreza WRC | 3/E1 | |
| 53 | Del Buey | Francisco Javier | | BMW Compact 325 Ti | 3/E1 | |
| 54 | Gonzalez | José Antonio | | BMW 323 Ti | 3/E1 | |
| 55 | Ortigosa | José Antonio | | BMW M3 E46 | 3/E1 | |
| 56 | Moreno | Manuel Jesus | | BMW M3 E46 | 3/E1 | |
| 57 | Perez | Ruben | | BMW 320i E36 | 3/E1 | |
| 58 | Sanchez | José Antonio | | BMW 328i | 3/E1 | |
| 59 | Garcia | Francisco | | Citroën Saxo VTS | 3/E1 | |
| 60 | Alvarez | Sergio | | Citroën Saxo VTS | 3/E1 | |
| 61 | Benitez | Yeray Jesus | | Citroën Saxo VTS | 3/E1 | |
| 62 | Aragon | Juan Antonio | | Citroën AX | 3/E1 | |
| 63 | Capet | Juan | | Citroën AX GT | 3/E1 | |
| 64 | Garcia | Adrian | | Citroën AX Sport | 3/E1 | |
| 65 | Zambrana | Antonio | | Citroën AX GT | 3/E1 | |
| 66 | Gamez | Daniel | | Citroën AX | 3/E1 | |
| 67 | Ruiz | Juan José | | Citroën AX Sport | 3/E1 | |
| 68 | Calvillo | Francisco | | Citroën AX GTI | 3/E1 | |
| 69 | Martinez | Javier | | Citroën AX | 3/E1 | |
| 70 | Dominguez | Alberto | | Citroën AX | 3/E1 | |
| 71 | Chacon | Juan Manuel | | Citroën AX | 3/E1 | |
| 72 | Cuenca | José Antonio | | Citroën AX GTI | 3/E1 | |
| 73 | Baca | Carlos | | Citroën AX | 3/E1 | |
| 74 | Garcia | Juan José | | Citroën AX | 3/E1 | |
| 75 | Arco | José Manuel | | Renault Clio Kit-Car | 3/E1 | |
| 76 | Gutierrez | Esteban | | Renault Clio Sport | 3/E1 | |
| 77 | Carrasco | Juan José | | Renault Clio | 3/E1 | |
| 78 | Caceres | Moises | | Renault Clio | 3/E1 | |
| 79 | Mendoza | Manuel | | Renault Clio | 3/E1 | |
| 80 | Rubiales | Pedro | | Renault Clio | 3/E1 | |
| 81 | Jaen | Amador | | Renault 5 GT Turbo | 3/E1 | |
| 82 | Vazquez | Cristian | | Renault Megane Coupé | 3/E1 | |
| 83 | Martinez | David | | Renault Megane Coupé | 3/E1 | |
| 84 | Reyes | Luis | | Renault Megane Coupé | 3/E1 | |
| 85 | Varo | Francisco Javier | | Renault Megane Coupé | 3/E1 | |
| 86 | Van Loon | Marcelo Alexander | | Renault 19 | 3/E1 | |
| 87 | Carrillo | Narciso | | Renault 8 Gordini | 3/E1 | |
| 88 | Sanchez | Antonio | | Peugeot 306 Maxi | 3/E1 | |
| 89 | Garcia | Alvaro | | Peugeot 106 | 3/E1 | |
| 90 | Gonzalez | Salvador | | Peugeot 106 GTI | 3/E1 | |
| 91 | Lahera | Francisco | | Peugeot 106 | 3/E1 | |
| 92 | Zapata | Sebastian Mateo | | Peugeot 106 Rallye | 3/E1 | |
| 93 | Guzman | Francisco Javier | | Peugeot 205 | 3/E1 | |
| 94 | Galvan | Juan Antonio | | Peugeot 205 GTI | 3/E1 | |
| 95 | Huertas | Diego | | Peugeot 205 Rallye | 3/E1 | |
| 96 | Arias | José Manuel | | Opel Astra GSi | 3/E1 | |
| 97 | Altamirano | Francisco | | Opel Kadett GSi | 3/E1 | |
| 98 | Parra | Juan Manuel | | Opel Corsa | 3/E1 | |
| 99 | Leal | Jesus Vega | | Opel Corsa GSi | 3/E1 | |
| 100 | Garcia | Adrian | | Opel Corsa GSi | 3/E1 | |
| 101 | Saborido | Jesus | | Opel Corsa GSi | 3/E1 | |
| 102 | Herrera | Servando | | Volkswagen Golf III | 3/E1 | |
| 103 | Marquez | Adrian | | Hyundai Getz Cup | 3/E1 | |
| 104 | Toro | Antonio | | Hyundai Getz Cup | 3/E1 | |
| 105 | Diaz | Emilio José | | Hyundai Accent | 3/E1 | |
| 106 | Laloux | Estefano Nicolas | | Hyundai Accent Cup | 3/E1 | |
| 107 | Galvan | Francisco | | Seat Ibiza | 3/E1 | |