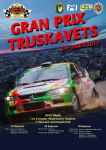 In three weeks time the Ukrainian Hillclimb Championship starts with the Truskavets Grand Prix. On Saturday the competitors will compete a 3,2 kilometre long stage right in the heart of the city. The day after the competitors travel 1 kilometre north-west for the 2,8 kilometre long Modrychi Hillclimb. It is the first time the city-stage is used but the Modrychi Hillclimb was already competed last year.
The championship is divided into 8 classes. Group N, Group A and Group R are all mixed together in the classes A1-A2-A3-A4. A1 is open to cars with an engine capacity of -1400cc, A2 to -1600cc, A3 to -2000cc and A4 to -3500cc. Rear-wheel-drive cars with a national homologation are grouped together in the classes A7K-A8K-A9K. A7K being the smallest class for -1400cc, A8K for -1600cc and A9K for -2000cc. The 8th class is called IC which is open to cars build before 1991. There is no engine capacity limit in this class.
To close this preview with some useless trivia: Truskavets has a small connection to the European Hillclimb Championship. The city is twinned with Limanowa, home of the Polish Round of the EHC.
Timing Friday 24/03
19:20 – Inauguration of Gran Prix Truskavets
Timing Saturday 25/03 Gran Prix Truskavets
9:00 – Free Practise (2 runs)
11:20 – Timed Practise (2 runs)
14:00 – Race (3 runs)
Timing Sunday 26/03 Gran Prix Truskavets 2 (Modrychi Hillclimb)
8:00 – Free Practise
10:00 – Timed Practise (2 runs)
13:30 – Race (3 runs)