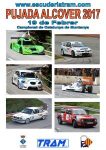 In exactly one week time the Pujada a Alcover is scheduled to open the 2017 hillclimb year in Europe. This 4,1 kilometre long hillclimb will count towards the Catalunya Hillclimb Championship. It will be the very first edition so it will be a new experience for everyone.
Last year Francesc Munne won the CM Championship after a hard battle with Ramon Plaus. Both drivers took three victories but Munne had 5 second places while Plaus finished in the runner-up spot just twice. Munne has sold his championship winning Demon Car and for the moment has not announced his plans for 2017.
For the past few years Gerard De La Casa has dominated the Touringcar Championship in Catalunya. In 2016 this was no different and he steered his Seat Cordoba WRC to victory in five of the eight events. The driver from Andorra has been busy this winter with the GSeries Ice Racing in his native country. In fact the next round of this championship is next Saturday so an entry in Alcover will be difficult.
In 2017 there will also be a seperate championship for the CM+ machines that were first spotted in the Spanish Championship in 2016.
Entries close on 14/02 and the entrylist will be published 16/02.
Timing Sunday
9:30 – First Practise
10:30 – Second Practise
11:30 – Third Practise
12:45 – First Race
14:00 – Second Race