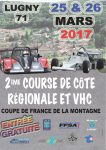 The Course de Côte de Lugny made a succesful debut on the Bourgogne Franche Comté Hillclimb Calendar last year. This Sunday the hillclimb returns for its second edition. For some drivers it will be the final chance to test the car before the French Championship starts in 1,5 weeks time. One of the drivers who will debut his car in competition at Lugny is Raynald Thomas. After years of being the only Lola F3 driver in France he has now switched to a Dallara F308 Volkswagen.
Timing Saturday
13:30 – 18:30 Free Practise
Timing Sunday
8:00 Free Practise
9:00 Timed Practise
10:45 First Race
13:30 Second Race, followed immediately by third and fourth race.
26/03/2017 – Course de Côte de Lugny

| Pos. | Last Name | First Name | | Car | Cl. | Final |
| --- | --- | --- | --- | --- | --- | --- |
| 1 | Thomas | Raynald | | Dallara F308 Volkswagen | D/E 3 | |
| 2 | Brun | Didier | | Dallara F302 | D/E 3 | |
| 3 | Louvet | Sarah | | Dallara F303 Mercedes | D/E 3 | |
| 4 | Bole | Alexandre | | Tatuus FR2000 | D/E 7 | |
| 5 | Chaumont | Didier | | Tatuus FR2000 | D/E 7 | |
| 6 | Alloin | Franck | | Mygale Suzuki | D/E 1 | |
| 7 | Coquet | Daniel | | Tatuus FL | D/E 1 | |
| 8 | Cotleur | Maxime | | Norma M20F | CN2 | |
| 9 | Arbant | Emmanuel | | Norma M20F | CN2 | |
| 10 | Paire | Pascal | | Norma M20F | CN2 | |
| 11 | Depierre | Gilles | | Tracking RC01 | CM | |
| 12 | Serralta | Florian | | BRC CM05 EVO | CM | |
| 13 | Gregoire | Franck | | Speed Car GTR | CM | |
| 14 | Prat | Richard | | Seat Leon Supercopa | A4 | |
| 15 | Bernard | Rémi | | Seat Leon Supercopa | A4 | |
| 16 | Darmochod | Gilles | | Seat Leon Supercopa | A4 | |
| 17 | Chavot | Thomas | | Renault Clio Cup | A3 | |
| 18 | Penot | Adrien | | Renault Clio Cup | A3 | |
| 19 | Derre | Pascal | | Renault Clio Cup | A3 | |
| 20 | Bard | Sébastien | | Renault Clio Cup II | A3 | |
| 21 | Michy | Philibert | | Renault Clio Cup III | A3 | |
| 22 | Diaz | Matthieu | | Renault Clio Cup III | A3 | |
| 23 | Bernard | Philippe | | Renault Clio Cup III | A3 | |
| 24 | Bessard-Chambard | Louis | | Citroën Saxo VTS | A2 | |
| 25 | David | Régis | | Peugeot 106 | A1 | |
| 26 | Aiguier | Nicolas | | Peugeot 205 Rallye | A1 | |
| 27 | Granjon | Louis | | BMW M3 | N4 | |
| 28 | Thomas | Yann | | Renault Megane RS | N4 | |
| 29 | Bourny | Hugo | | BMW M3 | N4 | |
| 30 | Uny | Antoine | | BMW M3 E36 | N4 | |
| 31 | Dameron | Cyril | | Citroën Saxo VTS | N2 | |
| 32 | Dameron | Régis | | Citroën Saxo VTS | N2 | |
| 33 | Patenat | Thomas | | Honda Civic | N2 | |
| 34 | Fillion | Pauline | | Renault Clio | N2 | |
| 35 | Dufrene | Philippe | | Renault Clio | N2 | |
| 36 | Cesco-Resia | Kevin | | Honda Civic VTI | N2 | |
| 37 | Sangouard | Guillaume | | Citroën AX GTI | N1 | |
| 38 | Desroches | David | | Peugeot 106 Rallye | N1 | |
| 39 | Gerard | Florent | | Citroën AX GTI | N1 | |
| 40 | Dargaud | Grégoire | | Citroën AX GTI | N1 | |
| 41 | Stevenot | Hélène | | Peugeot 106 Rallye | N1 | |
| 42 | Assenault | Betty | | Simca Rallye II | FC1 | |
| 43 | Burgunder | Michel | | Simca Rallye II | FC1 | |
| 44 | Guizzon | Charles | | Simca Rallye II | FC1 | |
| 45 | Assenault | Frédéric | | Simca Rallye II | FC1 | |
| 46 | Montchalin | Hubert | | Peugeot 206 | F2000 / 3 | |
| 47 | Rahon | Morgane | | Citroën Saxo VTS | F2000 / 2 | |
| 48 | Eynard | Gilles | | Honda Civic | F2000 / 2 | |
| 49 | Berry | Laurent | | Peugeot 205 GTI | F2000 / 2 | |
| 50 | Fiard | Guy | | Citroën Saxo | F2000 / 1 | |
| 51 | Gouy | Sébastien | | Peugeot 106 | F2000 / 1 | |
| 52 | Guizon | Philippe | | Peugeot 205 Rallye | F2000 / 1 | |
| 53 | Dumas | Serge | | Peugeot 205 Rallye | F2000 / 1 | |
| 54 | Boxberger | Julien | | Peugeot 106 Rallye | F2000 / 1 | |
26/03/2017 – Course de Côte de Lugny (VHC)

| Pos. | Last Name | First Name | | Car | Cl. | Final |
| --- | --- | --- | --- | --- | --- | --- |
| 1 | Bonnot | Jacky | | Axone 1600 FL | 8-9/B4 | |
| 2 | Toupence | Roger Serge | | Formula Renault | 8-9/C4 | |
| 3 | Groppi | Pierre | | Tiga | 6-7/ | |
| 4 | Cursoux | Gilles | | Marcadier | 6-7/B3 | |
| 5 | Pourcelot | Sophie | | Volkswagen Golf GTI II | A/D5 | |
| 6 | Louis | Daniel | | Opel Commodore GSE | 2/B8 | |
| 7 | Durat | François | | Simca 1100 Ti | 1/B3 | |
| 8 | Debaude | Jean | | Chrysler Hemicuda | 1/B8 | |