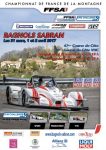 In just over one week time the French Hillclimb Championship will start with the Course de Côte de Bagnols Sabran. Just over 150 drivers have entered so far. This is a pretty good number but at the same time it is also the lowest number in 12 years… It is pretty easy to see where the main problems lay: Group A and Group N.
That Nicolas and Geoffrey Schatz, Cyrille Frantz and Sébastien Petit will finish 1-2-3-4 is almost inevitable. But ignoring these four drivers the race will acutally be very interesting. CN2 is the most competitive class with 23 drivers entered. Yannick Latreille, David Guillaumard and Belgian Corentin Starck are probably the favourites here. Benjamin Vielmi is entered in a Osella PA21/S because his new 3 litre Osella PA27 is not ready yet.
Compared to CN2 the Formula 3 class is a little sparse with just 10 entrants. But some of the best drivers are present here like Alban and Raynald Thomas, Billy Ritchen and Marcel Sapin. Among the lower classes there are also 11 Formula Renaults and 12 CM prototypes.
In the touringcars the GTTS class is very strong this year. The seven drivers will compete in six different cars which will add interest. Last year's champion Nicolas Werver will probably not be competing in Bagnols Sabran. His new Porsche is still not ready to race.
Timing Saturday
8:00 – Free Practise
10:30 – Timed Practise (2 Runs)
After practise the VHC will compete their first race.
Timing Sunday
8:00 – Race 1
11:00 – Race 2
15:00 – Race 3
01-02/04/2017 – Course de Côte de Bagnols Sabran

| Pos. | Last Name | First Name | | Car | Cl. | Final |
| --- | --- | --- | --- | --- | --- | --- |
| 1 | Schatz | Nicolas | | Norma M20 FC | CN+ | |
| 2 | Petit | Sébastien | | Norma M20 FC | CN+ | |
| 3 | Frantz | Cyrille | | Norma M20 FC | CN+ | |
| 4 | Hubert | Martine | | Norma M20F | CN3 | |
| 5 | Meillon | David | | Norma M20F | CN3 | |
| 6 | Desrayaud | Olivier | | Norma M20F | CN3 | |
| 7 | Poulet | Nicolas | | Osella PA20/S | CN3 | |
| 8 | Latreille | Yannick | | Norma M20 FC | CN2 | |
| 9 | Vielmi | Benjamin | | Osella PA21/S | CN2 | |
| 10 | Maitre | Jean-Jacques | | Tatuus PY012 | CN2 | |
| 11 | Arbant | Emmanuel | | Norma M20F | CN2 | |
| 12 | Augusto | Olivier | | Norma M20 FC | CN2 | |
| 13 | Louvet | Jean-Jacques | | Norma M20F | CN2 | |
| 14 | Basset | Maxime | | Norma M20F | CN2 | |
| 15 | Chamberod | Damien | | Norma M20F | CN2 | |
| 16 | Cotleur | Maxime | | Norma M20F | CN2 | |
| 17 | Starck | Corentin | | Norma M20 FC | CN2 | |
| 18 | Guillaumard | David | | Norma M20 FC | CN2 | |
| 19 | Mallemanche | Cyril | | Norma M20F | CN2 | |
| 20 | Bosco | Jean-Christophe | | Tatuus PY012 | CN2 | |
| 21 | Carifi | Anthony | | Norma M20F | CN2 | |
| 22 | Dupuis | Serge | | Norma M20 FC | CN2 | |
| 23 | Lauret | Jérôme | | Norma M20B | CN2 | |
| 24 | Poulet | William | | Norma M20 | CN2 | |
| 25 | Sapin | Alain | | Norma M20 | CN2 | |
| 26 | Vautrin | Eric | | Norma M20 | CN2 | |
| 27 | Pic | Sébastien | | Norma M20F | CN2 | |
| 28 | Tosetto | Frédéric | | Norma M20B | CN2 | |
| 29 | Bellieres | Franck | | Osella PA27 | CN2 | |
| 30 | Campi | Pascal | | Osella PA20/S | CN2 | |
| 31 | Ferretti | Thierry | | Radical Prosport | CN1 | |
| 32 | Cambon | Olivier | | Funyo B4 | CN1 | |
| 33 | Delorme | Bernard | | Radical Prosport | CN1 | |
| 34 | Martin | Jean-Philippe | | Norma M20 | CN1 | |
| 35 | Bourgeon | Fabien | | Tracking RC01 | CM | |
| 36 | Depierre | Gilles | | Tracking RC01 | CM | |
| 37 | Dumond | Nicolas | | Tracking RC01 | CM | |
| 38 | Chabert | Romain | | Tracking RC01 | CM | |
| 39 | Sobrevia | Christian | | BRC CM05 EVO | CM | |
| 40 | Carifi | Dominique | | BRC CM05 EVO | CM | |
| 41 | Felgerolles | Pascal | | BRC CM05 EVO | CM | |
| 42 | Fezay | Mickaël | | BRC CM05 EVO | CM | |
| 43 | Monziols | Cédric | | BRC CM05 EVO | CM | |
| 44 | Gontier | Michel | | BRC B-49 | CM | |
| 45 | Recordier | Jean-Marie | | BRC B-49 | CM | |
| 46 | Tholy | Yves | | Speed Car GTR | CM | |
| 47 | Schatz | Geoffrey | | Reynard 01KL | D/E 6 | |
| 48 | Thomas | Alban | | Dallara F303 | D/E 5 | |
| 49 | Ritchen | Billy | | Dallara F311 | D/E 5 | |
| 50 | Sapin | Marcel | | Dallara F305 | D/E 5 | |
| 51 | Thomas | Raynald | | Dallara F308 Volkswagen | D/E 5 | |
| 52 | Breda | Emeline | | Dallara F305 | D/E 5 | |
| 53 | Bris | Jérôme | | Dallara F307 | D/E 5 | |
| 54 | Verdier | Nicolas | | Dallara F302 | D/E 5 | |
| 55 | Vian | Pierre | | Dallara F305 | D/E 5 | |
| 56 | Cante | Cécile | | Dallara F306 | D/E 5 | |
| 57 | Louvet | Sarah | | Dallara F303 Mercedes | D/E 5 | |
| 58 | Armand | Jonathan | | Tatuus Monza | D/E 2 | |
| 59 | Bertin | Thierry | | Dallara PB08 | D/E 1 | |
| 60 | Cervera | Vincent | | Dallara 388 | D/E 1 | |
| 61 | Chaumont | Didier | | Tatuus FR2000 2013 | D/E 7 | |
| 62 | Petit | Kevin | | Tatuus FR2000 | D/E 7 | |
| 63 | Bouche | Estel | | Tatuus FR2000 | D/E 7 | |
| 64 | Maurel | Julien | | Tatuus FR2000 | D/E 7 | |
| 65 | Pomaret | Sébastien | | Tatuus FR2000 | D/E 7 | |
| 66 | Clair | Marc | | Tatuus FR2000 | D/E 7 | |
| 67 | Gelly | Romain | | Tatuus FR2000 | D/E 7 | |
| 68 | Gsell | Frédéric | | Tatuus FR2000 | D/E 7 | |
| 69 | Huguel | Daniel | | Tatuus FR2000 | D/E 7 | |
| 70 | Milliet | Bruno | | Tatuus FR2000 1998 | D/E 7 | |
| 71 | Pernot | Etienne | | Tatuus FR2000 | D/E 7 | |
| 72 | Schmitter | Philippe | | Lamborghini Gallardo | GTTS4 | |
| 73 | Courroye | Pierre | | McLaren MP4.12C | GTTS4 | |
| 74 | Schmitter | Christian | | Porsche 997 GT3-R | GTTS4 | |
| 75 | Caumon | Nicolas | | Lamborghini Gallardo GT3 | GTTS4 | |
| 76 | Beal | Pierre | | BMW M3 E46 GTR | GTTS4 | |
| 77 | Poinsignon | Yannick | | BMW M3 E92 | GTTS4 | |
| 78 | Segura | Jean-Pierre | | Audi R8 LMS | GTTS4 | |
| 79 | Moreton | James | | Caterham CSR 260 | GTTS2 | |
| 80 | Avellaneda | Jérémy | | Mit-Jet | GTTS1 | |
| 81 | Lestienne | Jean-Michel | | Mit-Jet | GTTS1 | |
| 82 | Drouillat | Edouard | | Mit-Jet | GTTS1 | |
| 83 | Natewajko | Christophe | | Mit-Jet | GTTS1 | |
| 84 | Tissot | Jean-Marc | | BMW Z3M | GT2 | |
| 85 | Courtois | Rémi | | Porsche 996 GT3 | GT2 | |
| 86 | Di Cioccio | Serge | | Opel Speedster | GT2 | |
| 87 | Ginard | Rudy | | Lotus Exige | GT1 | |
| 88 | Bernard | Rémi | | Seat Leon Supercopa | A4 | |
| 89 | Dosieres | Francis | | Seat Leon Supercopa | A4 | |
| 90 | Derre | Pascal | | Renault Clio | A3 | |
| 91 | Tonon | Vivien | | Renault Clio Cup | A3 | |
| 92 | Toubert | Frédéric | | Renault Clio Cup II | A3 | |
| 93 | Collavizza | Thierry | | Peugeot 206 S1600 | A2 | |
| 94 | Corbier | Kevin | | Citroën C2R2 Max | A2 | |
| 95 | Brun-Buisson | Florian | | Peugeot 206 XS | A2 | |
| 96 | Cat | Pascal | | Renault Megane RS | N4 | |
| 97 | Granjon | Louis | | BMW M3 | N4 | |
| 98 | Uny | Antoine | | BMW M3 E36 | N4 | |
| 99 | Dumas | René | | BMW M3 E36 | N4 | |
| 100 | Savary | Vincent | | BMW M3 E36 | N4 | |
| 101 | Grand | Damien | | Volkswagen Golf | N3 | |
| 102 | Buxeraud | Raphael | | Citroën Saxo VTS | N2 | |
| 103 | Ravel | Vincent | | Peugeot 106 S16 | N2 | |
| 104 | Quioc | Philippe | | Peugeot 205 Rallye | N1 | |
| 105 | Pierrat | Brice | | Renault Clio RS | F2000 / 3 | |
| 106 | Gley | Michael | | Volkswagen Golf III | F2000 / 3 | |
| 107 | Vezolles | Claude | | BMW Compact | F2000 / 3 | |
| 108 | Bonhomme | Didier | | BMW Serie 1 | F2000 / 3 | |
| 109 | Durand | Arnaud | | Peugeot 205 Maxi | F2000 / 3 | |
| 110 | Samani | Richard | | Renault 5 GT Turbo | F2000 / 3 | |
| 111 | Montchalin | Hubert | | Peugeot | F2000 / 3 | |
| 112 | Peloux | Guillaume | | Peugeot 206 Maxi | F2000 / 3 | |
| 113 | Eynard | Gilles | | Honda Civic EG6 | F2000 / 2 | |
| 114 | Pantel | Nicolas | | Peugeot 205 Maxi | F2000 / 2 | |
| 115 | Boillot | Jean-Marc | | Simca Rallye III | F2000 / 1 | |
| 116 | Reynes | Michel | | Peugeot 106 | F2000 / 1 | |
| 117 | Cazalens | Joël | | Scora Type-II | FC4 | |
| 118 | Filippi | Toussaint | | Jide J40 | FC4 | |
| 119 | Breysse | Frédéric | | Simca Rallye III | FC2 | |
| 120 | Dardalhon | Fabien | | Simca Rallye III | FC2 | |
| 121 | Ferrando | Jean-Louis | | Simca JLF | FC2 | |
| 122 | Guironnet | Pierre | | Simca CG | FC1 | |
01-02/04/2017 – Course de Côte de Bagnols Sabran (VHC)

| Pos. | Last Name | First Name | | Car | Cl. | Final |
| --- | --- | --- | --- | --- | --- | --- |
| 1 | Debeaune | Jean-Marc | | Van Diemen RF82 | 8-9/D9 | |
| 2 | Poix | Marc | | Martini MK15 | 8-9/B4 | |
| 3 | Bonnot | Jacky | | Axone 1600 FL | 8-9/B4 | |
| 4 | Ritzenthaler | Michel | | Royale | 8-9/B4 | |
| 5 | Schyrr | Marc-André | | Crossle 12F | 8-9/A4 | |
| 6 | Cursoux | Gilles | | Marcadier | 6-7/B3 | |
| 7 | Ferretti | Pascal | | Marcadier JF01 | 6-7/C4 | |
| 8 | Massu | Jean-Charles | | Tiga SC81 | 6-7/C6 | |
| 9 | Almeras | Jean-Marie | | Porsche 935 | 5/C6 | |
| 10 | Michon | René | | Ford GT40 | 5/A6 | |
| 11 | Lejeune | Gabriel | | Jidé Original | 5/B5 | |
| 12 | Torcat | Michel | | Porsche Carrera RS | 4/B8 | |
| 13 | Guelpa | Roger | | Porsche 911 SC | 4/B8 | |
| 14 | Provost | Claude | | Alpine A110 SC | 4/B5 | |
| 15 | Duret | Bernard | | Alpine A110 | 4/B5 | |
| 16 | Tissot | André | | Lotus Elan | 4/A4 | |
| 17 | Calbet | Guy | | Porsche 911 SC | 3/C8 | |
| 18 | Rieu | Norbert | | Porsche 911 SC | 3/C8 | |
| 19 | Louis | Daniel | | Opel Commodore GSE | 2/B8 | |
| 20 | Bonnardel | Viviane | | Volkswagen Scirocco | 2/C4 | |
| 21 | Riehl | Christian | | BMW 323i | 2/C7 | |
| 22 | Riehl | Nicolas | | BMW 2002 | 2/C5 | |
| 23 | Vitale | Renato | | Fiat 128 3P | 2/C3 | |
| 24 | Toral | Gérard | | Renault 8 Gordini | 2/A3 | |
| 25 | Agostini | Christian | | Ford Mustang 390 GT | 1/A6 | |
| 26 | Cauchois | Charly | | BMW 635 | A/D8 | |
| 27 | Taponard | Simon | | BMW 323i | A/D7 | |
| 28 | Fargier | Mathieu | | Talbot Samba Rallye | B/B3 | |
| 29 | Brulat | Dominique | | Volkswagen Golf GTI | CL | |
| 30 | Pinchinat | Philippe | | BMW 323i | CL | |
| 31 | Mejanel | Jean-François | | Porsche 911 SC | CL | |