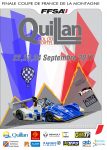 The Course de Côte de Quillan – Col du Portel hosted the Final of the Coupe de France last weekend. The full 3,7 kilometres of the national hillclimb was used. This made it quite a challenge for the regional drivers who are used to 1,5 kilometre long hillclimbs. Because Quillan is located quite far south there were not many drivers from northern France present.
In June this hillclimb also took place. Back then it counted towards the French Hillclimb Championship Division 2. Dimitri Pereira won that event just in front of Nicolas Verdier. In the final these two drivers were again the strongest. Already in the very first race Verdier went under Pereira's winning time from June. After a long battle on Sunday it proved to be the winning time. So Verdier won his first Coupe de France. Pereira was the runner-up this time. The best driver from the PACA region Jérémy Debels completed the podium in third.
Back in June the touringcar podium was Ronald Garces, Joël Cazalens and Geoffray Carcreff. These three drivers formed the podium again in the final. They would however be in a different order. Now it was Carcreff who set the fastest time with Garces in second and Cazalens in third.
23-24/09/2017 – Finale Coupe de la Coupe de France de la Montagne (Quillan)

| Pos. | Last Name | First Name | | Car | Cl. | Final |
| --- | --- | --- | --- | --- | --- | --- |
| 1 | Verdier | Nicolas | | Dallara F302 | D/E 5 | 1:45,824 |
| 2 | Pereira | Dimitri | | Norma M20F | CN2 | 1:46,105 |
| 3 | Debels | Jérémy | | Osella PA21/S | CN2 | 1:46,369 |
| 4 | Cotleur | Maxime | | Norma M20F | CN2 | 1:46,697 |
| 5 | Devaux | Julien | | Mygale M10 | D/E 3 | 1:47,494 |
| 6 | Latreille | Yannick | | Norma M20 FC | CN2 | 1:48,107 |
| 7 | Barriere | Robert | | GB Concept | D/E 1 | 1:48,928 |
| 8 | Breda | Emeline | | Dallara F307 Mercedes | D/E 3 | 1:51,190 |
| 9 | Morel | Jean-Claude | | Reynard 90D | D/E 2 | 1:51,533 |
| 10 | Fievre | Rémy | | Dallara F302 | D/E 3 | 1:51,636 |
| 11 | Clausi | Thomas | | Norma M20F | CN2 | 1:52,511 |
| 12 | Baud | Maxime | | Norma M20 | CN2 | 1:52,725 |
| 13 | Gallo | Fabrice | | Merlin MP23 | CN2 | 1:52,939 |
| 14 | Nicol | John | | Dallara 392 | D/E 2 | 1:54,755 |
| 15 | Pommery | William | | Norma M20 | CN2 | 1:55,011 |
| 16 | Bouche | Estel | | Tatuus FR2000 | D/E 7A | 1:55,935 |
| 17 | Benedetto | Damien | | Martini MK59 | D/E 1 | 1:57,192 |
| 18 | Gelly | Romain | | Tatuus FR2000 | D/E 7B | 1:57,232 |
| 19 | Tosetto | Frédéric | | Norma M20 | CN2 | 1:57,259 |
| 20 | Monziols | Cédric | | BRC CM05 EVO | CM | 1:57,276 |
| 21 | Maurel | Julien | | Tatuus FR2000 | D/E 7B | 1:57,731 |
| 22 | Clausi | Melody | | Tatuus FR2000 | D/E 7B | 1:57,833 |
| 23 | Cammares | Marie | | Tatuus FR2000 | D/E 7B | 1:58,538 |
| 24 | Marcillac | Arnaud | | BRC CM05 EVO | CM | 1:58,631 |
| 25 | Monjo | Régis | | Tatuus FR2000 | D/E 7B | 1:59,888 |
| 26 | Ouallet | Arnaud | | Silver Car S2F | CM | 2:01,413 |
| 27 | Carcreff | Geoffray | | Scora | FC4 | 2:02,170 |
| 28 | Tordeux | Stéphanie | | Tatuus FR2000 | D/E 7B | 2:02,986 |
| 29 | Garces | Ronald | | Porsche 997 Cup | GTTS3 | 2:03,137 |
| 30 | Cambon | Olivier | | Funyo B4 | CN1 | 2:03,624 |
| 31 | Cazalens | Joël | | Scora Type-II | FC4 | 2:04,256 |
| 32 | Dupont | Julien | | Seat Leon Supercopa | A4 | 2:05,931 |
| 33 | Dupont | Sébastien | | Seat Leon Supercopa | A4 | 2:05,990 |
| 34 | Deniset | Didier | | Renault 5 TDC | FC4 | 2:07,689 |
| 35 | Assenault | Frédéric | | Simca CG | FC2 | 2:07,820 |
| 36 | Peloux | Guillaume | | Peugeot 206 | F2000 / 3 | 2:08,343 |
| 37 | Delorme | Bernard | | Radical Prosport | CN1 | 2:08,475 |
| 38 | Bourny | Hugo | | BMW M3 | N4 | 2:08,765 |
| 39 | Degortes | Fabrice | | Seat Leon Supercopa | A4 | 2:08,784 |
| 40 | Jean | Hervé | | Seat Leon Supercopa | A4 | 2:09,308 |
| 41 | Schifano | Nicolas | | Renault Megane Maxi | F2000 / 3 | 2:09,445 |
| 42 | Doree | Jean-Yves | | Grac MT14S | CN1 | 2:09,514 |
| 43 | Gillet | Guillaume | | Mitsubishi Lancer EVO IX | N4 | 2:09,544 |
| 44 | Verdier | Bruno | | BMW M3 | N4 | 2:09,551 |
| 45 | Crabanat | Dominique | | BMW M3 | N4 | 2:09,573 |
| 46 | Gley | Michaël | | Volkswagen Golf III | F2000 / 3 | 2:09,762 |
| 47 | Batista | Jean-Marc | | Citroën Saxo | F2000 / 2 | 2:10,415 |
| 48 | Tonon | Vivien | | Renault Clio Cup | A3 | 2:10,814 |
| 49 | Boillot | Jean-Marc | | Simca Rallye III | F2000 / 1 | 2:10,817 |
| 50 | Coudene | Noël | | Honda Civic | F2000 / 2 | 2:10,885 |
| 51 | Dardalhon | Fabien | | Simca Rallye III | FC2 | 2:10,976 |
| 52 | Seghetti | Philippe | | Peugeot 306 | F2000 / 3 | 2:11,195 |
| 53 | Chavot | Thomas | | Renault Clio Cup II | A3 | 2:11,451 |
| 54 | Prat | Richard | | Seat Leon Supercopa | A4 | 2:11,883 |
| 55 | Toubert | Frédéric | | Renault Clio Cup | A3 | 2:11,980 |
| 56 | Michon | Eric | | Seat Leon Supercopa | A4 | 2:12,184 |
| 57 | Persici | Herman | | Opel Kadett C | FC3 | 2:12,197 |
| 58 | Thiebaud | Patrick | | Renault Clio Cup IV | GTTS2 | 2:12,275 |
| 59 | Peyrard | Eric | | Renault Clio Cup IV | GTTS2 | 2:12,620 |
| 60 | Cotleur | Marc | | Alpine A110 | FC2 | 2:13,175 |
| 61 | Fiard | Guy | | Citroën Saxo | F2000 / 1 | 2:13,336 |
| 62 | Dubrana | Yves | | BMW M3 | A4 | 2:13,491 |
| 63 | Eynard | Gilles | | Honda Civic | F2000 / 2 | 2:13,590 |
| 64 | Broussolle | Thomas | | Simca Rallye II | FC1 | 2:13,645 |
| 65 | Barthas | Lionel | | Renault Clio Williams | A3 | 2:13,659 |
| 66 | Glinski | Christophe | | Renault Clio Cup IV | GTTS2 | 2:13,717 |
| 67 | Dumas | René | | BMW M3 | N4 | 2:13,720 |
| 68 | Delors | Sébastien | | Peugeot 206 | F2000 / 2 | 2:13,724 |
| 69 | Loton | Ferdinand | | Honda Civic Type-R | N3 | 2:13,760 |
| 70 | Jacquot | Alain | | Simca Rallye II | FC2 | 2:13,961 |
| 71 | Vialle | Patrick | | Peugeot 206 | A2 | 2:14,135 |
| 72 | Natewajko | Christophe | | Mit-Jet | GTTS1 | 2:14,141 |
| 73 | Bartaire | Florian | | Honda Civic Type-R | N3 | 2:14,500 |
| 74 | Di Cioccio | Serge | | Opel Speedster | GT2 | 2:14,809 |
| 75 | Metivier | Jean-Pierre | | Simca Rallye II | F2000 / 1 | 2:14,928 |
| 76 | Lamiscarre | Michel | | Porsche Cayman | GT2 | 2:15,096 |
| 77 | Coste | Gabriel | | Honda Civic Type-R | A3 | 2:15,297 |
| 78 | Sammartino | Michaël | | Peugeot 206 | F2000 / 3 | 2:15,558 |
| 79 | Silvestre | Christophe | | Renault Clio Williams | N3 | 2:15,571 |
| 80 | Cursoux | Delphine | | Simca Rallye II | FC1 | 2:15,641 |
| 81 | De Lorenzi | Walter | | Subaru Impreza WRX | A4 | 2:16,393 |
| 82 | Patacconi | Florian | | Simca Rallye II | FC2 | 2:16,840 |
| 83 | Gres | Philippe | | Mitsubishi Lancer EVO IX | N4 | 2:16,889 |
| 84 | Perin | Renaud | | Renault Clio | F2000 / 3 | 2:17,077 |
| 85 | Fargier | Christophe | | Honda Integra Type-R | N3 | 2:17,366 |
| 86 | Guizzon | Philippe | | Peugeot 205 Rallye | F2000 / 1 | 2:17,578 |
| 87 | Rodrigues Gaspar | Marco | | Peugeot 106 | F2000 / 1 | 2:17,724 |
| 88 | Tkatchenko | Jacques | | Citroën Saxo VTS | A2 | 2:18,013 |
| 89 | Massy | Corinne | | Talbot Rallye III | FC1 | 2:18,206 |
| 90 | Cesco Resia | Kevin | | Honda Civic | N2 | 2:18,427 |
| 91 | Faure | Philippe | | Renault Clio RS | N3 | 2:18,621 |
| 92 | Ollivard | Philippe | | Citroën C2 GT | F2000 / 2 | 2:18,673 |
| 93 | Jeannel | Pearl | | Renault Clio | A3 | 2:19,838 |
| 94 | Sautereau | Bernard | | Honda Civic | N2 | 2:20,137 |
| 95 | Boxberger | Julien | | Peugeot 106 Rallye | F2000 / 1 | 2:20,505 |
| 96 | Theoharis | Jean-Marc | | Peugeot 106 Maxi | F2000 / 1 | 2:20,622 |
| 97 | Loton | Didier | | Honda Civic VTI | N2 | 2:21,132 |
| 98 | Ortega | Christian | | Caterham R300 | GT1 | 2:21,888 |
| 99 | Chervier | Julien | | Citroën Saxo | N2 | 2:21,992 |
| 100 | Barde | Ludovic | | Peugeot 106 S16 | N2 | 2:22,224 |
| 101 | Bagnol | Harmonie | | Renault Clio RS | N3 | 2:23,269 |
| 102 | Charrier | Cyril | | Citroën Saxo | N2 | 2:24,291 |
| 103 | Regnaud | Christophe | | Peugeot 205 Rallye | F2000 / 1 | 2:24,553 |
| 104 | Buxeraud | Raphaël | | Citroën Saxo | N2 | 2:24,704 |
| 105 | Rubis | Ludovic | | Peugeot 106 | F2000 / 2 | 2:24,769 |
| 106 | Coste | Clement | | Citroën AX | N1 | 2:25,538 |
| 107 | Burgunder | Michel | | Simca Rallye II | FC1 | 2:25,628 |
| 108 | Ravel | Vincent | | Peugeot 106 | N2 | 2:25,642 |
| 109 | Bachoffner | Aurelie | | Peugeot 205 Rallye | A1 | 2:25,905 |
| 110 | Fossey | Karl | | Ford Sierra Cosworth | N4 | 2:26,280 |
| 111 | Santini | Jérôme | | Citroën AX Sport | A1 | 2:27,426 |
| 112 | Gras | Jean-Paul | | Simca Rallye III | FC1 | 2:28,063 |
| 113 | Quioc | Philippe | | Peugeot 205 Rallye | N1 | 2:28,325 |
| 114 | Mekerke | Christophe | | Renault 5 GT Turbo | F2000 / 3 | 2:28,548 |
| 115 | Marie | Francis | | Ford Escort Cosworth | N4 | 2:29,616 |
| 116 | Lusardi | Leonard | | Lotus Elise 111R | GT1 | 2:30,125 |
| 117 | Favre | Olivier | | Citroën Saxo | A2 | 2:30,775 |
| 118 | Mangel | Olivier | | Peugeot 106 Rallye | N1 | 2:35,164 |
| 119 | Bertho | Marie-Therese | | Citroën Saxo Cup | A2 | 2:35,976 |