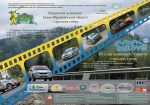 In two weeks time the Hillclimb Championship of the Ukraine continues with its second event of the season. It is another double header event with two distincts races on Saturday and Sunday. Unlike the other races on the calendar there will be only points on Sunday this time.
On Saturday the competitors will tackle a brand-new 3,4 kilometres long road called the Trembita Hillclimb. The day after the drivers will travel west towards the Bukovel Hillclimb. This second event is more well-known as it has been in the championship the last few years already. Last year's winner Borys Gandja is surely the favourite for victory again.
The timing of the weekend is below. More updates will follow soon, if possible. But if you want to know more about Hillclimb Racing in the Ukraine you can also use the hashtag #hillclimb_ukraine on the various social media platforms.
Timing Saturday 20/05 (Trembita)
8:45 – Free Practise (1 runs)
11:00 – Timed Practise (2 runs)
13:30 – Race (3 runs)
Timing Sunday 21/05 (Trembita-Bukovel)
9:15 – Free Practise
11:00 – Timed Practise (2 runs)
13:30 – Race (3 runs)