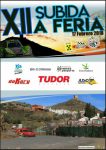 The Subida a Fería is the first hillclimb of the new season. This Saturday the 12th edition of the once famous hillclimb will take place. The previous edition was held in 1989 so it is a new event for everybody. Hillclimb racing is not that popular in Extremadura. Last year there were no local hillclimbs and no championships. This season so far only the Subida a Fería appears on the schedule.
At this moment 42 drivers have entered. Among them there also some drivers from other regions. Francisco Aguilar and Juan José Ruiz from Andalucia and Jesus Garcia of Madrid are the most prominent.
Practise starts at 13:30 and is directly followed by the race sessions.
17/02/2018 – Subida a Fería

| Pos. | Last Name | First Name | | Car | Cl. | Final |
| --- | --- | --- | --- | --- | --- | --- |
| 1 | Gutierrez | Antonio | | Demon Car | CM8 | |
| 2 | Aguilar | Francisco | | Silver Car S2 | CM8 | |
| 3 | Guerrero | Antonio | | Yamaha TTR1 | FB10 | |
| 4 | Portalo | Carlos | | MV Racing Kart-Cross | CC9 | |
| 5 | Zunino | Miguel Angel | | Semog Bravo | CC9 | |
| 6 | Garcia | Jesús | | Porsche 997 GT3 Cup | GT5 | |
| 7 | Casimiro | Luis | | Mitsubishi Lancer EVO X R4 | A2 / 5 | |
| 8 | Barragán | Santiago | | BMW M3 E46 | A2 / 5 | |
| 9 | Sanchez | Claudio | | BMW 325 E36 Coupé | A5 | |
| 10 | Gomez | Pablo | | Peugeot 106 Rallye | A2 / 4 | |
| 11 | Franco | Justo | | Renault Megane Coupé | A2 / 4 | |
| 12 | Muñoz | José Luis | | Renault Clio Sport | A2 / 4 | |
| 13 | Felipe | José | | Renault Clio | A2 / 4 | |
| 14 | Gil | Antonio | | Volkswagen Golf GTI | A2 / 4 | |
| 15 | Dominguez | Diego | | Seat Ibiza Turbo | A4 | |
| 16 | Parra | David | | Peugeot 106 S16 | A2 / 3 | |
| 17 | Ruiz | Juan José | | Citroën AX Sport | A2 / 3 | |
| 18 | Zapata | Luis Miguel | | Citroën Saxo VTS | A2 / 3 | |
| 19 | Gallardo | Carlos | | Citroën Saxo VTS | A2 / 3 | |
| 20 | Ruiz | Abel | | Peugeot 206 RC | A3 | |
| 21 | Rosado | Antonio | | Ford Escort RS2000 | A3 | |
| 22 | Gonzalez | Angel | | Renault Megane Coupé | A3 | |
| 23 | Gascón | Vicente | | Opel Astra GSi | A3 | |
| 24 | Navarro | David | | BMW 325i | CD7 | |
| 25 | Ramirez | Alberto | | BMW 325i | CD7 | |
| 26 | Belmez | Maria | | Renault 5 GT Turbo | CD7 | |
| 27 | Barriga | Manuel | | BMW 2002 | CD6 | |
| 28 | Servan | David | | Peugeot 205 | A2 / 2 | |
| 29 | Ortiz | Francisco | | Suzuki Swift | A2 | |
| 30 | Garcia | Fernando | | Peugeot 206 XS | A2 | |
| 31 | Flores | Manuel | | Peugeot 206 XS | A2 | |
| 32 | Garcia | Manuel | | Citroën Saxo VTS | A2 | |
| 33 | Gonzalez | Jesus | | Peugeot 106 | A2 | |
| 34 | Zapata | Alberto | | Citroën AX GT | A2 | |
| 35 | Garcia | Antonio | | Renault Clio Sport | N2 | |
| 36 | Suarez | Antonio | | Peugeot 106 Rallye | A1 | |
| 37 | Acosta | Manuel | | Citroën Saxo VTS | N1 | |
| 38 | Conejero | Alberto | | Citroën C2 | N1 | |
| 39 | Grande | Miguel | | Citroën Saxo VTS | N1 | |
| 40 | Garcia | Antonio | | Fiat Seicento | N1 | |
| 41 | Gutierrez | David | | Fiat Cinquecento Sporting | N1 | |
| 42 | Morán | Manuel | | Fiat Cinquecento | N1 | |