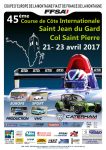 The International Hillclimb Cup (IHC) starts this weekend with the Course de Côte de Saint-Jean-du-Gard / Col Saint Pierre. The preview can be very short as their are zero entries in the IHC.
Of course the race also counts towards the French Hillclimb Championship. Here there are 133 entries. It is almost certain that Sébastien Petit, Cyrille Frantz and Geoffrey Schatz will finish 1-2-3. As usual the battles behind them are more interesting. There are 14 Formula 3 cars entered, 9 Formula Renaults and 23 CN2 cars. The CN3 class is also starting to get interesting has grown, at Saint-Jean-du-Gard there are now 6 cars entered.
In the touringcars champion Nicolas Werver will debut his new Porsche 997 GT2. There were quite a few drivers in GTTS that had problems in Bagnols Sabran three weeks ago, with crashes for Philippe Schmitter and Yannick Poinsignon and mechanical issues for Pierre Courroye. Hopefully they will all have a troublefree run to challenge for victory.
There are also 2 support races this weekend. Of course the historics with 30 entries. But also the Caterham Cup which will make its hillclimb debut. The Caterhams are divided into three classes. ACA is the Academy, which is for rookies, ROAD which brings cars in road-legal specifications, and finally R300 which are the more powerful Duratec engined Caterhams.
22-23/04/2017 – Course de Côte de Saint-Jean-du-Gard / Col Saint Pierre

| Pos. | Last Name | First Name | | Car | Cl. | Final |
| --- | --- | --- | --- | --- | --- | --- |
| 1 | Petit | Sebastien | | Norma M20 FC | CN+ | |
| 2 | Frantz | Cyrille | | Norma M20 FC | CN+ | |
| 3 | Schatz | Geoffrey | | Reynard 01KL | D/E 6 | |
| 4 | Thomas | Alban | | Dallara F303 | D/E 5 | |
| 5 | Ritchen | Billy | | Dallara F311 Mercedes | D/E 5 | |
| 6 | Sapin | Marcel | | Dallara F305 | D/E 5 | |
| 7 | Verdier | Nicolas | | Dallara F302 | D/E 5 | |
| 8 | Bechadergue | Remi | | Dallara F303 | D/E 5 | |
| 9 | Brun | Didier | | Dallara F302 | D/E 5 | |
| 10 | Saintmard | Gilles | | Dallara F393 | D/E 5 | |
| 11 | Sudre | David | | Dallara F303 | D/E 5 | |
| 12 | Thomas | Raynald | | Dallara F308 Volkswagen | D/E 5 | |
| 13 | Breda | Emeline | | Dallara F307 | D/E 5 | |
| 14 | Cante | Cecile | | Dallara F307 | D/E 5 | |
| 15 | Cholley | Patrick | | Dallara F305 Opel | D/E 5 | |
| 16 | Cholley | Ludovic | | Dallara F306 Mercedes | D/E 5 | |
| 17 | Louvet | Sarah | | Dallara F303 | D/E 5 | |
| 18 | Adoir | Julien | | Tatuus FR2000 | D/E 7 | |
| 19 | Gelly | Romain | | Tatuus FR2000 | D/E 7 | |
| 20 | Milliet | Bruno | | Tatuus FR2000 | D/E 7 | |
| 21 | Clausi | Melody | | Tatuus FR2000 | D/E 7 | |
| 22 | Chaumont | Didier | | Tatuus FR2000 | D/E 7 | |
| 23 | Cammares | Marie | | Tatuus FR2000 | D/E 7 | |
| 24 | Maurel | Julien | | Tatuus FR2000 | D/E 7 | |
| 25 | Huguel | Daniel | | Tatuus FR2000 | D/E 7 | |
| 26 | Pernot | Marc | | Tatuus FR2000 | D/E 7 | |
| 27 | Armand | Jonathan | | Tatuus Monza | D/E 2 | |
| 28 | Lacan | Benoit | | Dallara 389 | D/E 2 | |
| 29 | Bertin | Thierry | | Dallara PB08 | D/E 1 | |
| 30 | Vielmi | Benjamin | | Osella PA20/S | CN3 | |
| 31 | Hubert | Martine | | Norma M20F | CN3 | |
| 32 | Meillon | David | | Norma M20F | CN3 | |
| 33 | Desrayaud | Olivier | | Norma M20F | CN3 | |
| 34 | Poulet | Nicolas | | Osella PA20/S | CN3 | |
| 35 | Vermeille | Xavier | | Norma M20F | CN3 | |
| 36 | Guillaumard | David | | Norma M20 FC | CN2 | |
| 37 | Maitre | Jean-Jacques | | Tatuus PY012 | CN2 | |
| 38 | Arbant | Emmanuel | | Norma M20F | CN2 | |
| 39 | Pereira | Dimitri | | Norma M20F | CN2 | |
| 40 | Louvet | Jean-Jacques | | Norma M20F | CN2 | |
| 41 | Martin | Charlie | | Norma M20 FC | CN2 | |
| 42 | Francais | Julien | | Norma M20 FC | CN2 | |
| 43 | Basset | Maxime | | Norma M20 | CN2 | |
| 44 | Berton | Bruno | | Ligier JS49 | CN2 | |
| 45 | Chamberod | Damien | | Norma M20F | CN2 | |
| 46 | Thomas | Serge | | Norma M20 FC | CN2 | |
| 47 | Bellieres | Franck | | Osella PA27 | CN2 | |
| 48 | Bosco | Jean-Christophe | | Tatuus PY012 | CN2 | |
| 49 | Campi | Pascal | | Osella PA20/S | CN2 | |
| 50 | Clausi | Thomas | | Norma M20F | CN2 | |
| 51 | Debels | Jeremy | | Osella PA21/S | CN2 | |
| 52 | Etienne | Christian | | Norma M20F | CN2 | |
| 53 | Lauret | Jerome | | Norma M20B | CN2 | |
| 54 | Mallemanche | Cyril | | Norma M20F | CN2 | |
| 55 | Nogret | Alain | | Osella PA20/S | CN2 | |
| 56 | Tarres | Jimmy | | Merlin MP23 | CN2 | |
| 57 | Tosetto | Frederic | | Norma M20B | CN2 | |
| 58 | Poulet | William | | Norma M20F | CN2 | |
| 59 | Ferretti | Thierry | | Radical Prosport | CN1 | |
| 60 | Martin | Jean-Philippe | | Norma M20 | CN1 | |
| 61 | Cambon | Olivier | | Funyo B4 | CN1 | |
| 62 | Collias | Jerome | | BRC CM05 EVO | CM | |
| 63 | Araud | Christian | | Jema | CM | |
| 64 | Felgerolles | Pascal | | BRC CM05 EVO | CM | |
| 65 | Gontier | Michel | | BRC B-49 | CM | |
| 66 | Monziols | Cedric | | BRC CM05 EVO | CM | |
| 67 | Ouallet | Arnaud | | Silver Car S2F | CM | |
| 68 | Perazzi | Michel | | Jema 630 GTR | CM | |
| 69 | Peyreplane | Jean-Pierre | | BRC CM05 EVO | CM | |
| 70 | Recordier | Jean-Marie | | BRC B-49 | CM | |
| 71 | Nogret | Gerome | | Jema 630 GT | CM | |
| 72 | Werver | Nicolas | | Porsche 997 GT2 | GTTS4 | |
| 73 | Schmitter | Philippe | | Lamborghini Gallardo | GTTS4 | |
| 74 | Courroye | Pierre | | McLaren MP4 GT3 | GTTS4 | |
| 75 | Schmitter | Christian | | Porsche 997 GT3-R | GTTS4 | |
| 76 | Caumon | Nicolas | | Lamborghini Gallardo | GTTS4 | |
| 77 | Garces | Ronald | | Porsche 997 Cup | GTTS4 | |
| 78 | Beal | Pierre | | BMW M3 E46 GTR | GTTS4 | |
| 79 | Poinsignon | Yannick | | BMW M3 E92 | GTTS4 | |
| 80 | Drouillat | Edouard | | Mit-Jet | GTTS1 | |
| 81 | Giet | Christopher | | Mit-Jet | GTTS1 | |
| 82 | Natewajko | Christophe | | Mit-Jet | GTTS1 | |
| 83 | Avellaneda | Jeremy | | Mit-Jet | GTTS1 | |
| 84 | Lestienne | Jean-Michel | | Mit-Jet | GTTS1 | |
| 85 | Tissot | Jean-Marc | | BMW Z3M | GT2 | |
| 86 | Courtois | Remi | | Porsche 996 GT3 | GT2 | |
| 87 | Bernard | Remi | | Seat Leon Supercopa | A4 | |
| 88 | Dosieres | Francis | | Seat Leon Supercopa | A4 | |
| 89 | Dubrana | Yves | | BMW M3 E36 | A4 | |
| 90 | Janny | Jerome | | Seat Leon Supercopa | A4 | |
| 91 | Bard | Sebastien | | Renault Clio Cup II | A3 | |
| 92 | Chabanas | Alain | | Renault Clio Cup II | A3 | |
| 93 | Chabanas | Noel | | Renault Clio Cup III | A3 | |
| 94 | Michy | Philibert | | Renault Clio Cup III | A3 | |
| 95 | Nicolas | Dorian | | Renault Clio R3 | A3 | |
| 96 | Perier | Eric | | Renault Clio R3 | A3 | |
| 97 | Rebotier | Richard | | Renault Clio Cup | A3 | |
| 98 | Tonon | Vivien | | Renault Clio Cup | A3 | |
| 99 | Derre | Pascal | | Renault Clio Cup | A3 | |
| 100 | Andre | Christian | | Peugeot 106 | A2 | |
| 101 | Corbier | Kevin | | Citroën C2R2 Max | A2 | |
| 102 | Rebotier | David | | Peugeot 206 XS | A2 | |
| 103 | Cat | Pascal | | Renault Megane RS | N4 | |
| 104 | Verdier | Bruno | | BMW M3 E36 | N4 | |
| 105 | Sepchat | Christian | | BMW M3 E36 | N4 | |
| 106 | Uny | Antoine | | BMW M3 E36 | N4 | |
| 107 | Savary | Vincent | | BMW M3 E36 | N4 | |
| 108 | Gervais | Franc | | Renault Megane RS | N4 | |
| 109 | Dumas | Rene | | BMW M3 E36 | N4 | |
| 110 | Granjon | Louis | | BMW M3 E36 | N4 | |
| 111 | Grand | Damien | | Volkswagen Golf | N3 | |
| 112 | Filippelli | Patrick | | Citroën Saxo | N2 | |
| 113 | Ravel | Vincent | | Peugeot 106 S16 | N2 | |
| 114 | Turnel | Jean | | Peugeot 306 | F2000 / 3 | |
| 115 | Peloux | Guillaume | | Peugeot 206 | F2000 / 3 | |
| 116 | Bonhomme | Didier | | BMW Serie 1 | F2000 / 3 | |
| 117 | Vezolles | Claude | | BMW Compact | F2000 / 3 | |
| 118 | Durassier | Samuel | | Honda Civic | F2000 / 3 | |
| 119 | Authier | Ghislain | | Renault Clio Williams | F2000 / 3 | |
| 120 | Samani | Richard | | Renault 5 GT Turbo | F2000 / 3 | |
| 121 | Roquier | Vincent | | Peugeot 205 GTI | F2000 / 3 | |
| 122 | Bert | Gregory | | Peugeot 205 | F2000 / 3 | |
| 123 | Dumas | Dominique | | Renault Clio | F2000 / 3 | |
| 124 | Gley | Michael | | Volkswagen Golf III | F2000 / 3 | |
| 125 | Payneau | Gilbert | | Peugeot 205 GTI | F2000 / 2 | |
| 126 | Saumade | Yann | | Peugeot 205 | F2000 / 2 | |
| 127 | Reynes | Michel | | Peugeot 106 | F2000 / 1 | |
| 128 | Boillot | Jean-Marc | | Simca Rallye III | F2000 / 1 | |
| 129 | Cazalens | Joel | | Scora Type-II | FC4 | |
| 130 | Filippi | Toussaint | | Jide J40 | FC4 | |
| 131 | Perez | Denis | | Renault 8 Gordini | FC2 | |
| 132 | Dardalhon | Fabien | | Simca Rallye III | FC2 | |
| 133 | Ferrando | Jean-Louis | | Simca JLF | FC2 | |
22-23/04/2017 – Course de Côte de Saint-Jean-du-Gard / Col Saint Pierre (VHC)

| Pos. | Last Name | First Name | | Car | Cl. | Final |
| --- | --- | --- | --- | --- | --- | --- |
| 1 | Debeaune | Jean-Marc | | Van Diemen RF82 | 8-9/D9 | |
| 2 | Toupence | Roger-Serge | | Martini MK32 | 8-9/C6 | |
| 3 | Bonnot | Jacques | | Axone 1600 FL | 8-9/B4 | |
| 4 | Schyrr | Marc-Andre | | Crossle 12F | 8-9/A4 | |
| 5 | Groppi | Pierre | | Tiga | 6-7/C6 | |
| 6 | Massu | Jean-Charles | | Tiga SC81 | 6-7/C6 | |
| 7 | Cursoux | Gilles | | Marcadier Proto | 6-7/C3 | |
| 8 | Ferretti | Pascal | | Marcadier JF01 | 6-7/A1 | |
| 9 | Lejeune | Gabriel | | Jide Original | 5/B5 | |
| 10 | Uttewiller | Jacques | | Porsche 911 SC | 4/C3 | |
| 11 | Duret | Bernard | | Alpine A110 | 4/B5 | |
| 12 | Provost | Claude | | Alpine A110 | 4/B5 | |
| 13 | Brebant | Philippe | | Alpine A110 | 4/B3 | |
| 14 | Calbet | Guy | | Porsche 911 SC | 3/C8 | |
| 15 | Rieu | Norbert | | Porsche 911 SC | 3/C8 | |
| 16 | Michon | Rene | | Porsche 930 Turbo | 3/C8 | |
| 17 | Louis | Daniel | | Opel Commodore | 2/B6 | |
| 18 | Bonnardel | Viviane | | Volkswagen Scirocco | 2/B2 | |
| 19 | Gomez | Pierre | | Opel Commodore | 2/C8 | |
| 20 | Riehl | Christian | | BMW 323i | 2/C7 | |
| 21 | Vitale | Renato | | Fiat 128 3P | 2/C4 | |
| 22 | Vernay | Philippe | | Ford Cortina Lotus | 2/A4 | |
| 23 | Toral | Gerard | | Renault 8 Gordini | 2/A3 | |
| 24 | Agostini | Christian | | Ford Mustang GT390 | 1/C4 | |
| 25 | Brulat | Dominique | | Volkswagen Golf GTI | 1/A6 | |
| 26 | Fargier | Mathieu | | Talbot Samba Rallye | B/B3 | |
| 27 | Cauchois | Charly | | BMW 635 | A/C8 | |
| 28 | Malgouyres | Thierry | | Simca Rallye II | CL | |
| 29 | Plaisant | Michel | | Porsche 911 | CL | |
| 30 | Mejanel | Jean-François | | Porsche 911 SC | CL | |
22-23/04/2017 – Course de Côte de Saint-Jean-du-Gard / Col Saint Pierre (Caterham)

| Pos. | Last Name | First Name | | Car | Cl. | Final |
| --- | --- | --- | --- | --- | --- | --- |
| 1 | Pichon | Maxence | | Caterham Seven | ACA | |
| 2 | Miquel | Antoine | | Caterham Seven | ACA | |
| 3 | Godefroy | Philippe | | Caterham Seven | ACA | |
| 4 | Pigeon | Jean-Laurent | | Caterham Seven | ACA | |
| 5 | Noregral | Bruno | | Caterham Seven | ACA | |
| 6 | Mouchet | David | | Caterham Seven | ACA | |
| 7 | Monjalet | Thomas | | Caterham Seven | ACA | |
| 8 | Schmied | Remy | | Caterham Seven | ACA | |
| 9 | Antoni | Christophe | | Caterham Seven | ACA | |
| 10 | Montagne | Sébastien | | Caterham Seven | ACA | |
| 11 | Saillard | Jordan | | Caterham Seven | ACA | |
| 12 | Delarbre | Pauline | | Caterham Seven | ACA | |
| 13 | Meignan | Alexandre | | Caterham Seven | ACA | |
| 14 | Desir | Richard | | Caterham Seven | ACA | |
| 15 | Noel | Romain | | Caterham Seven | ACA | |
| 16 | Caserta | Bastien | | Caterham Seven | ACA | |
| 17 | Paprocki | Norbert | | Caterham Seven | ACA | |
| 18 | Di-Palma | Christian | | Caterham Seven | ROAD | |
| 19 | Delarbre | Yves | | Caterham Seven | ROAD | |
| 20 | Beltoise | Vincent | | Caterham Seven | ROAD | |
| 21 | "Le Tone" | | | Caterham Seven | ROAD | |
| 22 | Marcoux | Arnaud | | Caterham Seven | ROAD | |
| 23 | Mag | Harald | | Caterham Seven | ROAD | |
| 24 | Meignan | Pascal | | Caterham Seven | ROAD | |
| 25 | Sauget | Remy | | Caterham R300 | R300 | |
| 26 | Reypin | Pierre Jean | | Caterham R300 | R300 | |
| 27 | Bazagette | Boris | | Caterham R300 | R300 | |
| 28 | Gobba | Jean-Paul | | Caterham R300 | R300 | |
| 29 | Mignatelli | Arnaud | | Caterham R300 | R300 | |
| 30 | Gorse | Julien | | Caterham R300 | R300 | |
| 31 | Bertolino | Marc | | Caterham R300 | R300 | |
| 32 | Mignatelli | Jean-Pierre | | Caterham R300 | R300 | |
| 33 | Simon | Philippe | | Caterham R300 | R300 | |
| 34 | Pinto | Alexandre | | Caterham R300 | R300 | |