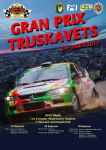 Below are a couple of videos of the two Ukrainian hillclimbs that were competed last weekend.

This is the unedited livestream of the Truskavets Grand Prix. Skip to around 3:20:00 for the first action.

Onboard of Truskavets

Onboard of Modrychi
Some photos can be viewed here and here. And some more from Modrychi here.