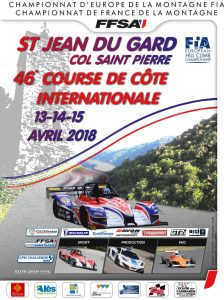 Just a few more days before the European Hillclimb Championship begins its 2018 season. The Course de Côte de Saint-Jean-du-Gard in France will be hosting the opening round. Last year in Mont Dore most classes did not have enough participants for full points. Luckily it seems that every class has at least 3 drivers this weekend.
Simone Faggioli will have a hard time defending his crown this year. As he will be driving in Pike's Peak he will not be able to score points in every round. At Saint-Jean-du-Gard he is present with teammate Fabien Bouduban. Sebastien Petit will defend the honours of France against the European Champion.
Christian Merli is the favourite for the 2018 title. In France he will face opposition of two other Osella FA30 cars. One is the Team Faggioli car driven by Diego De Gasperi. The other is the ex-Domenico Scola Italian championship winning machine driven by Christoph Lampert. Italians Fausto Bormolini and Renzo Napione will also be present in France.
The Czechs are still dominating the silhouette class. Vladimir Vitver, Oskar Benes and Jiri Los start their campaign this coming weekend. They will face some serious opposition from French stars Philippe Schmitter and Nicolas Werver.
Last season's touringcar champion "Tessitore" is not entered in France. That does not mean Martin Jerman will have an easy points haul to look forward to. French champion Pierre Courroye is also aiming for European points, as is Christian Schmitter.
In Group N we see the return of Peter Ambruz and Antonino Migliuolo. They will be challenging last years hillclimb trophy winner Tomas Vavrinec.
Finally in Group A Lukas Vojacek will face two Italian Honda Civics and Laszlo Hernadi is the only entrant in Group S2000.
14-15/04/2018 – Course de Côte de Saint-Jean-du-Gard / Col Saint Pierre

| Pos. | Last Name | First Name | | Car | Cl. | Final |
| --- | --- | --- | --- | --- | --- | --- |
| 1 | Merli | Christian | | Osella FA30 | E2-SS 3000 | |
| 2 | Napione | Renzo | | Reynard K02 | E2-SS 3000 | |
| 3 | Bormolini | Fausto | | Reynard K02 | E2-SS 3000 | |
| 4 | Bouche | Benoit | | Reynard 99L | E2-SS 3000 | |
| 5 | De Gasperi | Diego | | Osella FA30 | E2-SS 3000 | |
| 6 | Lampert | Christoph | | Osella FA30 | E2-SS 3000 | |
| 7 | Ritchen | Billy | | Dallara F312 | E2-SS 2000 | |
| 8 | Guillaumard | David | | Dallara F312 | E2-SS 2000 | |
| 9 | Saintmard | Gilles | | Dallara F393 | E2-SS 2000 | |
| 10 | Errard | Frederic | | Tatuus FR2000 | E2-SS 2000 | |
| 11 | Sapin | Marcel | | Tatuus Master | D/E 8 | |
| 12 | Thomas | Alban | | Dallara F306 | D/E 5 | |
| 13 | Louvet | Sarah | | Dallara F303 | D/E 5 | |
| 14 | Thomas | Raynald | | Dallara F308 | D/E 5 | |
| 15 | Guth | Samuel | | Dallara F306 | D/E 5 | |
| 16 | Lebot | Clement | | Dallara F301 | D/E 5 | |
| 17 | Cholley | Patrick | | Dallara F306 | D/E 5 | |
| 18 | Giet | Christopher | | Dallara F308 | D/E 5 | |
| 19 | Clausi | Thomas | | Dallara F302 | D/E 5 | |
| 20 | Verdier | Nicolas | | Dallara F302 | D/E 5 | |
| 21 | Zerafa | Steeve | | Dallara F311 | D/E 5 | |
| 22 | Bechadergue | Remi | | Dallara F303 | D/E 5 | |
| 23 | Brun | Didier | | Dallara F302 | D/E 5 | |
| 24 | Clausi | Melody | | Tatuus FR2000 | D/E 7 | |
| 25 | Petit | Kevin | | Tatuus FR2000 | D/E 7 | |
| 26 | Chaumont | Didier | | Tatuus FR2000 | D/E 7 | |
| 27 | Cammares | Marie | | Tatuus FR2000 | D/E 7 | |
| 28 | Bole | Alexandre | | Tatuus FR2000 | D/E 7 | |
| 29 | Gelly | Romain | | Tatuus FR2000 | D/E 7 | |
| 30 | Giorgian | Magaly | | Tatuus FR2000 | D/E 7 | |
| 31 | Flandy | Corinne | | Dallara 301 | D/E 1 | |
| 32 | Flandy | Fabrice | | Dallara 305 | D/E 1 | |
| 33 | Petit | Sebastien | | Norma M20 FC | E2-SC 3000 | |
| 34 | Hubert | Martine | | Norma M20F | E2-SC 3000 | |
| 35 | Faggioli | Simone | | Norma M20 FC | E2-SC 3000 | |
| 36 | Bouduban | Fabien | | Norma M20 FC | E2-SC 3000 | |
| 37 | Bellieres | Franck | | Osella PA27 | E2-SC 2000 | |
| 38 | Campi | Pascal | | Osella PA20/S | E2-SC 2000 | |
| 39 | Iraola | Joseba | | Norma M20 FC | E2-SC 2000 | |
| 40 | Trnka | Petr | | Ligier JS53 E2 | E2-SC 2000 | |
| 41 | Villa | Javier | | BRC BR53 | E2-SC 2000 | |
| 42 | Ferretti | Thierry | | Radical Prosport | E2-SC 1600 | |
| 43 | Schatz | Geoffrey | | Norma M20 FC | CN+ | |
| 44 | Meillon | David | | Norma M20 FC | CN+ | |
| 45 | Bormolini | Andrea | | Osella PA20/S | CN 3000 | |
| 46 | Bouvier | Christian | | Wolf GB08 | CN 2000 | |
| 47 | Capucci | Marco | | Osella PA21/S | CN 2000 | |
| 48 | Dall'Oglio | Alberto | | Norma M20 FC | CN 2000 | |
| 49 | Poulet | Nicolas | | Osella PA20/S | CN3 | |
| 50 | Augusto | Olivier | | Norma M20 FC | CN2 | |
| 51 | Francais | Julien | | Norma M20 FC | CN2 | |
| 52 | Thomas | Serge | | Norma M20 FC | CN2 | |
| 53 | Pereira | Dimitri | | Norma M20F | CN2 | |
| 54 | Cotleur | Maxime | | Norma M20F | CN2 | |
| 55 | Louvet | Jean-Jacques | | Norma M20F | CN2 | |
| 56 | Avellaneda | Jeremy | | Norma M20 FC | CN2 | |
| 57 | Berton | Bruno | | Ligier JS49 | CN2 | |
| 58 | Pic | Sebastien | | Norma M20F | CN2 | |
| 59 | Mallemanche | Cyril | | Norma M20F | CN2 | |
| 60 | Carifi | Anthony | | Norma M20F | CN2 | |
| 61 | Dodille | Sylvain | | Norma M20F | CN2 | |
| 62 | Etienne | Christian | | Norma M20F | CN2 | |
| 63 | Nogret | Alain | | Norma M20F | CN2 | |
| 64 | Pernot | Marc | | Norma M20 FC | CN2 | |
| 65 | Poulet | William | | Norma M20 | CN2 | |
| 66 | Tosetto | Frederic | | Norma M20B | CN2 | |
| 67 | Segond | Francis | | Merlin MP23 | CN2 | |
| 68 | Ruga | Jean-Pierre | | Norma M20F | CN2 | |
| 69 | Lauret | Jerome | | Norma M20B | CN2 | |
| 70 | Cambon | Olivier | | Funyo B4 | CN1 | |
| 71 | Ceschi | Thibault | | Radical SR3 | CN1 | |
| 72 | Bourgeon | Fabien | | Tracking RC01B | CM | |
| 73 | Taponard | Simon | | Tracking RC01B | CM | |
| 74 | Monziols | Cedric | | BRC CM05 EVO | CM | |
| 75 | Felgerolles | Pascal | | BRC CM05 EVO | CM | |
| 76 | Ouallet | Arnaud | | Silver Car S2F | CM | |
| 77 | Peyreplane | Jean-Pierre | | BRC CM05 EVO | CM | |
| 78 | Recordier | Jean-Marie | | BRC B-49 | CM | |
| 79 | Mejean | Loic | | Jema GFA | CM | |
| 80 | Marcillac | Arnaud | | BRC CM05 EVO | CM | |
| 81 | Gontier | Michel | | BRC B-49 | CM | |
| 82 | Araud | Christian | | Jema 630 GT | CM | |
| 83 | Schmitter | Philippe | | Renault RS01 | E2-SH +3000 | |
| 84 | Werver | Nicolas | | Porsche 997 GT2 | E2-SH +3000 | |
| 85 | Los | Jiri | | Mitsubishi Lancer EVO IX | E2-SH +3000 | |
| 86 | Benes | Oskar | | Ford Fiesta | E2-SH +3000 | |
| 87 | Vitver | Vladimir | | Audi TT-R DTM | E2-SH +3000 | |
| 88 | Dubrana | Yves | | BMW M3 E36 | E2-SH +3000 | |
| 89 | Hernadi | Laszlo | | Mitsubishi Lancer EVO IX R4 | S2 +3000 | |
| 90 | Courroye | Pierre | | McLaren MP4 12C | GT +3000 | |
| 91 | Schmitter | Christian | | Porsche 997 GT3-R | GT +3000 | |
| 92 | Jerman | Martin | | Lamborghini Gallardo GT3 | GT +3000 | |
| 93 | Poinsignon | Yannick | | BMW M3 E92 | GTTS4 | |
| 94 | Caumon | Nicolas | | Lamborghini Gallardo | GTTS4 | |
| 95 | Beal | Pierre | | Volvo S60 TC10 | GTTS4 | |
| 96 | Garces | Ronald | | Porsche 997 Cup | GTTS3 | |
| 97 | Lestienne | Jean-Michel | | Mit-Jet | GTTS1 | |
| 98 | Drouillat | Edouard | | Mit-Jet | GTTS1 | |
| 99 | Louison | Aurore | | Mit-Jet | GTTS1 | |
| 100 | Tissot | Jean-Marc | | Mit-Jet | GTTS1 | |
| 101 | Gudet | Cindy | | Mit-Jet | GTTS1 | |
| 102 | Cazalens | Joel | | Lotus Exige Cup 260 | GT2 | |
| 103 | Reutter | Paul | | Porsche 997 GT3 | GT2 | |
| 104 | Marion | Philippe | | Porsche 911 GT2 | GT2 | |
| 105 | Santarelli | Frederic | | Porsche Cayman Cup S | GT2 | |
| 106 | Dumas | Maurice | | BMW 135i | GT2 | |
| 107 | Vojacek | Lukas | | Subaru Impreza | A +3000 | |
| 108 | Cossu | Tonino | | Honda Civic Type-R | A 2000 | |
| 109 | Zuurbier | Luca | | Honda Civic Type-R | A 2000 | |
| 110 | Dosieres | Francis | | Seat Leon MK3 | A5 | |
| 111 | Janny | Jerome | | Seat Leon Supercopa | A5 | |
| 112 | Uny | Antoine | | Seat Leon Supercopa | A5 | |
| 113 | Plan | Guillaume | | Mitsubishi Lancer EVO IX | A5 | |
| 114 | Michon | Eric | | Seat Leon Supercopa | A5 | |
| 115 | Derre | Pascal | | Seat Leon Supercopa | A5 | |
| 116 | Peyrard | Eric | | Renault Clio Cup IV | A4 | |
| 117 | Leo | Laurent | | Seat Ibiza Trophy | A4 | |
| 118 | Machka | Yann | | Renault Clio Cup IV | A4 | |
| 119 | Garcia | Frederic | | BMW 325i E30 | A4 | |
| 120 | Liron | Nicolas | | Renault Megane Kit-Car | A3 | |
| 121 | Nicolas | Daniel | | Citroën DS3 | A3 | |
| 122 | Chabanas | Alain | | Renault Clio Cup III | A3 | |
| 123 | Authier | Ghislain | | Renault Clio Cup | A3 | |
| 124 | Bard | Sebastien | | Renault Clio Cup II | A3 | |
| 125 | Chabanas | Noel | | Renault Clio Cup II | A3 | |
| 126 | Michy | Philibert | | Renault Clio Cup III | A3 | |
| 127 | Pougnet | Frederic | | Renault Clio | A3 | |
| 128 | Cat | Pascal | | Renault Megane RS | N +3000 | |
| 129 | Ambruz | Peter | | Mitsubishi Lancer EVO IX | N +3000 | |
| 130 | Migliuolo | Antonino | | Mitsubishi Lancer EVO IX | N +3000 | |
| 131 | Vavrinec | Tomas | | Mitsubishi Lancer EVO IX | N +3000 | |
| 132 | Granjon | Louis | | BMW M3 | N4 | |
| 133 | Sepchat | Christian | | BMW M3 E36 | N4 | |
| 134 | Savary | Vincent | | BMW M3 E36 | N4 | |
| 135 | Pieyre | Alex | | BMW M3 | N4 | |
| 136 | Gervais | Franc | | Renault Megane RS | N4 | |
| 137 | Grand | Damien | | Volkswagen Golf II GTI | N3 | |
| 138 | Valette | Lorin | | Renault Clio Ragnotti | N3 | |
| 139 | Ravel | Vincent | | Peugeot 106 S16 | N2 | |
| 140 | Ricard | Kevin | | Peugeot 106 XSi | N1 | |
| 141 | Filippi | Toussaint | | Jide J40 | FC4 | |
| 142 | Choquet | Arnaud | | Renault Clio Trophy | FC4 | |
| 143 | Poinsignon | Christophe | | Simca CG Turbo | FC4 | |
| 144 | Ferrando | Jean-Louis | | Simca JLF | FC2 | |
| 145 | Perez | Denis | | Renault 8 Gordini | FC2 | |
| 146 | Nicolas | Lionel | | BMW Compact | F2000 / 3 | |
| 147 | Peloux | Guillaume | | Peugeot 206 Maxi | F2000 / 3 | |
| 148 | Durassier | Samuel | | Honda Civic Type-R | F2000 / 3 | |
| 149 | Duculty | Nicolas | | Peugeot 306 | F2000 / 3 | |
| 150 | Samani | Richard | | Renault 5 GT Turbo | F2000 / 3 | |
| 151 | Terzo | Laurent | | Renault Clio | F2000 / 3 | |
| 152 | Bonhomme | Didier | | BMW Serie 1 | F2000 / 3 | |
| 153 | Armand | Jonathan | | Peugeot 106 | F2000 / 2 | |
| 154 | Esturillo | Antoine | | Honda Civic EK4 | F2000 / 2 | |
| 155 | Mazauric | Cedric | | Peugeot 205 GTI | F2000 / 2 | |
| 156 | Rouveirolles | Stephan | | Citroën Saxo | F2000 / 2 | |
| 157 | Reynes | Michel | | Peugeot 106 | F2000 / 1 | |
| 158 | Boillot | Jean-Marc | | Simca Rallye II | F2000 / 1 | |
14-15/04/2018 – Course de Côte de Saint-Jean-du-Gard / Col Saint Pierre (VHC)

| Pos. | Last Name | First Name | | Car | Cl. | Final |
| --- | --- | --- | --- | --- | --- | --- |
| 1 | Debeaune | Jean-Marc | | Van Diemen RF82 | 8-9/D9 | |
| 2 | Toupence | Roger-Serge | | Martini MK32 | 8-9/C5 | |
| 3 | Cursoux | Gilles | | Martini MK30 | 8-9/C4 | |
| 4 | Bonnot | Jacky | | Axone 1600 FL | 8-9/B4 | |
| 5 | Schyrr | Marc-André | | Crossle 12F | 8-9/A4 | |
| 6 | Massu | Jean-Charles | | Tiga SC81 | 6-7/C5 | |
| 7 | Ferretti | Pascal | | Marcadier JF01 | 6-7/C4 | |
| 8 | Cayrier | Bernard | | Le Gallen LLG8 | 6-7/B4 | |
| 9 | Legre | François | | Marcadier | 6-7/B3 | |
| 10 | Almeras | Jean-Marie | | Porsche 935 | 5/C6 | |
| 11 | Tissot | Andre | | Marcadier Barzoï | 5/B5 | |
| 12 | Lejeune | Gabriel | | Jide Original | 5/B5 | |
| 13 | Guelpa | Roger | | Porsche 911 SC | 4/B8 | |
| 14 | Robalo | Joaquim | | Porsche 914/6 | 4/B5 | |
| 15 | Provost | Claude | | Alpine A110 SC | 4/B5 | |
| 16 | Duret | Bernard | | Alpine A110 | 4/B5 | |
| 17 | Mejanel | Jean-François | | Porsche 911 SC | 4/A5 | |
| 18 | Rieu | Norbert | | Porsche 911 | 3/C8 | |
| 19 | Michon | Rene | | Porsche 930 T | 3/C8 | |
| 20 | Riehl | Christian | | BMW 323i | 2/C7 | |
| 21 | Riehl | Nicolas | | BMW 2002 | 2/C5 | |
| 22 | Mejanel | Laura | | Peugeot 104 ZS | 2/C4 | |
| 23 | Bonnardel | Viviane | | Volkswagen Scirocco | 2/C4 | |
| 24 | Louis | Daniel | | Opel Commodore GSE | 2/B8 | |
| 25 | Toral | Gerard | | Renault 8 Gordini | 2/B3 | |
| 26 | Hoffmann | Jean-Pierre | | NSU TT | 2/B3 | |
| 27 | Brulat | Dominique | | Volkswagen Golf GTI | 2/B2 | |
| 28 | Gaillard | Jean-Claude | | Renault 5 GT Turbo | N/D5 | |
| 29 | Brebant | Philippe | | Alpine A110 | CL | |
| 30 | Torrento | Thierry | | Ford Escort RS2000 | CL | |
14-15/04/2018 – Course de Côte de Saint-Jean-du-Gard / Col Saint Pierre (Caterham)

| Pos. | Last Name | First Name | | Car | Cl. | Final |
| --- | --- | --- | --- | --- | --- | --- |
| 1 | Gobba | Jean-Paul | | Caterham Seven | 420R | |
| 2 | Duperret | Michel | | Caterham Seven | ACA | |
| 3 | Celton | Olivier | | Caterham Seven | ACA | |
| 4 | Delhoume | Philippe | | Caterham Seven | ACA | |
| 5 | Delaby | Antoine | | Caterham Seven | ACA | |
| 6 | Gauthier | Mark | | Caterham Seven | ACA | |
| 7 | Sergent | Gilbert | | Caterham Seven | ACA | |
| 8 | Rouanet | Ghuilhem | | Caterham Seven | ACA | |
| 9 | Di Palma | Christian | | Caterham Seven | Road | |
| 10 | Mag | Harald | | Caterham Seven | Road | |
| 11 | Astrog | Pierre | | Caterham Seven | Road | |
| 12 | Marcoux | Arnaud | | Caterham Seven | Road | |
| 13 | Chatelain | Laura | | Caterham Seven | Road | |
| 14 | Caserta | Bastien | | Caterham Seven | Road | |
| 15 | Noregral | Bruno | | Caterham Seven | Road | |