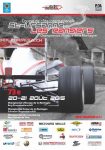 Simone Faggioli was again unbeatable at the Course de Côte de Saint Ursanne – Les Rangiers. At the fastest hillclimb in Europe Faggioli broke his own trackrecord with quite a margin to take victory. David Hauser was best singleseater driver in second. However the driver from Luxembourg only scores points for his own nation's championship. As a result Christian Merli keeps the pressure on Faggioli in the European Championship.
As Eric Berguerand was not present this weekend Joel Volluz had a great chance to score some points for the Swiss Hillclimb Championship. A serious accident in the first race heat prevented that plan. As a result Marcel Steiner was the best local in fourth. The most competitive class this weekend was the E2-SS -2000 with almost 30 drivers. Darren Warwick proved the fastest driver in this class and the Briton also finished fifth overall.
Best of the touringcar drivers was Reto Meisel with his unique Mercedes SLK340. He was closely followed by Ronnie Bratschi and E2-SH winner Dan Michl. Nikola Miljkovic and Christian Schweiger both won their classes so this category of the European Championship remains unchanged.
20-21/08/2016 – Course de Côte de Saint Ursanne – Les Rangiers

| Pos. | Last Name | First Name | | Car | Cl. | Final |
| --- | --- | --- | --- | --- | --- | --- |
| 1 | Faggioli | Simone | | Norma M20 FC | E2-SC 3000 | 3:24,577 |
| 2 | Hauser | David | | Dallara GP2 | E2-SS +3000 | 3:35,708 |
| 3 | Merli | Christian | | Osella FA30 | E2-SS 3000 | 3:37,864 |
| 4 | Steiner | Marcel | | LobArt LA01 Mugen | E2-SC 3000 | 3:43,383 |
| 5 | Warwick | Darren | | Dallara F399 | E2-SS 2000 | 3:49,909 |
| 6 | Hugentobler | Simon | | Reynard 97D | E2-SS 3000 | 3:56,680 |
| 7 | Berney | Damien | | Tatuus Master | E2-SS 2000 | 3:57,133 |
| 8 | Weber | Christophe | | Dallara F302/04 | E2-SS 2000 | 3:57,344 |
| 9 | Grand | Joël | | Tatuus Master | E2-SS 2000 | 3:57,954 |
| 10 | Cholley | Ludovic | | Dallara F306 HWA | E2-SS 2000 | 3:58,394 |
| 11 | Egli | Philip | | Dallara F394 | E2-SS 2000 | 4:00,677 |
| 12 | Debarre | Etienne | | Dallara F308/11 Mercedes | E2-SS 2000 | 4:02,594 |
| 13 | Balmer | Christian | | Tatuus Master | E2-SS 2000 | 4:04,097 |
| 14 | Vermeille | Xavier | | Norma M20F BMW | E2-SC 3000 | 4:04,174 |
| 15 | Bouduban | Fabien | | Norma M20 FC | E2-SC 2000 | 4:04,804 |
| 16 | Salomon | Jean-Marc | | Tatuus Master | E2-SS 2000 | 4:05,851 |
| 17 | Chariatte | Alain | | Tatuus Master | E2-SS 2000 | 4:07,230 |
| 18 | Guth | Samy | | Dallara F302 Opel | E2-SS 2000 | 4:07,253 |
| 19 | Meisel | Reto | | Mercedes SLK 340 | E1 3500 | 4:08,397 |
| 20 | Bratschi | Ronnie | | Mitsubishi Lancer EVO VIII | E1 +3500 | 4:08,636 |
| 21 | Michl | Dan | | Lotus Evora | E2-SH 3000 | 4:09,648 |
| 22 | Maurer | Marcel | | Tatuus Renault | E2-SS 2000 | 4:10,297 |
| 23 | Guelat | Philippe | | Lola T94/50 Cosworth | E2-SS 3000 | 4:10,326 |
| 24 | Cholley | Patrick | | Dallara F305 Opel | E2-SS 2000 | 4:10,851 |
| 25 | Buckingham | Paul | | Dallara F305 Mercedes | E2-SS 2000 | 4:11,674 |
| 26 | Bourgeon | Fabien | | Tracking RC01 | SC 1600 | 4:11,820 |
| 27 | Schnellmann | Roger | | Mitsubishi Lancer EVO VIII | E1 +3500 | 4:12,952 |
| 28 | Vondrak | Martin | | Tatuus NT07 | E2-SS 2000 | 4:13,658 |
| 29 | Bovier | Jean-Pierre | | Osella PA20/S BMW | E2-SC 3000 | 4:14,061 |
| 30 | Mangold | Manuel | | Norma M20 FC | E2-SC 2000 | 4:15,244 |
| 31 | Vitver | Vladimir | | Audi TT-R DTM | E2-SH +3000 | 4:15,252 |
| 32 | Sanjuan | Augustin | | Dallara F307 | E2-SS 2000 | 4:16,101 |
| 33 | Fleury | Frederic | | Tatuus FR2000 | E2-SS 2000 | 4:16,698 |
| 34 | Werver | Nicolas | | Porsche 997 Cup S | GT +3500 | 4:17,460 |
| 35 | Martin | Christian | | Ligier JS51 | CN 2000 | 4:17,914 |
| 36 | Braquet | Roland | | Dallara F308/11 | E2-SS 2000 | 4:19,695 |
| 37 | Los | Jiri | | Mitsubishi Lancer EVO IX | E2-SH +3000 | 4:20,415 |
| 38 | Nüssli | Romeo | | Ford Escort Cosworth | E1 +3500 | 4:21,570 |
| 39 | Heche | Yann | | Tatuus FR2000 | E2-SS 2000 | 4:22,168 |
| 40 | Huwiler | Tom | | Tatuus FR2000 | E2-SS 2000 | 4:23,237 |
| 41 | Crespi | Stefano | | Osella PA21/P | CN 2000 | 4:24,039 |
| 42 | Chariatte | Jean-François | | Tracking RC01 | SC 1600 | 4:24,609 |
| 43 | Papagna | David | | Gloria C8P EVO | E2-SS 1600 | 4:25,196 |
| 44 | Fauler | Dani | | Tracking RC01 | SC 1600 | 4:25,450 |
| 45 | Mathez | Thierry | | Ligier JS51 | CN 2000 | 4:26,538 |
| 46 | Böhler | Stefan | | Tatuus FR2000 | E2-SS 2000 | 4:26,897 |
| 47 | Martin | Charlie | | Norma M20 FC | E2-SC 2000 | 4:27,287 |
| 48 | Bormolini | Fausto | | Reynard K02 | E2-SS 3000 | 4:27,375 |
| 49 | Tourillon | Robert | | Norma M20 FC Honda | E2-SC 2000 | 4:28,264 |
| 50 | Schmidt | Henri | | Tatuus Renault | E2-SS 2000 | 4:29,039 |
| 51 | Benes | Oskar | | Ford Fiesta | E2-SH +3000 | 4:29,773 |
| 52 | Neff | Frédéric | | Porsche 996 Cup | IS +3500 | 4:30,891 |
| 53 | Krieg | Danny | | Audi A4 STW | E1 2000 | 4:31,737 |
| 54 | Chevallier | Jacques | | Dallara F396 | E2-SS 2000 | 4:32,126 |
| 55 | Schweiger | Christian | | Mitsubishi Lancer EVO VIII | A +3000 | 4:33,194 |
| 56 | Ianniello | Bruno | | Lancia Delta S4 | E1 3500 | 4:33,242 |
| 57 | Miljkovic | Nikola | | Mitsubishi Lancer EVO IX | N +3000 | 4:34,342 |
| 58 | Bosshard | Markus | | Tatuus Renault | E2-SS 2000 | 4:34,585 |
| 59 | Migliuolo | Antonino | | Mitsubishi Lancer EVO IX | N +3000 | 4:35,818 |
| 60 | Nüssli | Marc | | Tatuus Renault | E2-SS 2000 | 4:36,406 |
| 61 | Mächler | Albin | | BMW M2 | E1 +3500 | 4:36,553 |
| 62 | Maurer | Jacques | | Van Diemen RF04 CFX | E2-SS 2000 | 4:36,568 |
| 63 | Burgermeister | Joel | | Tracking RC01 | SC 1600 | 4:37,976 |
| 64 | Linden | Leon | | Dallara F304 | E2-SS 2000 | 4:38,266 |
| 65 | Giuliani | Fulvio | | Lancia Delta EVO | E2-SH +3000 | 4:38,871 |
| 66 | Wittwer | Daniel | | Volkswagen Golf I | E1 2000 | 4:38,887 |
| 67 | Jerman | Martin | | Lamborghini Gallardo GT3 | GT +3500 | 4:40,838 |
| 68 | Valentiny | Charel | | Subaru Impreza WRX | E1 3500 | 4:41,673 |
| 69 | Bührer | Nicolas | | BMW M1 | H +3000 | 4:41,909 |
| 70 | Bertocchi | Mario | | BMW E36 | E1 3500 | 4:42,559 |
| 71 | Prevel | Julien | | Opel Astra | E1 3500 | 4:43,392 |
| 72 | Koch | Josef | | Opel Kadett C | IS 2500 | 4:43,660 |
| 73 | Houlmann | Fabien | | Peugeot 205 | E1 2000 | 4:44,112 |
| 74 | Favre | Bertrand | | BMW E30 | E1 3000 | 4:44,216 |
| 75 | Rohr | Werner | | Toyota Corolla AE86 | IS 1600 | 4:45,649 |
| 76 | Zemp | Michel | | Renault Clio Cup IV | E1 3000 | 4:46,801 |
| 77 | Bonomini | Daniele | | Lancia Delta | E1 3500 | 4:47,102 |
| 78 | Von Siebenthal | Yannick | | Jema B10 JA | E2-SC 1600 | 4:47,397 |
| 79 | Bouvier | Christian | | Wolf GB08 | CN 2000 | 4:47,412 |
| 80 | Schilling | Nico | | Subaru Impreza WRX | E1 3500 | 4:47,695 |
| 81 | Bürki | Martin | | BMW 318 STW | E1 2000 | 4:47,931 |
| 82 | Andrey | Thomas | | Peugeot 405 | IS 2000 | 4:48,162 |
| 83 | Winiger | Richard | | Porsce 911 GT3 | E1 +3500 | 4:48,777 |
| 84 | Millasson | Bertrand | | Porsche 911 GT3 Cup | E1 +3500 | 4:50,080 |
| 85 | Leuenberger | Frédéric | | Renault Clio RS | E1 2000 | 4:50,452 |
| 86 | Borer | Daniel | | Renault Clio | RCC | 4:50,848 |
| 87 | Aeschlimann | Daniel | | Opel Kadett C | IS 2500 | 4:50,876 |
| 88 | Schmid | Urban | | Audi 80 Quattro | E1 +3500 | 4:51,295 |
| 89 | Comby | Alexandre | | Porsche 934/5 | IS +3500 | 4:51,638 |
| 90 | Marchione | Canio | | Volkswagen Scirocco | E1 1600 | 4:51,901 |
| 91 | Rebord | Aristide | | BMW M3 GT4 | E1 +3500 | 4:51,953 |
| 92 | Zürcher | Thomas | | Renault Clio Cup III | RCC | 4:52,475 |
| 93 | Schaffo | Pierre | | Lucchini SN89 | CN 3000 | 4:52,680 |
| 94 | Henggeler | Ralf | | Renault Clio Cup III | RCC | 4:52,856 |
| 95 | Vallat | Patrick | | Volkswagen Golf | IS 2000 | 4:53,311 |
| 96 | Villoz | Hervé | | Renault Clio RS | E1 2000 | 4:54,957 |
| 97 | Golliard | Patrick | | Alfa Romeo 155 STW | E1 2000 | 4:55,210 |
| 98 | Fuhrer | Ruedi | | Honda CRX | E1 2000 | 4:55,241 |
| 99 | Magnin | Jonas | | Honda Civic | E1 2000 | 4:55,306 |
| 100 | Winiger | Fabrice | | Seat Leon Cup | E1 3500 | 4:56,203 |
| 101 | Huguelet | Anthony | | Subaru Impreza | ISA +3000 | 4:56,616 |
| 102 | Steiner | Chris | | Porsche 911 Turbo | SSC +3500 | 4:57,275 |
| 103 | Bérard | Laurent | | Honda Civic Type-R | A 2000 | 4:57,310 |
| 104 | Simonin | Bertrand | | BMW M3 E36 | E1 3500 | 4:57,520 |
| 105 | Kuhn | Sergio | | Peugeot 206 RC | IS 2000 | 4:57,618 |
| 106 | Stacchi | Mattia | | BMW M3 E30 | E1 3000 | 4:58,426 |
| 107 | Wolf | Denis | | Renault Clio Cup | RCC | 4:59,155 |
| 108 | Lanz | Andreas | | Toyota Corolla AE86 | IS 1600 | 4:59,348 |
| 109 | Prongue | Christophe | | BMW M3 E46 | E1 3500 | 4:59,725 |
| 110 | Wicki | Robert | | Mitsubishi Lancer | SSC +3500 | 5:00,116 |
| 111 | Kistler | Dany | | Audi RS2 Quattro | E1 +3500 | 5:00,730 |
| 112 | Bernhard | Diego | | Opel Kadett C | E1 3000 | 5:00,781 |
| 113 | Bottecchia | Enzo | | Renault 5 Turbo | E1 3000 | 5:01,221 |
| 114 | Burri | Rolf | | Opel Kadett C | IS 2000 | 5:01,348 |
| 115 | Servalli | Roberto | | BMW M3 E46 GTR | E1 3500 | 5:01,765 |
| 116 | Hedinger | Patrick | | Peugeot 205 GTI | IS 2000 | 5:02,333 |
| 117 | Zürcher | Urs | | BMW M3 E46 | E1 3000 | 5:03,165 |
| 118 | Cereghetti | Aramis | | BMW M5 E34 | E1 +3500 | 5:03,668 |
| 119 | Metral | Laurent | | Ford Sierra Cosworth | IS 3500 | 5:03,740 |
| 120 | Monnier | Ludovic | | Volkswagen Golf | IS 2000 | 5:04,351 |
| 121 | Donzé | Arnaud | | Volkswagen Golf | IS 2000 | 5:04,715 |
| 122 | Thievent | Denis | | Citroën Saxo | A 1600 | 5:04,756 |
| 123 | Chèvre | Patrick | | Subaru Impreza WRX | SSC +3500 | 5:05,436 |
| 124 | Farine | Benoît | | Volkswagen Golf | E1 2000 | 5:06,691 |
| 125 | Nicolas | Gerard | | Ford Escort Cosworth | IS 3500 | 5:06,693 |
| 126 | Darani | Christian | | Fiat X1/9 | E1 2000 | 5:06,888 |
| 127 | Cristoni | Fabio | | Lancia Delta Integrale | E1 3500 | 5:06,905 |
| 128 | Bonvin | Frédéric | | BMW M3 E36 | E1 3500 | 5:07,008 |
| 129 | Cattin | Nicolas | | BMW 325i | E1 3000 | 5:07,143 |
| 130 | Niederberger | Philip | | Opel Kadett C | IS 2000 | 5:07,383 |
| 131 | Bächler | Martin | | Volkswagen Lupo | E1 1400 | 5:08,319 |
| 132 | Hollenstein | Markus | | Volkswagen Golf GTI | IS 2000 | 5:08,393 |
| 133 | Tapparel | Eddy | | Opel Kadett C | E1 2000 | 5:09,276 |
| 134 | Rohr | Christoph | | Audi 50 | E1 1400 | 5:09,321 |
| 135 | Cretegny | Jean-Romain | | Subaru Impreza GT | ISA +3000 | 5:09,438 |
| 136 | Schöpfer | Stefan | | Audi 50 | IS 1400 | 5:10,018 |
| 137 | Meier | Gilbert | | Honda Integra | IS 2000 | 5:10,248 |
| 138 | Schilling | Cédric | | Mitsubishi Lancer EVO VII | E1 3500 | 5:10,929 |
| 139 | Kammermann | Thomas | | Volkswagen Golf Kit-Car | E1 2000 | 5:11,602 |
| 140 | Cossu | Tonino | | Honda Civic Type-R | N 2000 | 5:11,672 |
| 141 | Zenklusen | Vanessa | | Subaru Impreza | IS 3500 | 5:12,302 |
| 142 | Claudepierre | Jean-Noël | | Honda Civic Type-R | ISN 2000 | 5:12,545 |
| 143 | Hulmann | David | | Fiat 500 Assetto Corse | E1 3000 | 5:13,305 |
| 144 | Meier | Rolf | | Renault Clio Cup IV | E1 3000 | 5:13,510 |
| 145 | Toillon | Dimitri | | Porsche 997 GT3 Cup | GT +3500 | 5:14,008 |
| 146 | Sonnenschein | Christian | | Lancia Delta Integrale | E1 3500 | 5:15,063 |
| 147 | Luig | Michael | | Renault Clio | ISA 2000 | 5:16,122 |
| 148 | Farinoli | Emilio | | Lancia Delta Integrale | E1 3500 | 5:16,859 |
| 149 | Maschietto | Giuliano | | Renault Clio | RCC | 5:16,879 |
| 150 | Schorderet | Yann | | Volkswagen Golf II | IS 2000 | 5:17,124 |
| 151 | Crevoiserat | Cyrille | | Ford Fiesta | A 1600 | 5:18,901 |
| 152 | Parriaux | Christophe | | Volkswagen Golf III | ISN 2000 | 5:19,209 |
| 153 | Perzolli | Alessandro | | Renault Clio Cup II | RCC | 5:19,449 |
| 154 | Nicole | Benjamin | | BMW 2002 Ti | E1 3000 | 5:19,495 |
| 155 | Pillonel | Yann | | BMW 325i | IS 2500 | 5:20,157 |
| 156 | Biaggi | Arnaud | | Opel Kadett C GT/E | IS 2000 | 5:20,420 |
| 157 | Becker | Sandra | | Alfa Romeo 147 | A 2000 | 5:20,852 |
| 158 | Viesti | Francesco | | Citroën Saxo | A 1600 | 5:21,047 |
| 159 | Schmid | Ruedi | | Volkswagen Golf I | IS 1600 | 5:21,519 |
| 160 | Pauli | Walter | | Alpine A110 | H 2000 | 5:21,590 |
| 161 | Portmann | Erwin | | Renault Clio Sport | ISN 2000 | 5:22,036 |
| 162 | Wüthrich | Daniel | | Volkswagen Golf | IS 2000 | 5:22,907 |
| 163 | Dürig | André | | Fiat Uno | E1 1400 | 5:23,663 |
| 164 | Banz | Armin | | Opel Kadett C | IS 2500 | 5:24,314 |
| 165 | Macchi | Elio | | Renault Clio | E1 2000 | 5:24,531 |
| 166 | Marchand | Nicolas | | Opel Astra GSi | IS 2500 | 5:25,305 |
| 167 | Maillard | Marcel | | BMW 330i | SS 3000 | 5:30,078 |
| 168 | Meier | Marco | | Honda Integra Type-R | SS 2000 | 5:30,568 |
| 169 | Kilchenmann | Alphonse | | Suzuki Swift | N 1600 | 5:30,589 |
| 170 | Zysset | Peter | | Volkswagen Golf | IS 2000 | 5:31,423 |
| 171 | Baeriswyl | Heribert | | Alpine A310 | H 2000 | 5:32,088 |
| 172 | Metroz | Alex | | Ford Sierra Cosworth | IS 3500 | 5:32,750 |
| 173 | Küpfer | Patrick | | Opel Corsa | IS 2000 | 5:32,838 |
| 174 | Grossenbacher | Cyril | | Volkswagen Golf I | IS 1600 | 5:34,212 |
| 175 | Piquerez | Clément | | Peugeot 106 S16 | ISA 1600 | 5:36,368 |
| 176 | Chariatte | Sylvain | | Volkswagen Polo | IS 1400 | 5:38,050 |
| 177 | Becker | Ivana | | Renault Clio Williams | E1 2000 | 5:39,247 |
| 178 | Jolidon | Nicolas | | BMW 325 E30 | E1 3000 | 5:39,461 |
| 179 | Kuhn | Oski | | Honda Integra Type-R | SS 2000 | 5:39,951 |
| 180 | Spring | Andreas | | BMW 318is E36 | ISA 2000 | 5:41,895 |
| 181 | Husistein | Mark | | Toyota Yaris | IS 1400 | 5:46,329 |
| 182 | Noser | Roger | | Volkswagen Polo | E1 1400 | 5:55,074 |
| 183 | Holenstein | Daniel | | Opel Kadett E GSi | IS 2000 | 6:00,919 |
| 184 | Schaffo | Julia | | Citroën AX GTI | ISA 1400 | 6:36,912 |
| 185 | Burkart | Andreas | | Talbot Darracq | H +3000 | 7:46,161 |