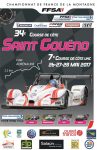 The French Hillclimb Championship moved to Brittany for the Course de Côte de Saint Gouëno. Random rain showers gave an extra dimension to the course. However in the end everything was the same as always. Sébastien Petit won the event, Geoffrey Schatz was second and Cyrille Frantz was third. Unlike previous events it was not a very easy victory for Petit. Schatz dominated the event right up until the third and final race of the weekend. That was when Petit restored order and claimed victory.
Saint Gouëno is apparently a sportscar track. The next singleseater behind Schatz was Colin Le Maitre in 15th… His main rival in F3 was Sarah Louvet but she had an accident in the second race. Just like in the two previous races it was Julien Français who finished fourth overall and best CN2 driver. Young Belgian Corentin Starck gave a great performance and finished fifth overall. Local Anthony Le Beller completed the podium in CN2 after David Guillaumard crashed in the third race.
Somehow Pierre Courroye keeps improving in every event. At Saint Gouëno he was once again the winner in the most impressive way. The McLaren MP4 12C pilot took a five second lead and managed to enter the top 10 overall! Runner-up was Anthony Cosson. The former champion celebrated his return to hillclimbing this weekend but could not come close to Courroye. The drivers in FC had some luck in their starting position. Driving between rain showers many of them managed to beat the top GTTS drivers. Geoffray Carcreff was the best of them and third-best touringcar.
27-28/05/2017 – Course de Côte de Saint Gouëno

| Pos. | Last Name | First Name | | Car | Cl. | Final |
| --- | --- | --- | --- | --- | --- | --- |
| 1 | Petit | Sébastien | | Norma M20 FC | CN+ | 1:21,055 |
| 2 | Schatz | Geoffrey | | Reynard 01KL | D/E 6 | 1:23,685 |
| 3 | Frantz | Cyrille | | Norma M20 FC | CN+ | 1:26,620 |
| 4 | Francais | Julien | | Norma M20 FC | CN2 | 1:28,902 |
| 5 | Starck | Corentin | | Norma M20 FC | CN2 | 1:30,212 |
| 6 | Le Beller | Anthony | | Norma M20 FC | CN2 | 1:31,009 |
| 7 | Guillaumard | David | | Norma M20 FC | CN2 | 1:31,733 |
| 8 | Augusto | Olivier | | Norma M20 FC | CN2 | 1:31,767 |
| 9 | Courroye | Pierre | | McLaren MP4 12C | GTTS4 | 1:32,339 |
| 10 | Maitre | Jean-Jacques | | Tatuus PY012 | CN2 | 1:32,559 |
| 11 | Martin | Charlie | | Norma M20 FC | CN2 | 1:32,884 |
| 12 | Meillon | David | | Norma M20F | CN3 | 1:33,040 |
| 13 | Pereira | Dimitri | | Norma M20F | CN2 | 1:33,396 |
| 14 | Collias | Jérôme | | BRC CM05 EVO | CM | 1:35,464 |
| 15 | Le Maitre | Colin | | Dallara F308/11 | D/E 5 | 1:36,639 |
| 16 | Louvet | Sarah | | Dallara F303 Mercedes | D/E 5 | 1:37,183 |
| 17 | Cosson | Anthony | | Porsche 997 GT3 Cup | GTTS4 | 1:37,383 |
| 18 | Carcreff | Geoffray | | Scora Maxi | FC4 | 1:37,814 |
| 19 | Werver | Nicolas | | Porsche 997 GT2 | GTTS4 | 1:37,899 |
| 20 | Schmitter | Christian | | Porsche 997 GT2 | GTTS4 | 1:38,173 |
| 21 | Chupin | Cyrille | | Silver Car S2F EVO | CM | 1:38,643 |
| 22 | Caradeuc | Jordan | | Dallara F398 | D/E 5 | 1:39,125 |
| 23 | Hubert | Martine | | Norma M20F | CN3 | 1:39,260 |
| 24 | Richardeau | Romain | | Simca Rallye III | FC1 | 1:39,492 |
| 25 | Lebot | Clement | | Dallara F301 | D/E 5 | 1:39,608 |
| 26 | Tourillon | Sébastien | | Norma M20 FC | CN2 | 1:39,807 |
| 27 | Burgevin | Xavier | | Jidé | FC3 | 1:39,906 |
| 28 | Nouet | Mathieu | | Simca Rallye II | FC3 | 1:39,953 |
| 29 | Schmitter | Philippe | | Lamborghini Gallardo | GTTS4 | 1:40,084 |
| 30 | Poinsignon | Yannick | | BMW M3 E92 | GTTS4 | 1:40,825 |
| 31 | Vermeille | Xavier | | Norma M20F BMW | CN3 | 1:41,200 |
| 32 | Henry | Jean-Christophe | | Tatuus FR2000 | D/E 7B | 1:41,680 |
| 33 | Poinsignon | Christophe | | Simca CG Turbo | FC4 | 1:42,616 |
| 34 | Pilet | Denis | | Silver Car S2F EVO | CM | 1:43,050 |
| 35 | Mangold | Manuel | | Norma M20 FC | CN2 | 1:43,117 |
| 36 | Janny | Jérôme | | Seat Leon Supercopa | A4 | 1:44,148 |
| 37 | Dorey | Peter | | Dallara F306 Mugen | D/E 5 | 1:44,521 |
| 38 | Louvet | Jean-Jacques | | Norma M20F | CN2 | 1:44,534 |
| 39 | Dosieres | Francis | | Seat Leon Supercopa | A4 | 1:44,566 |
| 40 | Dupont | Sébastien | | Seat Leon Supercopa | A4 | 1:44,622 |
| 41 | Maurel | Julien | | Tatuus FR2000 | D/E 7B | 1:46,321 |
| 42 | Turnel | Jean | | Peugeot 306 | F2000 / 3 | 1:46,343 |
| 43 | Uny | Antoine | | BMW M3 E36 | N4 | 1:47,197 |
| 44 | Durassier | Samuel | | Honda Civic Type-R | F2000 / 3 | 1:48,870 |
| 45 | Dupont | Julien | | Seat Leon Supercopa | A4 | 1:48,937 |
| 46 | Boullenger | Christian | | Renault Clio RS | F2000 / 3 | 1:48,997 |
| 47 | Cammares | Marie | | Tatuus FR2000 | D/E 7B | 1:49,006 |
| 48 | Delamare | Aurélien | | Simca Rallye II | FC1 | 1:49,018 |
| 49 | Bodinier | Philippe | | Simca Rallye III | FC1 | 1:49,259 |
| 50 | Schwarz | Thomas | | Renault Clio Cup | F2000 / 3 | 1:50,054 |
| 51 | Moimeau | Matthieu | | REnault Clio RS | F2000 / 3 | 1:50,522 |
| 52 | Doree | Jean-Yves | | Grac MT14S | CN1 | 1:50,597 |
| 53 | Derre | Pascal | | Renault Clio Cup | A3 | 1:50,630 |
| 54 | Rault | Daniel | | Renault Megane | F2000 / 3 | 1:50,637 |
| 55 | Bineau | Michel | | Nissan Almera Kit-Car | A3 | 1:50,764 |
| 56 | Marchand | Yann | | Dallara F394 | D/E 5 | 1:50,778 |
| 57 | Maurel | Jean-Jacques | | Peugeot 206 S16 | F2000 / 3 | 1:51,119 |
| 58 | Loton | Ferdinand | | Honda Civic Type-R | N3 | 1:51,399 |
| 59 | Le Verne | Frédéric | | Simca Rallye II | FC1 | 1:51,736 |
| 60 | Martineau | Max | | Porsche 997 GT3 Cup | GTTS3 | 1:51,930 |
| 61 | Rault | Freddy | | Renault 5 GT Turbo | F2000 / 3 | 1:52,634 |
| 62 | Descamps | Eric | | Citroën Saxo Cup | A2 | 1:53,129 |
| 63 | Ybert | Lucien | | Dallara F399 | D/E 5 | 1:53,845 |
| 64 | Hervieu | Richard | | Peugeot 306 Maxi | A3 | 1:53,968 |
| 65 | Bossard | Vincent | | Citroën C2 VTS | F2000 / 2 | 1:55,959 |
| 66 | Tkatchenko | Jacques | | Citroën Saxo VTS | A2 | 1:56,168 |
| 67 | Lestienne | Jean-Michel | | Mit-Jet | GTTS1 | 1:56,420 |
| 68 | Loton | Didier | | Honda Civic VTI | N2 | 1:57,131 |
| 69 | Vaillant | Gwenael | | Mit-Jet Light | GTTS1 | 1:57,510 |
| 70 | Thomas | Régis | | BMW 325i E36 | A4 | 1:57,545 |
| 71 | Jacquette | Rodolphe | | Renault 8 Gordini | FC2 | 2:00,166 |
| 72 | Morice | Elouan | | Peugeot 106 S16 | F2000 / 2 | 2:01,457 |
| 73 | Rault | Frédéric | | Talbot Samba Rallye | F2000 / 1 | 2:04,773 |
| 74 | Herve | Jacques | | Honda Civic Type-R | N3 | 2:04,971 |
| 75 | Michaud | Frédéric | | Citroën Saxo VTS | N2 | 2:07,729 |
| 76 | Ginard | Rudy | | Lotus Exige | GT1 | 2:36,076 |
27-28/05/2017 – Course de Côte de Saint Gouëno (VHC)

| Pos. | Last Name | First Name | | Car | Cl. | Final |
| --- | --- | --- | --- | --- | --- | --- |
| 1 | Toupence | Roger-Serge | | Martini MK32 | 8-9/C4 | 1:45,949 |
| 2 | Santarelli | Fernand | | Tiga SC80 | 6-7/C5 | 1:46,035 |
| 3 | Debeaune | Jean-Marc | | Van Diemen RF82 | 8-9/D9 | 1:48,544 |
| 4 | Gadal | Alain | | Porsche 911 RS | 4/B8 | 1:48,885 |
| 5 | Lejeune | Gabriel | | Jidé Original | 5/B5 | 1:54,763 |
| 6 | Demessine | Jean-Claude | | Alpine A110 | 4/B5 | 1:58,236 |
| 7 | Brebant | Philippe | | Alpine A110S | 4/B3 | 2:00,796 |
| 8 | Agostini | Christian | | Ford Mustang 390 GT | 1/A6 | 2:01,470 |
| 9 | Bonnardel | Viviane | | Volkswagen Scirocco | 2/C4 | 2:02,993 |
| 10 | Guelpa | Roger | | Porsche 911 | 4/B8 | 2:05,761 |
| 11 | Ritzenthaler | Michel | | Royale RP24 | 8-9/C4 | 2:05,866 |
| 12 | Brulat | Dominique | | Volkswagen Golf GTI | 1/C4 | 2:11,541 |
27-28/05/2017 – Course de Côte de Saint Gouëno (GB)

| Pos. | Last Name | First Name | | Car | Cl. | Final |
| --- | --- | --- | --- | --- | --- | --- |
| 1 | Carter | Martin | | Radical PR6 | CN1 | 1:35,484 |
| 2 | O'Connell | Paul | | Norma M20B | CN2 | 1:39,054 |
| 3 | Amy | Len | | Mallock MK32 | CN2 | 1:39,055 |
| 4 | Wilkinson | James | | Reynard Opel Lotus | D/E 3 | 1:41,358 |
| 5 | De Lisle | Andy | | Tatuus Renault | D/E 3 | 1:42,540 |
| 6 | Slade | Chris | | Mini Quattro | FC4 | 1:43,199 |
| 7 | Stephens | Rory | | Radical SR8 | CN3 | 1:44,224 |
| 8 | Dugan | Neil | | Peugeot 205 RWD | FC4 | 1:44,880 |
| 9 | Pickles | Martin | | Jedi MK1 | D/E 1 | 1:47,119 |
| 10 | Walker | Ross | | Caterham 7 | GT7 / 1 | 1:47,659 |
| 11 | Millar | Graham | | Ford Escort MK2 | FC3 | 1:47,808 |
| 12 | Wright | Ian | | Caparral 2A | CN3 | 1:48,590 |
| 13 | Sampson | John | | Quantom Xtreme | GT7 / 1 | 1:49,229 |
| 14 | Williams | David | | Ford Escort RS2000 | FC4 | 1:51,207 |
| 15 | Simpson | John | | Vauxhall Astra | FC4 | 1:52,806 |
| 16 | Bruce | Jeff | | BMW Mini | FC2 | 1:53,437 |
| 17 | Slade | Andy | | MG Metro 6r4 | FC4 | 1:53,533 |
| 18 | O'Brien | Ben | | BMW E46 | FC4 | 1:53,891 |
| 19 | Fursland | Steve | | Subaru Legacy | FC4 | 1:55,234 |
| 20 | Bidelux | Mark | | Lotus Elise | GT3 | 1:56,478 |
| 21 | Nunn | Tim | | Westfield | GT7 / 1 | 1:56,652 |
| 22 | Aves | Mathew | | Caterham HPC | GT7 / 1 | 1:56,915 |
| 23 | Morcom | Paul | | Merlin Formula Ford | D/E 2 | 1:56,946 |
| 24 | Littler | Chris | | Clan Crusader | GT1 | 1:57,322 |
| 25 | Wilkinson | Howard | | Radical Prosports | CN1 | 1:57,560 |
| 26 | Laing | Stephen | | Caterham R500 | GT7 / 1 | 1:57,666 |
| 27 | Drew | Alan | | Honda Civic | FC2 | 1:57,812 |
| 28 | Bennets | Bob | | Mini Cooper S | FC1 | 1:58,094 |
| 29 | Walton | Peter | | Austin Healey | GT4 | 1:59,011 |
| 30 | King | Stephen | | Austin Mini | FC1 | 1:59,587 |
| 31 | Walker | Tom | | Austin Healey | GT4 | 1:59,861 |
| 32 | Crewes | Peter | | Mini Cooper S | FC2 | 2:00,332 |
| 33 | Fitzgerald | Desmond | | Toyota MR2 | GT3 | 2:00,462 |
| 34 | Lancashire | Mick | | Avon Sprint | GT7 / 1 | 2:00,638 |
| 35 | Pitt | Garry | | Ford Escort MK2 | FC3 | 2:00,752 |
| 36 | Leach | Martin | | Lotus Europa | GT3 | 2:01,872 |
| 37 | Casson | Stephen | | Austin Healey Coupé | GT2 | 2:01,924 |
| 38 | Giddings | Jim | | Triumph TR8 | GT4 | 2:02,168 |
| 39 | Baker | Paul | | Austin Healey MK3 | GT4 | 2:02,356 |
| 40 | Neary | Jerry | | Westfield SEi | GT7 / 1 | 2:02,378 |
| 41 | Thomas | Howard | | Crossle 9S | CN2 | 2:02,452 |
| 42 | Potter | Mike | | Subaru Impreza | FC4 | 2:02,552 |
| 43 | Abram | David | | Austin Healey Sebring Sprite | GT2 | 2:02,785 |
| 44 | O'Shea | Mick | | MG B GT | GT3 | 2:02,882 |
| 45 | Pick | John | | MG Metro 6r4 | FC4 | 2:04,612 |
| 46 | Cooper | Eamon (Pat) | | Austin Healey 100/6 | GT4 | 2:04,658 |
| 47 | Davey | John | | MG Midget | GT2 | 2:04,984 |
| 48 | Mason | Richard | | Austin Healey MK2 | GT4 | 2:05,154 |
| 49 | Bray | Roy | | Ford Escort MK1 | FC3 | 2:05,707 |
| 50 | Lloyd | John | | TVR Vixen | GT3 | 2:06,736 |
| 51 | Letherby | Clive | | Triumph TR6 | GT4 | 2:07,510 |
| 52 | Breach | Neville | | Hilman Avenger Tiger | FC2 | 2:08,068 |
| 53 | Hunter | David | | Royale RP31 M/Z | D/E 3 | 2:09,312 |
| 54 | Meyer | Graham | | Rover MG TC | GT1 | 2:10,261 |
| 55 | Lane | David | | Jensen Healey | GT3 | 2:11,448 |
| 56 | Padfield | Lyn | | Lotus Seven | GT7 / 1 | 2:12,233 |
| 57 | Conway | Richard | | Volvo PV544 | FC3 | 2:13,058 |
| 58 | McKinley | Dierdre | | Fiat Cinquecento | FC1 | 2:13,151 |
| 59 | Mackrell | Joseph | | Austin Healey Sprite MK1 | GT2 | 2:13,620 |
| 60 | Edwards | Huw | | Austin Healey MK3 | GT4 | 2:14,982 |
| 61 | McGuinnes | Derek | | Hyundai Accent | FC1 | 2:15,151 |
| 62 | Tarr | Mike | | Lotus 23B | CN1 | 2:16,339 |
| 63 | McIlroy | Trevor | | Austin Healey Sebring Sprite | GT2 | 2:16,384 |
| 64 | Bell | Sheridan | | Alpine A110 | GT1 | 2:17,908 |
| 65 | Jeffery | Allan | | Ford Mustang | FC4 | 2:20,957 |
| 66 | Kendall | Graham | | Ford Anglia | FC2 | 2:20,977 |
| 67 | Shand | James | | Austin Healey Sprite MK2 | GT1 | 2:24,169 |
| 68 | Atkin | Lynn | | MG TC | GT1 | 2:39,500 |