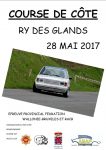 The Belgian Hillclimb Championship will visit five races in five consecutive weekends. The first of this tour was the Course de Côte de Ry des Glands. This 4 kilometre long hillclimb was last contested in 2011. Because of the weather and the long delays the really fast times were not achieved. Still the average speed of the winner was over 166 km/h!
That winner was Jacques Marchal. Driving again in his well known Norma M20F sportscar set fastest time of the day already in the first timed race. Emmanuel Gonay was right behind him in second place. The two leaders could not improve their times anymore the rest of the day. Anthony Loeuilleux and Georges Hubert on the other took some time to warm-up. They scored their fastest times in the third and final race of the day. This placed them third and fourth overall respectively. Jacky Gourdet finished fifth overall while Yanick Bodson was the fastest touringcar driver in sixth.
The Ry des Glands Hillclimb also counted towards the regional hillclimb. Julien Vandeput is virtually unchallenged in division 4. With his Van Diemen Suzuki he was once again the quickest driver of the field. On this superfast hillclimb it is important to keep the momentum in your car. This gives an opportunity for very brave drivers who drive smaller cars to score a good result. For example Daniel Dierckx scored his best result yesterday with sixth overall. But the bravest of them all was Christophe Lenouvel. With his Citroën AX he was massively quicker than anyone else and best touringcar driver. If he had driven in the national event, he would have been very close to Yanick Bodson! The more powerful cars had to settle for the smaller trophies. Alain Cricus had only one set of tires with him which was a big problem in the changing weather. Still the Porsche 996 GT3 pilot finished third-best in division 1-2-3 behind Francis Gilles. Olivier Dubois scored some valuable points in the championship race with fourth in the touringcars.
28/05/2017 – Course de Côte de Ry des Glands

| Pos. | Last Name | First Name | | Car | Cl. | Final |
| --- | --- | --- | --- | --- | --- | --- |
| 1 | Marchal | Jacques | | Norma M20F | CN20 | 1:28,14 |
| 2 | Gonay | Emmanuel | | Ligier JS53 E2 | CN19 | 1:28,71 |
| 3 | Loeuilleux | Anthony | | Tatuus Master | D/E 17 | 1:29,19 |
| 4 | Hubert | Georges | | Norma M20 EVO | CN20 | 1:30,68 |
| 5 | Gourdet | Jacky | | Ligier JS49 | CN19 | 1:36,74 |
| 6 | Bodson | Yanick | | Porsche 997 GT3 | E1 10 | 1:36,85 |
| 7 | Boemer | Didier | | Lola B06/30 | D/E 16 | 1:37,98 |
| 8 | Straga | Gregory | | Reynard Opel Lotus | D/E 17 | 1:40,83 |
| 9 | Adami | Erwin | | PRM Funboost | CM13 | 1:44,65 |
| 10 | Saintmard | Gilles | | Dallara F393 | D/E 16 | 1:45,79 |
| 11 | Casciaro | Fabrizio | | Honda Civic | E1 8 | 1:46,27 |
| 12 | Schwilden | Eric | | Peugeot 205 Targez | E1 8 | 1:47,16 |
| 13 | Emond | Stephane | | BMW M3 | E1 10 | 1:48,43 |
| 14 | Braquet | Roland | | Tatuus FR2000 | D/E 17 | 1:50,57 |
| 15 | Bach | Martin | | Mitsubishi Lancer EVO VI | E1 10 | 1:50,88 |
| 16 | De Sutter | Jean | | Lotus Exige | E1 10 | 1:51,42 |
| 17 | Durieu | Denis | | Volkswagen Beetle Superfun | EX12 | 1:51,53 |
| 18 | Duquenois | David | | PRM Funboost | CM13 | 1:51,54 |
| 19 | Soisson | Claude | | Opel Manta | E1 8 | 1:52,81 |
| 20 | Lavalle | Nicolas | | BMW 323i | E1 9 | 1:52,90 |
| 21 | Swinkels | Johnny | | Porsche 996 | E1 10 | 1:53,35 |
| 22 | Lejeune | Eric | | Peugeot 306 | E1 8 | 1:55,10 |
| 23 | Marechal | Henri | | Renault Clio Cup | A5 | 1:56,85 |
| 24 | Nicolay | David | | BMW E30 | E1 8 | 2:00,49 |
| 25 | Cordier | Loic | | Volkswagen Polo | E1 8 | 2:06,75 |
| 26 | Van Leent | Eric | | Volkswagen Golf III | E1 8 | 2:08,10 |
| 27 | De Wachter | Philippe | | Alfa Romeo 75 | N3 | 2:08,82 |
| 28 | Michotte | Yvan | | Peugeot 206 RC | N2 | 2:09,29 |
| 29 | De Saedeleer | Bart | | Fiat 500 VRC | EX11 | 2:12,93 |
| 30 | Vermeylen | Eric | | Funyo 4RS | CM13 | 2:13,41 |
| 31 | Vansteembergem | Davy | | BMW E36 Coupé | E1 9 | 2:35,73 |
28/05/2017 – Course de Côte de Ry des Glands (Regional)

| Pos. | Last Name | First Name | | Car | Cl. | Final |
| --- | --- | --- | --- | --- | --- | --- |
| 1 | Vandeput | Julien | | Van Diemen Suzuki | 4/15 | 3:17,09 |
| 2 | Lenouvel | Christophe | | Citroën AX GTI | 3/11 | 3:23,88 |
| 3 | Gilles | Francis | | Ford Escort Cosworth | 2/8 | 3:34,90 |
| 4 | Cricus | Alain | | Porsche 996 GT3 | 2/8 | 3:38,93 |
| 5 | Dubois | Olivier | | Lotus Elise | 3/13 | 3:44,04 |
| 6 | Dierckx | Daniel | | Citroën C2 | 2/6 | 3:50,12 |
| 7 | Leclerc | Arnaud | | Renault Clio | 2/7 | 3:55,61 |
| 8 | Dubois | Michel | | Lotus Elise | 3/13 | 3:56,26 |
| 9 | Ciuca | Romain | | Opel Kadett GT/E | 3/13 | 4:00,07 |
| 10 | Breulet | Valentin | | Peugeot 106 | 2/6 | 4:01,19 |
| 11 | Legendre | Frederic | | Opel Kadett GT/E | 3/12 | 4:02,49 |
| 12 | Deminne | Philippe | | Nissan Micra | 2/5 | 4:02,49 |
| 13 | Re | Gino | | Westfield SEi | 2/7 | 4:03,12 |
| 14 | Pauporte | Marc | | Mini Cooper S | 2/8 | 4:04,43 |
| 15 | Lejeune | Guillaume | | BMW 318is | 2/7 | 4:05,93 |
| 16 | Devillez | Leslie | | Opel Astra | 2/7 | 4:06,37 |
| 17 | Leroy | Jordan | | Volkswagen Golf II | 2/7 | 4:08,86 |
| 18 | Dauvin | Anthony | | Peugeot 106 | 3/10 | 4:12,14 |
| 19 | Delcroix | Christophe | | Audi TT | 2/8 | 4:13,52 |
| 20 | Welter | Rene | | Westfield ZEi | 1/3 | 4:13,68 |
| 21 | Denis | Philippe | | Ford Focus | 1/3 | 4:15,17 |
| 22 | Chevrier | Fabien | | Citroën Saxo | 2/6 | 4:15,72 |
| 23 | Halleux | Joseph | | Ford Puma | 2/7 | 4:22,46 |
| 24 | Saussus | Julien | | Ford Fiesta | 1/2 | 4:24,66 |
| 25 | Gelinne | Christophe | | Opel Kadett | 2/7 | 4:26,69 |
| 26 | Devaux | Marc | | Citroën Saxo | 1/2 | 4:34,01 |
| 27 | Lejeune | Marjolaine | | Peugeot 106 | 2/5 | 4:34,03 |
| 28 | Vanbever | Yannick | | Proto Huyvan | 4/15 | 4:35,45 |
| 29 | Moreau | Kevin | | Citroën AX GTI | 3/10 | 4:35,90 |
| 30 | Libert | Christophe | | Opel Kadett | 2/7 | 4:44,84 |
| 31 | Dauvin | Dominique | | Peugeot 106 | 2/5 | 4:47,14 |
| 32 | Marin | Christian | | Peugeot 106 | 3/11 | 4:53,35 |
| 33 | Stojka | Malory | | Suzuki Swift | 2/5 | 4:54,01 |