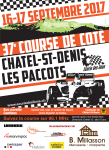 The Course de Côte de Châtel-Saint-Denis / Les Paccots was the final round of the Swiss Hillclimb Championship. Marcel Steiner had already secured himself the title last week and decided to skip this race. Frédéric Neff won the title by default after Roger Schnellmann had to withdraw with technical problems.
The weather conditions were very difficult this year. Light rain was followed by sunshine and then hard rain. Picking the correct tyres was a big gamble for everyone. Right before the singleseaters began their first race the rain started coming down hard. All the drivers were lined up with slick tyres. Robin Faustini decided that it was too dangerous and withdrew from the startline. For this action he was promptly disqualified. All singleseaters were on slicks… well except one. Joël Grand made the correct gamble and set the fastest time. In the second race he succesfully defended his lead. His luck kept going as the third race was cancelled because of the difficult conditions. This meant that Grand scored his first ever overall victory. A great end to his season. His race winning Tatuus Master will change hands (for one event) as Robin Faustini will pilot the car in Mickhausen.
While the singleseaters struggled in the rain, the touringcars had better conditions. Thomas Kessler was initially the fastest driver but in the very end he was passed by Romeo Nüslli. The two also finished second and third overall. For Nüssli his victory means that he ends up third in the touringcar championship. New champion Frédéric Neff finished fourth overall and also claimed his 12th consecutive InterSwiss victory. Last year's winner Eric Berguerand struggled with the tyres and ended up fifth overall.
16-17/09/2017 – Course de Côte de Châtel-Saint-Denis / Les Paccots

| Pos. | Last Name | First Name | | Car | Cl. | Final |
| --- | --- | --- | --- | --- | --- | --- |
| 1 | Grand | Joël | | Tatuus Master | E2-SS 2000 | 2:13,735 |
| 2 | Nüssli | Romeo | | Ford Escort Cosworth | E1 +3500 | 2:13,755 |
| 3 | Kessler | Thomas | | Mitsubishi Lancer | E1 +3500 | 2:16,761 |
| 4 | Neff | Frédéric | | Porsche 996 Cup | IS +3000 | 2:19,783 |
| 5 | Berguerand | Eric | | Lola FA99 | E2-SS 3000 | 2:20,123 |
| 6 | Nüssli | Sandro | | Tatuus Renault | E2-SS 2000 | 2:20,615 |
| 7 | Zemp | Michel | | Seat Leon TCR | E1 3500 | 2:23,857 |
| 8 | Balmer | Christian | | Tatuus Master | E2-SS 2000 | 2:24,194 |
| 9 | Winiger | Richard | | Porsche 997 GT3 Cup | E1 +3500 | 2:24,523 |
| 10 | Bertocchi | Mario | | BMW E36 | E1 3500 | 2:24,978 |
| 11 | Genoud | Alexandre | | BMW 320 WTCC | E1 3500 | 2:25,197 |
| 12 | Burri | Stephan | | Volkswagen Polo | E1 1600 | 2:26,340 |
| 13 | Murcia | Arnaud | | Mitsubishi Lancer EVO VII | E1 +3500 | 2:26,441 |
| 14 | Winiger | Fabrice | | Seat Cup Racer | E1 3500 | 2:26,732 |
| 15 | Pfefferlé | Alain | | Porsche 935 | H +3500 | 2:27,449 |
| 16 | Fuhrer | Rudi | | Honda CRX | E1 2000 | 2:27,687 |
| 17 | Kistler | Dany | | Audi RS2 Quattro | E1 +3500 | 2:27,837 |
| 18 | Favre | Bertrand | | BMW E30 | E1 3000 | 2:28,260 |
| 19 | Bürki | Martin | | Volkswagen Polo | IS 1600 | 2:28,331 |
| 20 | Cereghetti | Aramis | | BMW M5 E34 | E1 +3500 | 2:29,398 |
| 21 | Buehrer | Nicolas | | BMW M1 | H 3500 | 2:30,095 |
| 22 | Beyeler | Etienne | | Opel Ascona B | E1 3000 | 2:30,782 |
| 23 | Coquoz | Sebastien | | Opel Kadett GT/E | E1 2000 | 2:30,965 |
| 24 | Girard | Maurice | | BMW M1 | H 3500 | 2:31,094 |
| 25 | Vallat | Patrick | | Volkswagen Golf II | IS 2000 | 2:31,607 |
| 26 | Milliquet | Cedric | | Mitsubishi Lancer EVO VI | E1 3500 | 2:31,708 |
| 27 | Nicole | Benjamin | | BMW 2002 Ti | E1 3000 | 2:32,077 |
| 28 | Andrey | Thomas | | Peugeot 405 | IS 2000 | 2:32,348 |
| 29 | Marty | Roman | | Opel Kadett C | IS 3000 | 2:32,527 |
| 30 | Siggen | Grégoire | | Lola T96/50 | E2-SS 3000 | 2:32,607 |
| 31 | Leuenberger | Frédéric | | Renault Clio RS | E1 2000 | 2:32,785 |
| 32 | Mächler | Albin | | BMW M2 | E1 +3500 | 2:32,874 |
| 33 | Raemy | Philippe | | Peugeot 306 | IS 2000 | 2:33,165 |
| 34 | Hedinger | Patrick | | Peugeot 205 GTI | IS 2000 | 2:33,426 |
| 35 | Villoz | Hervé | | Renault Clio RS | IS 2000 | 2:33,967 |
| 36 | Oertig | Beat | | Peugeot 106 Maxi | E1 1600 | 2:34,357 |
| 37 | Chariatte | Sylvain | | Volkswagen Golf GTI | E1 1600 | 2:34,409 |
| 38 | Halter | Joe | | Mitsubishi Lancer EVO VII | N +3000 | 2:34,861 |
| 39 | Ochsner | Jürg | | Opel Kadett C | IS 2000 | 2:35,247 |
| 40 | Monnier | Ludovic | | Volkswagen Golf | IS 2000 | 2:35,352 |
| 41 | Kuhn | Sergio | | Peugeot 206 RC | IS 2000 | 2:35,380 |
| 42 | Mariaux | Florent | | BMW E30 | E1 3000 | 2:35,686 |
| 43 | Lanz | Andreas | | Toyota Corolla AE86 | IS 1600 | 2:35,952 |
| 44 | Spiess | Erwin | | Renault Clio RS | E1 2000 | 2:35,960 |
| 45 | Ruch | René | | Ferrari F355 GT | E1 +3500 | 2:36,250 |
| 46 | Nicolet | Jérôme | | Renault Clio Cup | E1 2000 | 2:36,654 |
| 47 | Emch | Jean-Luc | | BMW M3 | E1 3000 | 2:36,867 |
| 48 | Burri | Rolf | | Opel Kadett C | IS 3000 | 2:37,035 |
| 49 | Marmorat | Alain | | Seat Leon Supercopa | E1 3500 | 2:37,431 |
| 50 | Schorderet | Yann | | Volkswagen Golf II | IS 2000 | 2:38,677 |
| 51 | Meier | Gilbert | | Honda Integra | IS 2000 | 2:38,873 |
| 52 | Piccina | Julien | | Volkswagen Scirocco | IS 2000 | 2:39,251 |
| 53 | Eberle | Harry | | Opel Kadett C | IS 3000 | 2:39,451 |
| 54 | Banz | Armin | | Opel Kadett C | IS 3000 | 2:39,965 |
| 55 | Petit | Ronan | | BMW 323Ti Compact | E1 3000 | 2:40,429 |
| 56 | Plancherel | Jérôme | | Renault Clio Cup | E1 2000 | 2:41,333 |
| 57 | Tapparel | Eddy | | Opel Kadett C | E1 2000 | 2:41,815 |
| 58 | Fernandes | Ricardo | | BMW M3 | E1 3500 | 2:42,346 |
| 59 | Bracelli | Yves | | Peugeot 106 GTI | A 2000 | 2:43,040 |
| 60 | Nicolas | Gerard | | McLaren MP4 12c | GT +3000 | 2:43,970 |
| 61 | Baeriswyl | Heribert | | Alpine A310 | H 2000 | 2:43,978 |
| 62 | Zihlmann | Roland | | Volkswagen Golf I | IS 1600 | 2:44,078 |
| 63 | Mathys | Hans-Ulrich | | Fiat Uno | IS 1400 | 2:44,430 |
| 64 | Comby | Alexandre | | Porsche 934/5 | IS +3000 | 2:44,611 |
| 65 | Schenk | Simon | | Audi S3 Turbo | E1 3500 | 2:44,877 |
| 66 | Biaggi | Gaetan | | Volkswagen Golf I | E1 2000 | 2:45,818 |
| 67 | Schöpfer | Stefan | | Audi 50 | IS 1400 | 2:46,908 |
| 68 | Piccinato | Giuliano | | Honda Integra Type-R | SS 2000 | 2:47,278 |
| 69 | Weber | Damien | | BMW 323i | IS 3000 | 2:47,796 |
| 70 | Pillonel | Yann | | BMW 325i | IS 3000 | 2:47,909 |
| 71 | Santos | Ted | | Seat Ibiza | IS 3000 | 2:48,141 |
| 72 | Metroz | Alex | | Ford Sierra Cosworth | IS 3500 | 2:48,816 |
| 73 | Sigrist | Hans | | Renault Clio | E1 2000 | 2:49,425 |
| 74 | Gfeller | Heinz | | Ford Fiesta ST | E1 1600 | 2:49,660 |
| 75 | Jolidon | Nicolas | | BMW 130i | E1 3000 | 2:50,572 |
| 76 | Pauli | Walter | | Alpine A110 | H 1400 | 2:51,159 |
| 77 | Marchand | Quentin | | Ford Fiesta | A 2000 | 2:51,287 |
| 78 | Schneider | Dominic | | Citroën Saxo | IS 1600 | 2:52,048 |
| 79 | Stockli | Patrick | | Honda Integra Type-R | SS 2000 | 2:53,099 |
| 80 | Schopfer | Julien | | Peugeot 106 | N 2000 | 2:53,830 |
| 81 | Luig | Michael | | Renault Clio Ragnotti | A 2000 | 2:54,315 |
| 82 | Krähenbühl | Andre | | Honda Integra Type-R | SS 2000 | 2:54,508 |
| 83 | Gerber | Patrick | | Honda Integra | SS 2000 | 2:54,673 |
| 84 | Raemy | Ole | | Lada 2101 | E1 1600 | 3:01,200 |
| 85 | Roussel | Joel | | Lola B02/50 | E2-SS 3000 | 3:01,362 |
| 86 | Kuhn | Oski | | Honda Integra | SS 2000 | 3:02,785 |
| 87 | Bovier | Jean-Pierre | | Austin Cooper RS | E2-SH 1400 | 3:03,988 |
| 88 | Aubort | Patrick | | Renault Clio | N 2000 | 3:05,809 |
| 89 | Gerber | Urs | | Suzuki Swift | SS 2000 | 3:10,825 |
| 90 | Hungerbühler | Thomas | | Opel Astra Coupé | SS +3000 | 3:11,357 |
| 91 | Berguerand | Louis | | Tatuus FR2000 | E2-SS 2000 | 3:12,254 |
| 92 | Bonsera | Michel | | Peugeot 106 GTI | IS 1600 | 3:13,976 |
| 93 | Spring | Andreas | | BMW 318is E36 | A 2000 | 3:21,451 |
| 94 | Hafner | Marc | | Arcobaleno KHC | E2-SS 1600 | 3:23,475 |
| 95 | Rey | Roger | | Martini MK45 | E2-SS 1600 | 3:56,929 |
| 96 | Burkart | Andreas | | Talbot Darracq T150C | H +3500 | 4:33,145 |
| E | Faustini | Robin | | Reynard 92D | E2-SS 3000 | |
16-17/09/2017 – Course de Côte de Châtel-Saint-Denis / Les Paccots (Regional)

| Pos. | Last Name | First Name | | Car | Cl. | Final |
| --- | --- | --- | --- | --- | --- | --- |
| 1 | Von Rotz | Dominic | | Audi A4 | L4 +2000 | 2:30,866 |
| 2 | Grispino | Claudio | | Renault 5 Williams | E1 2000 | 2:31,223 |
| 3 | Jakober | Patrick | | Volkswagen Golf | E1 2000 | 2:34,961 |
| 4 | Roberto | Nicola | | Peugeot 205 | E1 2000 | 2:35,277 |
| 5 | Bernard | Cédric | | Subaru Impreza WRX | L2 +3000 | 2:37,832 |
| 6 | Stacchi | Mattia | | BMW M3 | E1 2500 | 2:38,690 |
| 7 | Bombardier | Alain | | Renault Clio III Cup | E1 2000 | 2:39,565 |
| 8 | Jaquemet | Stéphane | | Renault Clio Cup | E1 2000 | 2:39,866 |
| 9 | Hofer | Thomas | | Citroën Saxo VTS | IS 1600 | 2:43,361 |
| 10 | Pittet | Stéphane | | Renault Clio III Cup | E1 2000 | 2:43,877 |
| 11 | Bitto | Giuseppe | | Renault Clio Cup | E1 2000 | 2:44,390 |
| 12 | Bochez | Alexandre | | Volkswagen Golf I GTI | IS 2000 | 2:45,189 |
| 13 | Pasche | Nicolas | | Renault Clio Ragnotti | N 2000 | 2:45,454 |
| 14 | Cavadini | Jean-Philippe | | Subaru Impreza GT | N +2000 | 2:46,833 |
| 15 | Durussel | Dylan | | Peugeot 206 | L4 2000 | 2:51,028 |
| 16 | Genoud | Sébastien | | Renault Clio RS | E1 2000 | 2:51,163 |
| 17 | Fleury | Sébastien | | Renault Clio | A 2000 | 2:52,605 |
| 18 | Bochez | Olivier | | Volkswagen Golf I GTI | IS 2000 | 2:54,736 |
| 19 | Droz | Daniel | | Volkswagen Jetta | E1 1600 | 2:55,727 |
| 20 | Frioud | David | | Peugeot 106 S16 | E1 1600 | 2:56,820 |
| 21 | Werlé | Loïc | | Renault Clio | IS 2000 | 2:58,149 |
| 22 | Carapella | Mario | | Seat Ibiza Cupra | L4 2000 | 3:00,555 |
| 23 | Morel | Eric | | Arcobaleno Yamaha | E2-SS 1150 | 3:01,842 |
| 24 | Jaunin | Pierre-André | | Alfa Romeo 75 | E1 2500 | 3:02,918 |
| 25 | Blanc | Vincent | | Peugeot 106 | N 1600 | 3:04,225 |
| 26 | Jeanneret | Kilian | | Volkswagen Polo | IS 1600 | 3:05,135 |
| 27 | Diehl | Daniel | | Toyota Corolla AE92 | IS 1600 | 3:06,220 |
| 28 | Mingard | Brian | | Citroën Saxo | N 1600 | 3:19,294 |
| 29 | Mingard | Raphael | | Citroën Saxo | N 1600 | 3:43,303 |