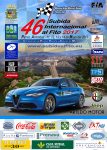 Christian Merli was the winner of the Subida Al Fito this weekend. The Italian drove a flawless event as evidenced by the fact that his times were nearly identical in both runs. With this victory Merli ends the five year winning streak of Simone Faggioli. The former winner himself had electrical problems but still managed to win E2-SC. After three rounds of the European Championship the score is now 2-1 in favour of Merli, although in points they are still equal.
In the E2-SS class Paride Macario had to retire early with gearbox issues. After the retirement of Renzo Napione there were just two drivers left, Christian Merli and Fausto Bormolini. In E2-SC Andrés Vilariño was the runner-up. He was closely followed by Portuguese champion Pedro Salvador. Fourth place was surprisingly for French guest driver Pascal Campi. He advanced Petr Trnka, Fabien Bouduban and his compatriot Franck Bellieres. Marco Capucci managed to defeat Stefano Crespi for CN victory. Both of them were actually slower than Andrea Bormolini all weekend, but the young Osella PA20/S pilot ran into trouble in the final race. Vladimir Vitver was the winner in E2-SH against local opposition.
In Category II "Tessitore" was the winner of the Group GT. Lukas Vojacek faced 4 rivals from Spain. The Czech managed to beat them all and score maximum points. Tomas Vavrinec was the quickest in Group N. But he had only one rival so his victory only gave him half points. Finally Sergi Pañella was the only competitor in S2000.
The event also counted towards the Spanish Championship and the Asturias Championship. Andres Vilariño, Cesar Rodriguez and Kike Perello were the category winners for the Spanish Championship and Javier Villa was the best in the Asturias Championship.

13-14/05/2017 – Subida a El Fito (Europe)

| Pos. | Last Name | First Name | | Car | Cl. | Final |
| --- | --- | --- | --- | --- | --- | --- |
| 1 | Merli | Christian | | Osella FA30 | E2-SS 3000 | 4:55,581 |
| 2 | Faggioli | Simone | | Norma M20 FC | E2-SC 3000 | 5:02,494 |
| 3 | Vilariño | Andres | | Norma M20F | E2-SC 3000 | 5:17,094 |
| 4 | Salvador | Pedro | | Silver Car EF10 | E2-SC 2000 | 5:23,175 |
| 5 | Bormolini | Fausto | | Reynard K02 | E2-SS 3000 | 5:29,396 |
| 6 | Campi | Pascal | | Osella PA20/S | E2-SC 3000 | 5:43,510 |
| 7 | Trnka | Petr | | Ligier JS53 E2 | E2-SC 2000 | 5:44,563 |
| 8 | Bouduban | Fabien | | Norma M20 FC | E2-SC 2000 | 5:46,501 |
| 9 | Capucci | Marco | | Osella PA21/S EVO | CN 2000 | 5:52,561 |
| 10 | Crespi | Stefano | | Osella PA21/S EVO | CN 2000 | 5:54,616 |
| 11 | Vitver | Vladimir | | Audi TT-R DTM | E2-SH +3000 | 6:02,457 |
| 12 | Bouvier | Christian | | Wolf GB08 | CN 2000 | 6:10,729 |
| 13 | Bellieres | Franck | | Osella PA27 | E2-SC 3000 | 6:13,779 |
| 14 | "Tessitore" | | | Porsche 997 GT3 Cup | GT +3000 | 6:15,098 |
| 15 | Jerman | Martin | | Lamborghini Gallardo GT3 | GT +3000 | 6:18,511 |
| 16 | Ortuño | Antonio | | Mitsubishi Lancer EVO VI | E2-SH 3000 | 6:25,516 |
| 17 | Hommeau | Antoine | | Renault Clio | E2-SH 2000 | 6:27,765 |
| 18 | Milon | Jan | | BMW Z4 GT3 | GT +3000 | 6:29,577 |
| 19 | Vavrinec | Tomas | | Mitsubishi Lancer EVO IX | N +3000 | 6:29,972 |
| 20 | Pañella | Sergi | | Mitsubishi Lancer EVO X R4 | S2 +3000 | 6:31,462 |
| 21 | Sanz | Francisco Javier | | Ford Escort Zakspeed | E2-SH 2000 | 6:31,581 |
| 22 | Vojacek | Lukas | | Subaru Impreza STi | A +3000 | 6:31,949 |
| 23 | Rueda | Clemente | | Norma M20 FC | E2-SC 3000 | 6:33,146 |
| 24 | Alvarez | Carla | | Seat Leon Supercopa MK2 | E2-SH 2000 | 6:37,988 |
| 25 | Bormolini | Andrea | | Osella PA20/S | CN 3000 | 6:38,821 |
| 26 | Fernandez | Hugo | | Subaru Impreza | A 2000 | 6:41,008 |
| 27 | Blanco | José | | Mitsubishi Lancer EVO IX | N +3000 | 6:45,357 |
| 28 | Abia | Juan José | | Porsche 997 GT3 | GT +3000 | 6:48,901 |
| 29 | Andres | Ramon | | Peugeot 206 | A 1600 | 6:52,846 |
| 30 | Batalla | Hugo | | Peugeot 206 | A 1600 | 6:55,373 |
| 31 | Pelaez | Eugenio | | Mitsubishi Lancer EVO X | E2-SH 3000 | 6:58,937 |
| 32 | Garcia | Jacobo | | Peugeot 206 S1600 | A 1600 | 7:01,710 |
| 33 | Cuesta | José Luis | | Volkswagen Polo N1 | E2-SH 2000 | 7:31,876 |
13-14/05/2017 – Subida a El Fito (Spain)

| Pos. | Last Name | First Name | | Car | Cl. | Final |
| --- | --- | --- | --- | --- | --- | --- |
| 1 | Vilariño | Andres | | Norma M20F | 1/E2-SC | 5:13,886 |
| 2 | Salvador | Pedro | | Silver Car EF10 | 1/E2-SC | 5:22,619 |
| 3 | Villa | Javier | | BRC B-52 | 1/CM+ | 5:25,598 |
| 4 | Aviles | Manuel | | BRC B-49 | 1/CM+ | 5:39,518 |
| 5 | Rodriguez | Cesar | | Silver Car S2 | 2/CM | 5:41,384 |
| 6 | Garcia | José Albino | | Silver Car S2 | 1/CM+ | 5:43,599 |
| 7 | Garcia | Ismael | | Silver Car EF10 | 1/E2-SC | 5:44,169 |
| 8 | Flores | Garikoitz | | BRC B-49 | 2/CM | 5:46,055 |
| 9 | Ordoki | Arkaitz | | BRC B-49 | 2/CM | 5:48,890 |
| 10 | Guardado | David | | Silver Car S2 | 2/CM | 5:55,175 |
| 11 | Montella | Edgar | | Speed Car GTR | 2/CM | 5:57,423 |
| 12 | Mayol | Pedro | | Talex M1 | 2/CM | 5:57,464 |
| 13 | Olea | Joseba | | Demon Car R34 | 1/CM+ | 5:57,706 |
| 14 | Busta | José Fermin | | Silver Car S2 | 2/CM | 5:59,686 |
| 15 | Llamedo | Emilio | | Silver Car S2 | 2/CM | 6:02,839 |
| 16 | Amantegui | Kepa | | Demon Car R34 | 1/CM+ | 6:08,396 |
| 17 | Ariete | Toni | | BRC B-49 | 1/CM+ | 6:08,439 |
| 18 | Perello | Kike | | Ford Fiesta Proto | 3/E1 | 6:15,334 |
| 19 | Veci | Pedro | | Speed Car GTR | 2/CM | 6:20,142 |
| 20 | Artidiello | Adrian | | Speed Car GT | 2/CM | 6:21,131 |
| 21 | Pañella | Sergi | | Mitsubishi Lancer EVO X R4 | 3/R | 6:21,661 |
| 22 | Gutierrez | Miguel | | Speed Car GT | 2/CM | 6:22,856 |
| 23 | Ortuño | Antonio | | Mitsubishi Lancer EVO VI | 3/E1 | 6:25,516 |
| 24 | Cabo | Jonathan | | Renault Clio Kit-Car | 3/E1 | 6:30,836 |
| 25 | Sanz | Francisco Javier | | Ford Escort Zakspeed | 3/H | 6:31,581 |
| 26 | Rueda | Clemente | | Norma M20 FC | 1/CN | 6:33,146 |
| 27 | Solis | Xabel | | Peugeot 106 S16 | 3/E1 | 6:33,237 |
| 28 | Jimenez | Francisco | | Mitsubishi Lancer EVO X | 3/N | 6:36,436 |
| 29 | Alvarez | Carla | | Seat Leon Supercopa | 3/A2 | 6:37,988 |
| 30 | Sanchez | Daniel | | Peugeot 106 | 3/E1 | 6:40,331 |
| 31 | Fernandez | Hugo | | Subaru Impreza | 3/A | 6:41,008 |
| 32 | Castaedo | Fernando | | Renault Clio Ragnotti | 3/N | 6:41,285 |
| 33 | Crespo | Boris | | Peugeot 106 S16 | 3/E1 | 6:42,572 |
| 34 | Martino | Pablo | | Renault Clio Ragnotti | 3/N | 6:42,662 |
| 35 | Domenech | Alberto | | BMW M3 E92 | 3/GT | 6:44,715 |
| 36 | Blanco | José | | Mitsubishi Lancer EVO IX | 3/N | 6:45,357 |
| 37 | Abia | Juan José | | Porsche 997 GT3 | 3/GT | 6:48,901 |
| 38 | Perez | José Enrique | | Peugeot 205 | 3/E1 | 6:49,756 |
| 39 | Cuesta | José Luis | | Volkswagen Polo N1 | 3/E1 | 6:51,327 |
| 40 | Andres | Ramon | | Peugeot 206 | 3/A | 6:52,846 |
| 41 | Diez | Ignacio | | Citroën C2 | 3/A | 6:54,336 |
| 42 | Batalla | Hugo | | Peugeot 206 | 3/A | 6:55,373 |
| 43 | Pelaez | Eugenio | | Mitsubishi Lancer EVO X | 3/N+ | 6:58,937 |
| 44 | Garcia | Hector | | Renault 5 GT Turbo | 3/H | 7:00,559 |
| 45 | Albendea | Juan Carlos | | Volkswagen Golf II | 3/H | 7:01,621 |
| 46 | Huerta | Ignacio | | Peugeot 106 S16 | 3/E1 | 7:01,648 |
| 47 | Garcia | Jacobo | | Peugeot 206 S1600 | 3/E1 | 7:01,710 |
| 48 | Benitez | Francisco José | | Citroën Saxo | 3/A | 7:08,354 |
| 49 | Racamonde | Iñaki | | Citroën AX | 3/E1 | 7:15,333 |
| 50 | Gil | Luis Manuel | | BMW M3 | 3/E1 | 7:17,459 |
| 51 | Rua | Juan Manuel | | Citroën Saxo VTS | 3/N | 7:24,536 |
| 52 | Dominguez | Armando | | Peugeot 106 | 3/E1 | 7:41,800 |
| 53 | Francos | Jonathan | | Peugeot 106 Sport | 3/E1 | 7:55,736 |
| 54 | Fernandez | Jairo | | Citroën AX GT | 3/E1 | 8:09,044 |
13-14/05/2017 – Subida a El Fito (Asturias)

| Pos. | Last Name | First Name | | Car | Cl. | Final |
| --- | --- | --- | --- | --- | --- | --- |
| 1 | Villa | Javier | | BRC B-52 | CM15 | 5:28,219 |
| 2 | Garcia | José Albino | | Silver Car S2 | CM15 | 5:44,933 |
| 3 | Guardado | David | | Silver Car S2 | CM15 | 5:57,284 |
| 4 | Garcia | Ismael | | Silver Car EF10 | E14 | 5:59,734 |
| 5 | Pesquera | Jairo | | BRC B-49 | CM15 | 5:59,972 |
| 6 | Busta | José Fermin | | Silver Car S2 | CM15 | 5:59,985 |
| 7 | Alvarez | Juan Jesus | | BRC CM05 EVO | CM15 | 6:07,607 |
| 8 | Llamedo | Emilio | | Silver Car S2 | CM15 | 6:20,473 |
| 9 | Artidiello | Adrian | | Speed Car GT | CM15 | 6:29,565 |
| 10 | Sanz | Francisco Javier | | Ford Escort Zakspeed | E2-SH 15 | 6:31,772 |
| 11 | Gutierrez | Miguel | | Speed Car GT | CM15 | 6:32,381 |
| 12 | Garcia | José | | Speed Car GT | CM15 | 6:34,125 |
| 13 | Solis | Xabel | | Peugeot 106 S16 | X8 | 6:34,600 |
| 14 | Ambres | Primitivo | | Seat Leon | A2 / 13 | 6:35,102 |
| 15 | Alvarez | Carla | | Seat Leon Supercopa | A2 / 13 | 6:38,284 |
| 16 | Sanchez | Daniel | | Peugeot 106 | SA4 | 6:41,977 |
| 17 | Formoso | Daniel | | Silver Car S2 | CM15 | 6:42,024 |
| 18 | Guardiola | Rafael | | Subaru Impreza STi | N+7 | 6:43,000 |
| 19 | Fernandez | Hugo | | Subaru Impreza | A6 | 6:43,272 |
| 20 | Martino | Pablo | | Renault Clio Ragnotti | N2 | 6:44,831 |
| 21 | Castaedo | Fernando | | Renault Clio Ragnotti | N2 | 6:46,637 |
| 22 | Martinez | Hugo | | Renault 5 GT Turbo | SA5 | 6:47,141 |
| 23 | Crespo | Boris | | Peugeot 106 S16 | X8 | 6:47,783 |
| 24 | Garcia | Guillermo | | BMW M3 E30 | X10 | 6:50,466 |
| 25 | Rodriguez | Ivan | | BMW 320i | X10 | 6:50,618 |
| 26 | Perez | José Enrique | | Peugeot 205 | X8 | 6:50,685 |
| 27 | Montes | Alberto | | Peugeot 205 GTI | X9 | 6:51,599 |
| 28 | Insausti | José Antonio | | Opel Kadett | | 6:52,249 |
| 29 | Suarez | Eva | | Ford Escort MK2 | H2 | 6:52,862 |
| 30 | Montes | Juan Manuel | | Peugeot 205 Rallye | X8 | 6:54,450 |
| 31 | Andres | Ramon | | Peugeot 206 | A4 | 6:59,759 |
| 32 | Guerra | Ezequiel | | Renault Clio | X9 | 7:01,667 |
| 33 | Cuesta | José Luis | | Volkswagen Polo N1 | N1 / 7 | 7:01,693 |
| 34 | Perez | Ignacio | | Peugeot 205 Rallye | X8 | 7:03,186 |
| 35 | Batalla | Hugo | | Peugeot 206 | A4 | 7:03,444 |
| 36 | Huerta | Ignacio | | Peugeot 106 S16 | SA4 | 7:04,626 |
| 37 | Diez | Ignacio | | Citroën C2 | A4 | 7:06,462 |
| 38 | Garcia | Hector | | Renault 5 GT Turbo | XT9 | 7:06,661 |
| 39 | Hevia | Carlos | | Citroën Saxo | X8 | 7:08,992 |
| 40 | Mella | Edgar | | Citroën AX | X8 | 7:09,164 |
| 41 | Gonazlez | Damian | | Citroën Saxo | A4 | 7:13,083 |
| 42 | Gil | Luis Manuel | | BMW M3 | X10 | 7:16,682 |
| 43 | Barreiro | Roberto | | Seat 124 | X9 | 7:16,959 |
| 44 | Rua | Juan Manuel | | Citroën Saxo VTS | N1 | 7:27,442 |
| 45 | Rodriguez | Pedro Roberto | | BMW 325 E30 | X10 | 7:30,915 |
| 46 | Villazon | Adrian | | BMW 325i E36 | X10 | 7:34,196 |
| 47 | Alvarez | José Luis | | BMW 325i | X10 | 7:35,531 |
| 48 | Rodriguez | Sabino | | BMW 325i E30 | X10 | 7:40,702 |
| 49 | Cornejo | Fernando | | Peugeot 106 | X8 | 7:47,548 |
| 50 | Robezo | Alfonso | | Citroën Saxo | A4 | 7:51,359 |
| 51 | Dominguez | Armando | | Peugeot 106 | X8 | 7:55,152 |
| 52 | Francos | Jonathan | | Peugeot 106 Sport | X8 | 7:55,788 |
| 53 | Pelaez | Eugenio | | Mitsubishi Lancer EVO X | N+ / 7 | 7:59,949 |
| 54 | Garcia | Benigno | | Peugeot 106 Rallye | X8 | 8:06,703 |
| 55 | Fernandez | Jairo | | Citroën AX GT | X8 | 8:13,667 |
| 56 | Rodriguez | Roberto | | Citroën AX GTI | SN1 | 8:17,935 |
| 57 | Ruenes | Fernando | | Peugeot 205 Rallye | X8 | 8:28,342 |
| 58 | Sanchez | Benjamin | | Opel Kadett | X9 | 8:33,700 |
| 59 | Piña | Marcos | | Opel Corsa GSi | SA4 | 8:57,312 |