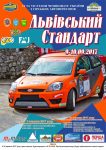 After a break of three months the Ukrainian Hillclimb Championship resumes with the Lviv Standard Hillclimb. It is also the final race weekend of the 2017 season.
As usual the event is divided into two races on different roads. On Saturday the competitors tackle the Klymets Hillclimb. This 2,7 kilometre long hillclimb starts with six hairpins and ends with a fast run to the finish line. The day after everyone moves towards the Skhidnytsia Hillclimb. This road is also 2,7 kilometres long but has more medium-speed corners. Both hillclimbs were also on the schedule the past two years so they will be familiar to the drivers.
The current championship standings have Vladimir Petrenko in the lead with 79 points. The Mitsubishi Lancer pilot has a nine-point advantage over Vladimir Apostolyuk. Ivan Rakus also has a small chance for the title. Rakus is currently third with 65 points.
Timing Saturday
9:30 – Free Practise (1 runs)
11:00 – Timed Practise (2 runs)
14:00 – Race (3 runs)
Timing Sunday
8:50 – Free Practise
11:00 – Timed Practise (2 runs)
13:30 – Race (3 runs)
19:15 – Award ceremony in Skhidnytsia town