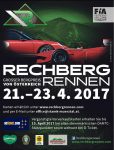 Just one week and one day before the European Hillclimb Championship starts at the Rechbergrennen. Just under 250 drivers have entered of which 169 in the modern race and the other 80 in the historics. Apart of the EHC there are also points for the national championships of Austria, Slovakia and Slovenia.
In Category 2 the best 8 drivers of 2016 return this year. Simone Faggioli is the favourite in E2-SC. In E2-SS the three Osella FA30s of Christian Merli, Paride Macario and Milos Benes will be the drivers to watch. In CN Andrea Bormolini has switched to a 3-litre Osella PA20/S to have a little horsepower advantage over the opposition. Fellow Italians Stefano Crespi and Marco Capucci will be his closest rivals. E2-SH appears to be another year of Czech domination. Marek Rybnicek, Dan Michl, Vladimir Vitver and Jiri Los will go for victory with Polish driver "Dubai" as outsider.
In Category 1 champion Nikola Miljkovic has moved to the circuit racing. Shkelzen Lajci and Jaromir Maly will battle it out for Group N victory this year. In previous years the championship was always decided between Group A and Group N. Because the Lancers are not homologated in Group A anymore it will be a struggle to get full points at every race this season. Nevertheless Lukas Vojacek will contest (most?) races in a Subaru Impreza WRX. In Austria he will have a formidable rival in Mini Cooper WRC pilot Jan Liptak. Group GT has 4 entries from4 nations in 4 different cars. FIA Hillclimb Masters winner Lucio Peruggini could be the favourite here. Finally Laszlo Hernadi is the only driver in Group S2000.