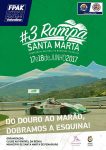 Pedro Salvador won a thriller in Portugal. At the Rampa da Santa Marta Salvador and his rival Rui Ramalho were equal to eachother. In every session the two drivers were within a few tenths of eachother. Ramalho set the fastest time of the weekend in the third and final run. However it was not good enough for victory as the combined times gave Salvador a .25 lead!
A whopping 20 seconds slower than the two leaders was best of the rest João Fonseca. With his BRC CM05 EVO he defeated the more powerful Osella PA21/S of Paulo Ramalho. Although it has to be said Ramalho had a small accident in the second race.
Fifth was for best touringcar driver and Category 2 winner Gonçalo Manahu. With this victory he retakes the championship lead of José Correia, who finished third behind Edgar Reis.
Category 3 was for Pedro Coelho Saraiva. The Mitsubishi Lancer pilot retired with gearbox problems in the first race but repaired it in time to take category victory. Manuel Correia had a close fight with Luis Silva in Category 4. However Correia was the fastest and increases his championship lead.
The Category 5 championship had an unfortunate twist earlier this week. Winner of the previous two races Luis Nunes is suspended for the rest of the year. Reason is a failed doping test in 2016. Nunes had a prescription but after a very long procedure this was deemed not sufficient. Joaquim Teixeira now finds himself with a massive lead in the points race. At Santa Marta he took victory, closely followed by Francisco Marrão.
More …