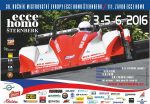 Osella beat Norma this weekend at the fifth round of the European Hillclimb Championship. At the Ecce Homo Hillclimb the Osella FA30 finished 1-2-3 with lead driver Christian Merli taking victory. The Norma M20 FC on the other hand did no better than 4-5-6-7 although Simone Faggioli did set fastest single time of the day in his last run, after he suffered technical problems in the first run. In the championship both are still equal in points as both Merli (Singleseaters) and Faggioli (Sportscars) won their group.
Just like in Verzegnis last week Christian Merli dominated the practise sessions in Sternberk this weekend with two fastest times. Although in contrast to Verzegnis the race did actually run as planned in great weather, we were more or less still denied a duel between Merli and Faggioli. This is because Faggioli lost 11 seconds in the first race after electrical problems hampered his Norma M20 FC. Paride Macario and Joel Volluz benefitted and moved up to second and third, while Faggioli recovered enough in the second race to claim fourth. Right behind the European Champion were the three best local drivers. Vaclav Janik advanced David Komarek and Dusan Neveril. Milos Benes crashed in the first race and had to retire. Fausto Bormolini also had an accident but at least he saw his nephew Andrea Bormolini (Osella PA21/S) win Group CN.
The silhouettes were a Czech affair with Vladimir Vitver and Dan Michl battling it out for victory. Eventually the Audi WTT-R DTM pilot secured the win in front of his Lotus Evora driving rival. Karl Schagerl mixed it up with the two locals but he was not classfied in E2-SH but rather in E1 for the Austrian Championship. The Volkswagen Golf TFSI-R pilot did claim victory in his own championship. He was even faster than best sportscar driver Ferdinand Madrian!
Nikola Miljkovic made a big step towards the 2016 European Touringcar title after another victory in Group N. After the first run just .28 seconds seperated leader Tomas Vavrinec, Miljkovic and Peter Jurena. With a great second run the gaps remained almost the same but the order switched. Miljkovic had a great run and won with Jurena in second and Vavrinec dropping to third.
In Group A Jaromir Maly had a fantastic weekend and scored a well-deserved victory in front of his home crowd. Christian Schweiger had to settle for second while Lukas Vojacek completed the podium. Austrian "Tessitore" won GT while Grzegorz Duda was the best in S2000. Although the Pole was probably more interested in his points for the CEZ Championship.
Apart from the Austrian Championship, where you could already read about the winners above, there was also a round of the Slovakia Hillclimb Championship. The Skoda Fabia's dominated once again with Veroslav Crvcek winning, Igor Drotar second and Jan Milon third.
04-05/06/2016 – Ecce Homo

| Pos. | Last Name | First Name | | Car | Cl. | Final |
| --- | --- | --- | --- | --- | --- | --- |
| 1 | Merli | Christian | | Osella FA30 | E2-SS 3000 | 5:32,49 |
| 2 | Macario | Paride | | Osella FA30 | E2-SS 3000 | 5:40,02 |
| 3 | Volluz | Joel | | Osella FA30 | E2-SS 3000 | 5:40,53 |
| 4 | Faggioli | Simone | | Norma M20 FC | E2-SC 3000 | 5:43,37 |
| 5 | Janik | Vaclav | | Norma M20 FC | E2-SC 3000 | 5:49,42 |
| 6 | Komarek | David | | Norma M20 FC | E2-SC 3000 | 5:53,34 |
| 7 | Neveril | Dusan | | Norma M20 FC | E2-SC 3000 | 5:56,19 |
| 8 | Szasz | Laszlo | | Reynard Zytek | E2-SS 3000 | 6:10,21 |
| 9 | Stec | Robert | | Lola B02/50 | E2-SS 3000 | 6:13,42 |
| 10 | Vondrak | Petr | | Osella PA21 | E2-SC 2000 | 6:18,44 |
| 11 | Vitver | Vladimir | | Audi WTT-R DTM | E2-SH +3000 | 6:18,80 |
| 12 | Weber | Christophe | | Dallara F302/04 | E2-SS 2000 | 6:19,30 |
| 13 | Michl | Dan | | Lotus Elise | E2-SH 3000 | 6:20,97 |
| 14 | Schagerl | Karl | | Volkswagen Golf Rallye TFSI-R | E1 +2000 | 6:21,56 |
| 15 | Bormolini | Andrea | | Osella PA21/S | CN 2000 | 6:22,91 |
| 16 | Trnka | Petr | | Norma M20 FC | E2-SC 2000 | 6:24,14 |
| 17 | Rybnicek | Marek | | Ford Fiesta EVO | E2-SH +3000 | 6:24,48 |
| 18 | Madrian | Ferdinand | | Norma M20F | E2-SC 3000 | 6:25,52 |
| 19 | Waldy | Hermann | | Lola B06/51 | E2-SS 3000 | 6:26,98 |
| 20 | Folta | Sebastian | | Lola T96/50 | E2-SS 3000 | 6:26,99 |
| 21 | Bonucci | Uberto | | Osella PA9/90 | 4/D8 | 6:28,30 |
| 22 | Vondrak | Martin | | Tatuus NT07 Master | E2-SS 2000 | 6:28,31 |
| 23 | Cvrcek | Veroslav | | Skoda Fabia | E1 +2000 | 6:30,49 |
| 24 | Svoboda | Jiri | | Norma M20F | E2-SC 2000 | 6:30,62 |
| 25 | Capucci | Marco | | Osella PA21/S | CN 2000 | 6:35,05 |
| 26 | Berto | Franco | | Tatuus Renault | E2-SS 2000 | 6:37,36 |
| 27 | Waldy jr. | Hermann | | Dallara F306 | E2-SS 2000 | 6:39,24 |
| 28 | Pailer | Felix | | Lancia Delta Integrale | E1 +2000 | 6:42,81 |
| 29 | Los | Jiri | | Mitsubishi Lancer EVO IX | E2-SH +3000 | 6:43,27 |
| 30 | Kramer | Gottfried | | Tatuus S2000 | E2-SS 2000 | 6:43,55 |
| 31 | Giuliani | Fulvio | | Lancia Delta EVO | E2-SH +3000 | 6:46,14 |
| 32 | Mlejnek | Ales | | Gloria C8F | E2H-SS 1000 | 6:48,47 |
| 33 | Karl | Werner | | Audi S2-R Quattro | E1 +2000 | 6:48,70 |
| 34 | Drotar | Igor | | Skoda Fabia | E1 +2000 | 6:51,04 |
| 35 | Maly | Jaromir | | Mitsubishi Lancer EVO VIII | A +3000 | 6:51,74 |
| 36 | Chariatte | Alain | | Tatuus Master | E2-SS 2000 | 6:51,97 |
| 37 | Kavecz | Istvan | | BMW E90 | E2-SH +3000 | 6:52,18 |
| 38 | Milon | Jan | | Skoda Fabia WRC | E1 +2000 | 6:52,91 |
| 39 | Stollnberger | Andreas | | Dallara F3 | E2-SS 2000 | 6:53,17 |
| 40 | Ulman | Pavel | | BMW M3 E36 | E2-SH +3000 | 6:53,73 |
| 41 | Svoboda | Milan | | BRC CM05 EVO | E2-SC 1600 | 6:53,92 |
| 42 | Schweiger | Christian | | Mitsubishi Lancer EVO VIII | A +3000 | 6:54,97 |
| 43 | Krakovic | Radek | | Fiks 09RK | E2H-SS 1400 | 6:55,34 |
| 44 | Trojek | Martin | | Ligier JS49 | E2-SC 2000 | 6:58,54 |
| 45 | Prasek | Jaroslav | | Chevron B42 | 5/E3 | 6:59,09 |
| 46 | Galli jr. | Hubert | | Lola B99/50 | E2-SS 3000 | 7:01,14 |
| 47 | Krampota | Ivo | | BMW M3 | E2-SH +3000 | 7:01,41 |
| 48 | Miljkovic | Nikola | | Mitsubishi Lancer EVO IX | N +3000 | 7:04,02 |
| 49 | Jurena | Peter | | Mitsubishi Lancer EVO IX | N +3000 | 7:04,30 |
| 50 | Vavrinec | Tomas | | Mitsubishi Lancer EVO IX | N +3000 | 7:04,54 |
| 51 | Dvorak | Pavel | | Martini F2 | E2-SS 2000 | 7:05,23 |
| 52 | Sajler | Filip | | Mitsubishi Lancer EVO X | N +3000 | 7:05,58 |
| 53 | Vojacek | Lukas | | Mitsubishi Lancer EVO VIII | A +3000 | 7:06,16 |
| 54 | "Tessitore" | | | Porsche 997 GT3 Cup | GT +3000 | 7:06,43 |
| 55 | Jerman | Martin | | Lamborghini Gallardo GT3 | GT +3000 | 7:08,77 |
| 56 | Klus | Adam | | March HSS Can-Am | 4/D8 | 7:09,01 |
| 57 | Vojacek | Petr | | Ferrari F430 GT | GT +3000 | 7:09,14 |
| 58 | Chudoba | Zdenek | | Demon Car | E2H-SC 1400 | 7:11,33 |
| 59 | Sajlerova | Gabriela | | Mitsubishi Lancer EVO X | N +3000 | 7:11,86 |
| 60 | Tarmann | Josef | | Dallara F302 Mercedes | E2-SS 2000 | 7:12,32 |
| 61 | Duda | Grzegorz | | Mitsubishi Lancer EVO X R4 | S2 +3000 | 7:14,27 |
| 62 | Hlavinka | Josef | | König 1000R | E2H-SS 1000 | 7:14,62 |
| 63 | Ambruz | Peter | | Vauxhall Vectra ST | E1 2000 | 7:17,16 |
| 64 | Hubacek | Karel | | BMW M3 E92 GTR | E2-SH +3000 | 7:19,28 |
| 65 | Schwan | Roman | | Lotus Evora WR16 | E2-SH 2000 | 7:20,77 |
| 66 | Stec | Irena | | Gloria C8 | E2-SS 1600 | 7:20,89 |
| 67 | Wisniowski | Bartlomiej | | Mitsubishi Lancer | N +3000 | 7:21,67 |
| 68 | Zmeskal | Milos | | Ralt RT32 | 5/E5 | 7:21,79 |
| 69 | Maier | Helmut | | Volkswagen Golf Spiess | E1 1600 | 7:22,35 |
| 70 | Juhas | Martin | | BMW M3 | E1 +2000 | 7:23,02 |
| 71 | Almeras | Jean-Marie | | Porsche 935 | 3/C5 | 7:23,52 |
| 72 | Bouvier | Christian | | Wolf GB08 | CN 2000 | 7:24,53 |
| 73 | Kotek | Pavel | | BMW M3 | E2-SH 3000 | 7:28,45 |
| 74 | Grundova | Nela | | Mitsubishi Lancer EVO VIII | E2-SH +3000 | 7:29,79 |
| 75 | Satek | Jakub | | Honda Civic Type-R | E1H 2000 | 7:30,89 |
| 76 | Glinzner | Gerald | | Porsche 911 Carrera | 3/C3 | 7:31,99 |
| 77 | Janak | Jaroslav | | Volkswagen Golf | E1H 1600 | 7:32,31 |
| 78 | Cepicka | Vlastimil | | Mitsubishi Lancer EVO X | E1H +2000 | 7:34,55 |
| 79 | Dosedel | Dusan | | Subaru Impreza WRX | E1H +2000 | 7:35,54 |
| 80 | Theimer jr. | Jiri | | Peugeot 205 Maxi | E2-SH 2000 | 7:39,93 |
| 81 | Taus | Kerstin | | Subaru Impreza WRX | N +3000 | 7:40,09 |
| 82 | Mayer | Chris-André | | Honda Civic Type-R | N 2000 | 7:40,55 |
| 83 | Palmieri | Giuliano | | De Tomaso Pantera | 2/B6 | 7:42,73 |
| 84 | Pichler | Horst | | Abarth 2000 SE021 | 1/A9 | 7:44,66 |
| 85 | Czapka | Marian | | Porsche 928S | 3/C3 | 7:45,60 |
| 86 | Tykal | Petr | | F-Easter MTX 1-03 | 5/E2 | 7:45,93 |
| 87 | Gorni | Roberto | | Osella PA/N | 4/D10 | 7:46,29 |
| 88 | Terschl | Wolfgang | | Prosport LM3000 | E2-SC +3000 | 7:47,73 |
| 89 | Loubal | Lubomir | | Volkswagen Golf IV TDi | E1H +2000 | 7:47,82 |
| 90 | Mikes | Jaroslav | | Skoda 130 RS | E1H 1400 | 7:48,60 |
| 91 | Polacek | Martin | | BMW M3 | E1 +2000 | 7:48,85 |
| 92 | Kubicek | Jiri | | Skoda 130 RS | 3/C1 | 7:49,52 |
| 93 | Sutlak | Miroslav | | Skoda Fabia S2000 | A 2000 | 7:49,73 |
| 94 | Vasek | Jiri | | Skoda Octavia | E2-SH 2000 | 7:50,30 |
| 95 | Harrer | Helmut | | Honda Civic Type-R | N 2000 | 7:50,53 |
| 96 | Kozar | Yevhen | | Renault Megane RS | N +3000 | 7:51,46 |
| 97 | Patocka | Karel | | Skoda Felicia Pick-Up | E1H 1600 | 7:52,37 |
| 98 | Studeny | Lukas | | Skoda 110R | E1H 1400 | 7:52,40 |
| 99 | Sonnleitner | Reinhard | | Volkswagen Golf G60 | 4/D6 | 7:53,80 |
| 100 | Chytil | Ondrej | | F-Easter MTX 1-03 | 5/E2 | 7:55,59 |
| 101 | Pasadyn | Piotr | | Subaru Impreza STi | E2-SH +3000 | 7:56,10 |
| 102 | Dedek | David | | Alfa Romeo 156 | E1H +2000 | 7:57,88 |
| 103 | Hruby | Milan | | Skoda Fabia | E1 2000 | 7:58,08 |
| 104 | Dolezal | Lubomir | | F-Easter MTX 1-06 | 5/E4 | 7:58,69 |
| 105 | Klukan | Radek | | BMW M3 E36 | E1H +2000 | 7:59,14 |
| 106 | Zak | Josef | | Skoda 100 | E1H 1400 | 8:00,84 |
| 107 | Podmajersky | Vladimir | | Peugeot 206 RC | A 2000 | 8:02,52 |
| 108 | Niemec | Lukasz | | Mitsubishi Lancer EVO X | N +3000 | 8:02,58 |
| 109 | Kral | Oskar | | Fiat 128 SC | 2/B3 | 8:03,63 |
| 110 | Tomcsani | Tamas | | Lada | E1 1600 | 8:03,83 |
| 111 | Michalik | Tomas | | Mitsubishi Lancer EVO IX | E1H +2000 | 8:04,88 |
| 112 | Pavlu | Dominik | | Renault Clio Sport | A 2000 | 8:04,89 |
| 113 | Landmann | Jochen | | Tecno Lotus FB/1 | 5/E2 | 8:05,44 |
| 114 | Honcu | Petr | | Skoda Felicia Kit-Car | E1H 1400 | 8:05,69 |
| 115 | Matusek | Lukas | | Skoda 130 RS | 3/C1 | 8:06,24 |
| 116 | Pleva | Martin | | Skoda 100 | E1H 1400 | 8:06,27 |
| 117 | Mach | Jan | | Skoda Octavia | E1H +2000 | 8:07,16 |
| 118 | Kretz | Michal | | Ford Focus Kit-Car | E1 2000 | 8:07,86 |
| 119 | Dokoupil | Roman | | Skoda 130 RS | E1H 1400 | 8:08,24 |
| 120 | Hutter | Gregor | | Alfa Romeo 145 | E1 1600 | 8:09,11 |
| 121 | Macek | Vojtech | | Skoda 100R | E1H 1600 | 8:10,16 |
| 122 | Nowakowski | Jerzy | | BMW 2002 TI | 2/B5 | 8:13,26 |
| 123 | Stejskal | Bronislav | | Skoda Felicia Kit-Car | E1 1600 | 8:13,35 |
| 124 | Gansdorfer | Ales | | F-Easter MTX 1-03 | 5/E2 | 8:14,10 |
| 125 | Warmuth | Rene | | Volkswagen Golf GTI | 4/D2 | 8:15,29 |
| 126 | Dobes | Vaclav | | Skoda Favorit | E1H 1400 | 8:15,57 |
| 127 | Osmera | Jiri | | Opel Astra | E1H 2000 | 8:16,44 |
| 128 | Koleno | Milos | | Skoda 130 LR | E1 1600 | 8:17,52 |
| 129 | Schutting | Wolfgang | | Renault Clio Williams | N 2000 | 8:18,81 |
| 130 | Gratzer | August | | Lancia Beta Montecarlo | 3/C5 | 8:20,22 |
| 131 | Adamek | Miroslav | | NSU TT | 2/B3 | 8:22,00 |
| 132 | Sustr | Miloslav | | Skoda Favorit | E1H 1600 | 8:22,31 |
| 133 | Jezek | Radim | | Skoda Felicia | E2-SH 1600 | 8:22,34 |
| 134 | Furis | Pavel | | Peugeot 205 MI16 | E1H 2000 | 8:22,64 |
| 135 | Indra | Jindrich | | Skoda 120S | 2/B3 | 8:23,39 |
| 136 | Janda | Martin | | Seat Ibiza Cupra | E1H 2000 | 8:26,72 |
| 137 | Sloboda | Anton | | Skoda Fabia | E1 1600 | 8:28,70 |
| 138 | Müller | Lukas | | Skoda 100 | E1H 1400 | 8:30,67 |
| 139 | Pieber | Wolfgang | | BMW 323i | 4/D3 | 8:30,74 |
| 140 | Konicar | Vladimir | | BMW 2002 Ti | 1/A5 | 8:32,53 |
| 141 | Kminek | Zdenek | | Renault Clio Sport | A 2000 | 8:33,08 |
| 142 | Ciliak | Miroslav | | Metalex 1-06 | 5/E4 | 8:34,86 |
| 143 | Trnka | Jan | | Skoda Felicia | A 1600 | 8:41,42 |
| 144 | Filinger | Jiri | | Nissan 350Z GT | GT +3000 | 8:42,91 |
| 145 | Sedlacek | Michal | | Fiat Ritmo 130 TC | 4/D3 | 8:43,35 |
| 146 | Felcman | David | | Peugeot 206 SRC | E1H 2000 | 8:44,56 |
| 147 | Cambalik | Bohumir | | Honda Civic Type-R | A 2000 | 8:46,68 |
| 148 | Obermoser | Oliver | | Alfa Romeo Sprint Veloce | 2/B8 | 8:50,94 |
| 149 | Kmet | Frantisek | | Metalex 1-03 | 5/E2 | 8:54,03 |
| 150 | Grasso | Angela | | Lotus 23B | 1/A8 | 9:02,86 |
| 151 | Stietka | Walther | | Volkswagen Beetle 1302 | 2/B4 | 9:03,03 |
| 152 | Ondrejka | Jan | | Skoda 200 RS | HK1 2000 | 9:03,25 |
| 153 | Neumann | Dominik | | Mini Cooper S | 3/C1 | 9:05,85 |
| 154 | Svoboda | Libor | | Honda Civic VTI | E1H 1600 | 9:08,29 |
| 155 | Fischer | Gerd | | Ford Escort GT | 2/B3 | 9:11,67 |
| 156 | Stejskal | Milan | | Fiat 131 Racing | 3/C2 | 9:13,23 |
| 157 | Holzer | Christian | | Steyr Puch 650 TR | 1/A1 | 9:17,81 |
| 158 | Windsteig | Werner | | Citroën AX Sport | 4/D4 | 9:17,94 |
| 159 | Weigl | Peter | | Formula V Volkswagen | 5/E2 | 9:21,52 |
| 160 | Mandl | Erwin | | NSU TT | 2/B3 | 9:27,35 |
| 161 | Jensen | Anders | | Saab 96 Sport | 1/A2 | 9:38,37 |
| 162 | Sterba | Josef | | Fiat Abarth 1000 TC | 1/A2 | 9:59,70 |